Planning to buy a paragon bed cover for your truck bed and cargo protection? Definitely, paragon is a good brand to invest in.
But knowing some paragon bed cover problems before making the final call can help you make the decision wise. The reason is that guesswork can put the security system in trouble.
That's why we have listed some of the common paragon bed cover problems to aware you of the upcoming experience with this bed cover.
5 Common Paragon Bed Cover Problems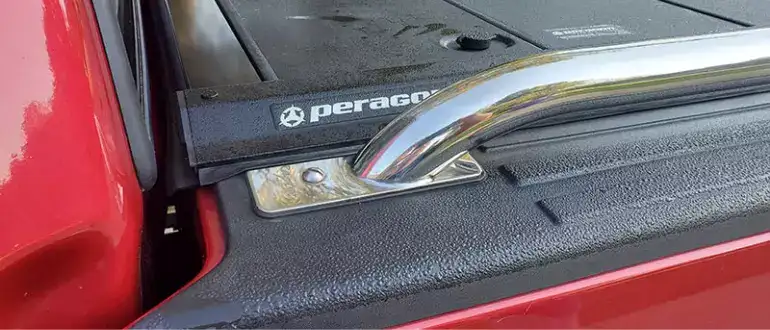 Don't slide easily during hauling cargo
Paragon bed cover requires lots of bed space to fold up as its section drops down into the truck bed. It's the most common paragon bed cover problem that most owners have experienced.
However, it won't be a problem if you only use the paragon tonneau cover to only cover your truck bed. 
But if you have cargo over the bed cover, the cover will bump into the bed and won't let it slide smoothly.
Based on this point you can say the paragon tonneau cover may not be the right choice for the truck owner who needs to haul cargo regularly.
Read More: 8 Common Bakflip Mx4 Problems
Eaten up bed space
The truck owner may lose a few inches towards the bed cab during retracting the paragon bed cover. It can put you in trouble if you have something that needs to slide towards the front of the truck bed. 
Despite, during driving at freeway speeds, you may notice slightly flex on the bed cover. However, it won't affect the performance of your bed cover at all.
Read More: Undercover Truck Bed Cover Problems
Water can get in
The best thing about the Paragon tonneau cover is that it is extremely easy to operate and remove if you need the whole bed space.
You can fold it up for effortless storage and it has a dual lock for extra protection. Plus, you can buy a paragon tonneau cover matching your truck's color for an elegant appearance. 
But the paragon bed cover isn't completely waterproof, and a bit of water can get in if you drive in heavy rain at high speeds.
Compared to other typical tonneau covers, it won't trouble you much as the amount is at the very least.
Not much durable
Another complaint against the paragon bed cover is it isn't much durable. Truck owners complain that paragon tonneau covers don't last over a year and fall apart.
As it's serious blame against paragon but the number is very least. Despite this, it can happen due to incorrect installation or harsh use.
Read More: Roll N Lock Bed Cover Problems And Solutions
Tough to open keeping the box loaded
The Paragon tonneau cover also leaks a little in the corner, but the cover itself doesn't. Luckily you can solve this problem with minimal effort.
Another minor issue is hardware gets surface rust very quickly. Still, you can solve it easily by using stainless hardware from Paragon. 
But the problem that can put you in trouble is that you can't open it while keeping the box loaded, especially on the front side.
So you will have to empty the box or front of the bed to fold smoothly. It means storing something in the box can be tiresome.
Read More: 5 Common Retrax Bed Cover Problems And Solutions
A few benefits of the paragon tonneau cover
The Paragon bed cover has a quick clamp option, so you don't need to drill a hole for installation. It can save you both time and effort on installation, even without harming your vehicle.
An impressive advantage is that you can buy a paragon bed cover matching your truck, so you won't have to paint it for elegant looks. 
This way, you can save up to $300 on paint. Tonneau cover brand based in the United States manufactures tonneau covers while maintaining quality for ease of operation.
Though you can't say Paragon produces the best value tonneau cover due to its price and function, its unique design will impress you for sure.
Read also: How To Patch A Hole In A Tonneau Cover?
Final words
The Paragon truck bed cover is made in the USA with durable components and only takes 20 to 40 minutes to install.
More impressively, it offers the entire bed space whenever you require it, making it perfect for a busy truck owner.
However, the list of paragon bed cover problems isn't small, but you can avoid most of those difficulties by installing them properly.
Plus, taking proper care and operating correctly also helps retain its best performance and prevent those minor issues. Still, paragon bed covers are worth buying.