The tonneau cover is a useful protective gear for both the loads and the truck bed. But the question is, once installed, how long can you enjoy its service? How long does tonneau cover last? 
Throughout the guide, we will find the answer and share some exclusive tips so you can boost its life span. So keep reading!
How long do Tonneau Covers Last?
A tonneau cover can last upwards of ten years. The longevity of a tonneau cover depends on plenty of factors including its quality, installation process, and maintenance. A tonneau cover should be washed about every three months, and inspected for wear and tear at this time.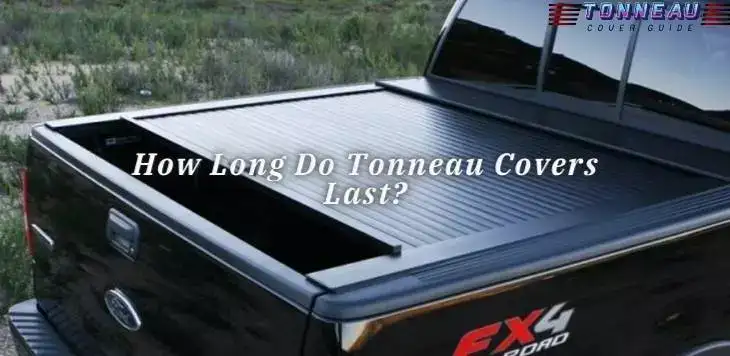 Spending sufficient time on care and maintenance can extend the longevity of a tonneau cover. It is vital to invest in a quality tonneau cover to enjoy long service. The material that the tonneau is made of also plays a great role to keep its longevity and add value to the vehicle. Overall a top-class tonneau cover is a good investment for having long term service.
How to make a tonneau cover long lasting?
A tonneau cover is a type of truck bed cover that protects its loads, stuff as well as a bed from the harsh environment and theft. Usually, it is used to keep the cargo safe and protected on a long journey.
Moreover, tonneau keeps the sunlight-sensitive cargo safe from UV radiation of run and falling out or rattling around the truck. It comes in a flat surface that is easier to install on a vehicle bed.
The tonneau cover can be soft or hard as well as tri-fold, roll-up, and clamshell designs. It's a handy accessory for truck owners to enjoy a multi advantage. Let's get some helpful tips so you can extend the longevity of a tonneau cover:
Close that truck bed cover
Roll-up tonneau covers are popular for their flexibility and design to stay closed most of the time. So if you don't need to transport cargo, keep the tonneau cover closed up. Keeping the tonneau cover rolled up in unused time can expose its inner material and damage its functionality as well as longevity.
Tension is essential 
Seal the roll-up tonneau cover bed tightly. Loose tonneau covers can exhaust before their time. So use the tension adjuster and ensure a precise tightness and seal to the match of the vehicle bed.
Usually, roll-up tonneau covers are made of vinyl that also help to ensure tightness. Despite roll-up, the tonneau cover includes a hook that also helps to get extra tightness and security.
Clean and protect the truck bed
Some brands made their tonneau cover with anti-UV technology that boosts its longevity. Apart from these, you should treat the tonneau cover with a quality tonneau cover cleaner. Use a cleaner that is pH balanced and suitable for rubber, vinyl, and leather surfaces.
Cleaning a tonneau cover is an easier process, simply spray on it and wipe the cover regularly. The cleaning tonneau cover will not only keep it in good condition but also boost its sharp and shiny look.
The plastic trim
This part surrounds the vehicle bed and tailgate which also needs good care. The plastic trim attaches the tonneau with the truck and maintaining it can help you enjoy better service from the tonneau.
Clean this part using a quality cleaner that is safe for use on plastic surfaces and able to maintain its look. A proper truck bed cleaner will offer your tonneau a fresh and shiny look without making it slippery or greasy.
If you have enough time, then clean and treat the bumper too. As a bonus, you can use a product that offers a nice finish without causing greasiness and can offer summertime climate protection during the repelling heat.
Final words
Nevertheless, a tonneau cover is a handy and multi-functional gear that brings plenty of advantages. But how long does tonneau cover last? Hopefully, you got the answer.
More importantly, you have learned some crucial tips to boost its longevity to enjoy years of service. In conclusion, invest in a quality tonneau cover, install it properly and regularly take care of it to enjoy long-lasting protection.
Read also: Who Makes REV Tonneau Cover?