Tonneau cover with a toolbox is a beneficial addition to the car. Even a combination of these two can boost the storage and protection of the loads.
But before spending on this identity can you use a tonneau cover with a toolbox? The reason is that there is plenty of consideration to determine the facts.
Luckily today we will discuss the topic and find out if it is possible to use it or not. And if you can use it, then how? So keep reading! 
Can You Use A Tonneau Cover With A Toolbox?
Yes, you can use a tonneau cover with a toolbox. To enjoy the toolbox, you have to choose a tonneau that size matches the toolbox. You may need to modify the size to fit the toolbox.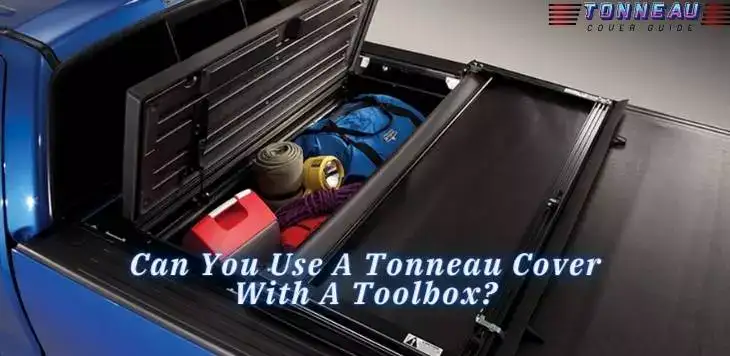 Adjust Tonneau Cover To Fit With The Toolbox
Adjusting any type of tonneau cover to fit with the toolbox isn't a difficult task. However, you will need some tools and techniques to follow to complete the modifying task properly. 
Tools require:
Drill and bits of sizes 11/64
Sharpie
Two Bungee cords
Tape measure
Hacksaw
Straight edge
Razorblade
Tape measure
Sewing machine
Times require: it will take about two to three hours to adjust the tonneau to fit the toolbox.
How to adjust Tonneau Cover for Tool Box Fitting
1. Measure the tonneau cover
Firstly measure the tonneau cover following the toolbox size. Mark ½ foot on the front of the 2nd bar and measure the center bar facing the cap. Before measuring, make the tonneau rolled up, and after measuring cut the size using a Hacksaw.
Read More: What Size Toolbox For Toyota Tacoma?
2. Attach to halves
Now attach two halves to get the required length which depends on the size of the toolbox. However, some halves allow enlarging up to foot behind the first bar.
3. Cut the overlap area
After that, cut the overlap area and the rest of the size is your new tonneaus size. Before proceeding, check the tonneau if it is fitted with the toolbox or not. Now unroll the cover and mark a spot one foot away from the cut edge on both driver and passenger sides. 
4. Sew the tonneau
Now connect the two marks using a straight edge and cut out the sections. The extra inches will offer you some room for errors while sewing. Now sew the tonneau cover using a sewing machine.
Read More: What Size Toolbox For Dodge Rams 2500?
5. Drill through the tonneau
Once done, set the two halves of the tonneau cover top in line so you can open it like a book. Now drill through the tonneau's frame to hook the Bungie through the tonneau.
But make sure you don't drill through the cover. You can connect the other end of the cover via the bracket so it can be held at highway speed.
Different Types Of Tonneau Cover can be used with Tool Box
Tonneau cover comes in a specific size. To install it with a toolbox the vehicle owner has to customize them.
Even by modifying any size tonneau cover the car owner can fit them in style and based on personal preferences. But if you aren't interested in modifying, you can go for a certain type of tonneau that is specially designed to fit a truck toolbox.
What Size Toolbox For Dodge Ram 1500? Find Out Now!
Roll-Up Covers
The roll-up tonneau cover allows opening up at the truck rear which offers access to the toolbox.
Designed with, a tongue-and-groove, snap, or Velcro locking system, this tonneau cover holds the bed lock and keeps it from the fly out of stored accessories.
Besides roll-up tonneau covers are inexpensive, and easy to use, however, aren't much reliable and durable.
Painted Metal covers
This tonneau cover stays in virtually any truck toolbox and increases its style. These come in multi colors and boost the beauty of any truck décor. 
Soft Folding Covers
Constructed with an aluminum structure, soft folding tonneaus come with flexible vinyl elongated and soft layering. Its section is hinged together and can be folded while its vinyl layer cover can be enlarged out into a tough and steady sheet. These covers are extremely flexible, lightweight, and easy to install.
How To Modify Tonneau Cover For Tool Box? (Solved)
Hard Folding Covers
You may have to adjust the hard folding tonneau to fit properly with the toolbox. It has a hardened top that is constructed of aluminum.
Besides, it is durable enough to virtually hold any type of equipment. The hard folding tonneau is extremely resistant to bumps and scratches. However, this type of tonneau is a bit more costly than others.
Heavy Duty Covers
Likewise, in the previous model, heavy-duty tonneau covers are also durable and can hold heavy cargo. These won't dent, break, and rip due to carrying heavy cargo.
Moreover, if you need to use the toolbox cover to keep extra loads, this type of tonneau is the right option. It may be cheaper than a hard folding tonneau, still, it is worthwhile for incredible versatility and durability.
Best Full Size Truck Toolbox | Complete Guide
Retractable Covers
These tonneau covers are the most flexible and versatile tonneau compared to other types. It comes with small housing that can be rolled in once open. It ensures a clear view of the back window once folded.
This tonneau can withstand wild wind and is a better alternative to hardcovers. To deal with the toolbox you should choose between two brands of retractable cover, one is UWS and the other one is Weatherguard.
Final words
So can you use a tonneau cover with a toolbox? Once reading the article hopefully you have got the answer. Tonneau cover comes in different designs and sizes so you can choose to match your requirement.
So while picking it for the toolbox, check the tonneau size if it is fitted with the toolbox or not. Even if not, still you have a method to enjoy the tonneau cover with a toolbox. Follow those processes properly and you will be successful.