There are many truck owners who want to make their trucks into a workhorse. This means they need the ability to carry tools and other items in the bed of their truck while still being able to haul cargo inside with them.
A tonneau cover is an excellent option for those truckers, but what about people who also have a rack on top? Is it possible to use both at once? If so, what is the installation process?
In this article, we are going to discuss all these questions and help you find a suitable solution. So, let's begin.
Can You Use A Tonneau Cover With A Backrack?
The answer is yes. In fact, it is possible to attach a back rack to a tonneau cover. However, there are some things to take into consideration before doing so. Most of the time you need to buy an adapter that can connect both of these accessories.
Some of the best Tonneau cover brands that you can use with a Backrack: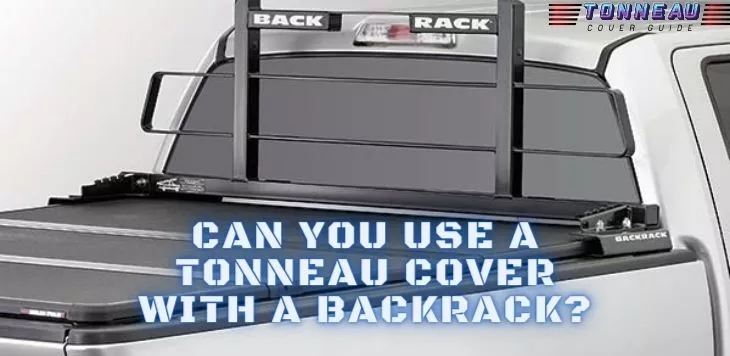 Compatibility of a back rack with a tonneau cover
Back racks are made of sturdy aluminum and hard steel. It is developed to provide you with extra security. Moreover, it goes and fits well with any kind of truck and truck accessories. To fit a back rack with a tonneau cover all you have to do is buy a perfect adaptor that will connect these two.
Read More: Can You Use A Tonneau Cover With A Toolbox?
Whether you have a Toyota, Chevy, or Ford back rack is compatible with all kinds of trucks and protects your car from any kind of cargo damage. With the help of a tonneau cover, your cargo and weights will remain safe and secure.
Back rack tonneau cover adaptors Install
To install a back rack with a tonneau cover and use both without any hassle needs some extra work. But this extra work is genuinely worth it. All you have to do is buy a suitable tonneau cover adaptor and you are good to go.
The adapter kit allows you to install a tonneau cover along with back racks, bed liners and so on. So now the question is how this adaptor kit works?
Read More: Can You Use A Truck Tent With A Tonneau Cover?
Firstly, it allows you to lift your back rack by one or two inches depending on your truck's model and size. It uses that increase of height to insert the tonneau cover. Also, the kit comes with extra accessories to replace the previous setup.
Things To Consider Before Buying A Tonneau Cover That Goes With Back Rack
Most of the time truck owners install a back rack first and then attach an additional tonneau cover for extra security. So, you have to consider the type, size, compatibility, and price of tonneau covers before buying a cover. Let's have a look at what needs to be considered.
Read More: Can You Sleep Under A Tonneau Cover?
Price
Going to the store with a budget is necessary as you will find different category items in the different price ranges. The quality of the product also depends on how much you are willing to spend.
We suggest you buy a tonneau cover that comes in high-quality material as it will be used to cover cargos and weights. A high-performance cover will be a better safeguard for your belongings.
Size
The size of the cover depends on which truck you are using. The brand of the car, the model number and the measurements of the truck rail will help you to choose the correct tonneau cover that is compatible with most of the back racks.
Type
Tonneau covers come in different shapes and forms. The specification depends on how much security you are wanting. According to that, you go for either a roll-up cover or a folding cover. You can also choose a permanent solution, something like fiberglass lids.
Before purchasing, keep in mind which cover will give you the perfect access to your belongings. Also, go for a type that is easily removable and workable.
Frequently asked questions
1. Do I Need Drilling To Install A Tonneau Cover With A Back Rack?
No, not necessarily. Many tonneau covers are available in the market that comes with features that don't need drilling to install. There are tonneau cover adaptors available that come with extra accessories that help to replace the tonneau cover without drilling your truck rail.
2. What Happens When The Truck Back Rack And Tonneau Cover Are Not Installed Properly?
There is no denying the fact that installing a tonneau cover with a back rack is a critical process. If it does not fit perfectly with your truck's design it can hamper the functionality of your truck such as extra gas usage, less speed, and rough engine start.
We suggest you take some expert's help in this area. So that you don't mess up the whole situation.
3. How Much Is A Tonneau Cover Cost?
This answer will vary according to your product choice. There are various options available in the market that offer different benefits. Also, the price varies accordingly.
Generally, the price starts from $150 and rests at $500 for soft covers. But for hardcovers, the price is pretty high costing $500 to $2000. The price is high as tonneau covers are effective.
4. Will A Back Rack Work With A Tonneau Cover?
There is no one definitive answer to this question. Some back racks are designed to work with tonneau covers, while others are not. If you are interested in purchasing a back rack and you have a tonneau cover, be sure to check to see if the rack is compatible with your cover.
Final verdict
Finally, we suggest you use a tonneau cover with your back rack. It is easy to install and effortless to use. Moreover, it gives you the protection and security you need. In summary, it will be a great investment for your car's well-being in the long run.
To achieve a new pickup-like satisfaction and protection using a tonneau cover with a back rack will be a wise decision. So, what are you waiting for? Lead the way.
Read also: What Size Toolbox For Toyota Tacoma?