It is challenging to peg down the difference between two tonneau covers that are the same type and come from the same brand.
Even though you can buy both of them, it's still important to distinguish between them and select the high-quality one.
In this Retrx Pro-XR vs Retrax One XR comparison guide, we have deal with all those challenges and made it simple for you to make an informed choice.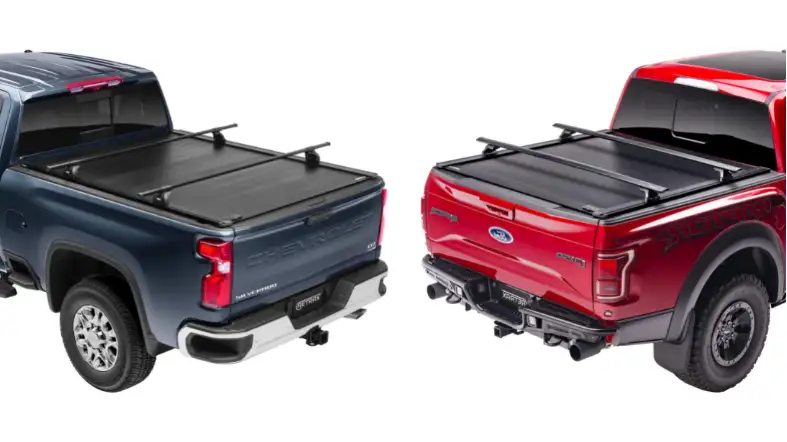 Following we have discussed both the similarities and differences between pro XR and one XR tonneau so you can decide wisely.
RetraxPRO XR Retractable Tonneau Cover
This RetraxPRO XR retractable tonneau cover is made of heavy-duty aluminum slats with a matte powder-coated finish.
Combining these, the tonneau cover offers unmatched functionality and durability. This tonneau is also UV and scratch-resistant and supports a max weight of 500 lbs. 
Like the one XR, this tonneau is also equipped with a Trax rail system to attach T Sloot for carrying larger items. Plus, the tonneau cover has a weather-tight seal to protect the truck bed and loads from harsh weather. 
Another exciting thing is that it's a lifetime warranty. So, if you can manage the budget, this tonneau cover will be your long-lasting solution for carrying valuables and protecting the truck bed while enjoying extra space.
RetraxONE XR Retractable Tonneau Cover
The RetraxONE XR retractable truck bed cover offers outstanding performance and exceptional security with its tough and powder-coated polycarbonate material. It features a Trax rail system that accepts most of the T-Slot accessories to double the carry space. 
The durable construction of this truck bed cover makes it impact and UV resistant and protects any climate.
Made from one-piece material, this tonneau cover retracts without hinges or joints to keep the dust, wear, and frost away. Apart from a scratch-resistant and low-profile look, this tonneau also ensures watertight protection. 
The tonneau slides effortlessly along the rail. So it doesn't need to pull straps, springs, or snaps. Finally, you can lock this tonneau with the key in any position to get better flexibility and security for the valuables.
RetraxPRO XR vs RetraxONE XR: Similarities 
At a base level, both the PRO XR and ONE XR seem pretty much the same. Of course, both of the tonneau covers come from the same brand and are retractable type tonneau covers.
So, before discussing the differences, let's have a look at some of the points that make them similar to each other:
Sealed Ball-Bearing Roller Design
Their similarities come from the base design, which ensures smooth operation and reliable security. The sealed ball-bearing rollers of these tonneaus are mounted to each section to deliver smooth action avoiding catches. 
After sealing these tonneaus, the bearing doesn't get jammed with dust, dirt, or grime. Thus, the operator can keep accessing the bed with ease and a single hand throughout the lifespan of this tonneau cover.
Compact storage canister
These tonneau covers are also designed with a great storage canister. The canister is streamlined and compact and includes a spiral track to prevent the truck bed cover from sliding against itself, especially when you are retracting. 
This way, the tonneau cover prevents premature wear and keeps the dirt from dragging around and blocking the system. That's why these retractable tonneau covers don't get jammed while you are opening or closing them, making the operation quicker and easier.
Integrated Trax Rail System
Another attractive feature that makes these retractable tonneau covers quite similar to each other is their integrated Trax rail system.
Both of these truck bed covers include this Trax rail system that is compatible with the T Slot rack from almost all the reputed brands like Rack, Yakima, Rhino, and Thule. 
This Trax will double your car space and allow you to securely transport valuable accessories inside the truck bed. At a time; it will let you transport large cargo, kayaks, bikes, and other larger items on the top of the tonneau.
Weather protective seal
Both PRO XR and ONE XR tonneau covers are coated with a sturdy UV protective seal to protect against fading. That's why these retrax tonneau covers last a long time, retain their appearance and functionality, and offer an impressive warranty policy.
Clamp-on installation
These tonneau covers also feature clamp-on installation. It's very easy, quick, strong, and doesn't need to the vehicle. The tonneau doesn't include any Velcro or snaps.
It means the least number of components can break down or fall apart. More importantly, the tonneau cover won't cause any fumbling around in the cold climate.
Multiple position locking system
Both of these retractable tonneau covers allow them to lock into any position along their tracks. Therefore, their retrax tonneau covers are perfect for fifth-wheel hauling or carrying cargo in a wide variety of sizes.
RetraxPRO XR vs RetraxONE XR: Differences 
After looking at all those similarities, you may wonder if there are any differences between Retrax PRO XR and ONE XR tonneau covers. Of course, these tonneau covers have some major differences, and these can be your deciding factor in picking the best one for your truck.
Construction
Edge: Retrax PRO XR tonneau cover
The key difference between these two tonneau covers is in their construction material. The Retrax ONE XR tonneau cover is made of polycarbonate material, which is also known as Lexan.
This material can withstand temperatures between -40 degrees Celsius and 130 degrees Celsius, making it a viable tonneau cover for any climate. 
The manufacturer also uses a one-piece sheet of polycarbonate so the user can retract without hinges or joints. This way, the tonneau cover ensures exceptional performance and security, avoiding dust, wear out, or freezing.
Conversely, RetraxPRO XR is constructed with a lightweight yet heavy-duty aluminum alloy to withstand up to 500 pounds of distributed weight on top of it. Another impressive benefit of using aluminum panels is that they don't react with oxygen. 
This means this RetraxPRO XR tonneau cover won't rust. This tonneau cover also retracts without hinges or joints to prevent wearing out, trapping dust, or freezing.
Both the PRO XR and ONE XR tonneau covers use rigid and solid material. So you have to go with your need to decide which material to go for. If your truck goes through more rugged work life, a Retrax PRO XR tonneau cover will be preferable for you.
>> Which Is Better Roll N Lock Or Retrax
Built-in key lock
Edge: Retrax PRO XR tonneau cover
The primary purpose of using a tonneau cover is to protect the cargo, mostly from the elements. Both the PRO XR and ONE XR truck bed covers seal off the truck bed from all-weather elements and protects cargo from rain, snow, and mud. 
Unlike soft or even some hard tri-folds, these tonneau covers also prevent thieves from cutting them and gaining access to the truck bed.
Retrax Pro includes some extra functions, and the built-in key lock is one of the most highlighted ones. When it comes to protection, this key lock seals off the tonneau cover completely from unwanted hands and eyes.
5 Common Retrax Bed Cover Problems And Solutions
The Aesthetic
Edge: Retrax PRO XR tonneau cover
Another difference between PRO XR and ONE XR truck bed covers is in their style. Though the streamlined look is natural in the retractable truck bed cover, it is worth noting that the Retrax PRO XR obviously offers a more low-profile look to the truck.
Read also: Roll N Lock Bed Cover Problems And Solutions
Price
Edge: Retrax ONE XR tonneau cover
The price of these tonneau covers varies depending on the stores and online shops. If you check Amazon, you'll find that Retrax ONE XR is quite more affordable than the PRO XR.
>> Gator Trax Vs Retrax: Which One Is Best?
RetraxPRO XR vs RetraxONE XR: which tonneau cover is best for you?
Whichever tonneau cover you choose, both of them will serve you well. In general, a retractable tonneau cover seals a truck bed more superiorly than other types and guards against the elements and thieves. It's a crucial function to consider for the truck owner who lives in an area with snowfall or rainfall. 
But when it comes to choosing one of them, the Retrax Pro XR Tonneau Cover is preferable. Though both of the retractable tonneaus have plenty of similarities, the tougher construction, improved seal, and more aesthetic look make the pro XR better, even at a slightly higher price.
Read also: How To Keep Dust Out Of Tonneau Cover?
Final words
It's a bit of a tough job to compare and select between such tonneau covers that are so very similar to each other. Still, we have compared and delivered to you a couple of differences between these two tonneaus. 
In this retrax pro XR vs retrax one XR guide, I hope now you can set these retractable tonneau covers apart and pick the most preferable one.
It's worth mentioning that you should check the compatibility of the tonneau cover with your truck's make and model to get the perfect fit and optimum protection.
Read also: Best tonneau cover for snow and ice
Read also: Best Weather Stripping For Tonneau Cover