Exciting to buy a Retrax Pro XR tonneau cover to haul large cargo on its Trax rail system? But is this enough for you to make the final call?
If not, keep reading this deep research and in-depth Retrax Pro XR review to learn every detail about this tonneau cover.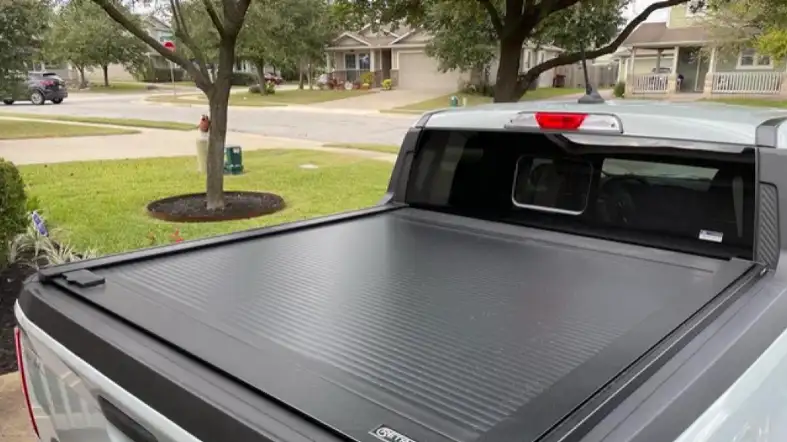 This post will help you understand the capability and limitations of the Retrax Pro-XR retractable tonneau so you can decide informally instead of going with the hype.
RetraxPRO XR Retractable Truck Bed Tonneau Cover – overview
This RetraxPRO XR retractable tonneau cover has everything to meet your challenging demands and withstand them for a long time. Right out of the box, this truck bed cover will impress you with its packaging, installation, and user experience. 
This tonneau cover is constructed with industrial-strength aluminum slats and finished with a matte powder coat, making it durable, functional, scratch resistant, and UV resistant.
These features also allow this tonneau to carry a maximum of 500 pounds. The manufacturer confidently offers a lifetime warranty with this RetraxPRO XR retractable truck bed cover. 
To improve versatility, the Trax Rail system of this tonneau accepts most T-Slot accessories to optimize cargo capacity.
Apart from offering a low-profile look, this retractable cover ensures a weather-tight seal to protect the contents, while its ball-bearing roller system offers smooth operation.
However, its aluminum rails and slats can get hot if they remain directly under the sun. But it won't affect the cover's durability at all.
Pros
Allow doubling the truck bed cargo capacity.
This tonneau is easy to install within hours.
Made of a durable aluminum panel to hold 500lbs.
Suitable for locking into any position by key or latch.
Offer a low-profile look to the vehicle.
Offer lifetime warranty.
Cons
It needs two people to install this tonneau cover.
You'll need the original packaging to return it.
RetraxPRO XR Retractable tonneau cover Features
Construction 
This RetraxPRO truck bed cover is a heavy-duty option with its thick aluminum slats. The slats also don't have any joints or hinges.
It means the tonneau won't give any chance to the dust, freeze or wear to do anything harmful to the cover itself or the contents.
The manufacturer offers a lifetime warranty and US-based customer support for a satisfying experience. Its roller has a ball-bearing seal that slides along the tracks smoothly.
The simplicity of the design will also amaze you, while you'll get jam-free operation. The moving mechanism also doesn't fail, even after consistent use.
Its scratch-resistant black matte finish will retain the clean look for a long time while supporting up to 500 lbs.
>> Most Popular Truck Bed Covers
Security
You can lock this tonneau cover with either a latch or key to secure the cargo in the bed. The tonneau also allows you to lock it in any place over the bed for convenient use.
Another exciting benefit of this tonneau is that it keeps the loose pieces of the cargo secure that are too big to place under the truck bed cover.
Its latch and lack thereof sit flush with the tonneau cover to remain completely hidden and offer a beautifully streamlined look.
The tonneau also maintains a weather-tight seal to secure the bed and loads from any weather elements, including water, snow, wind, and dust.
Trax Rail System
This particular feature makes the RetraxPRO XR retractable tonneau cover attractive to the owner of the vehicle and better for the competitors.
Its integrated rail system fits with T-slot accessories from the majority of the top rack companies, including Yakima, Rhino-Rack, Thule, and many more.
This function will let you double up the tonneau cover's ability to haul large cargo and enjoy the adventure that awaits you. 
Apart from cargo, you can also carry kayaks, baskets, bikes, or whatever. Overall, this exciting function will let you carry larger items by unlocking the space over the truck bed and keeping the smaller accessories and other camping cargo under the tonneau.
Read also: How To Fix Tonneau Cover Latch?
Low Profile
This retractable tonneau cover sits darn near flush to the bed of the vehicle, and the rails rise a bit, around ½ inches, to hold the Trax Rail system.
This way, its low-profile design improves the overall appearance of the truck. The seals around the ends of the tonneau cover are also firm and dependable and keep the truck bed and stuff dry during rainy days.
>> 10 Best Retractable Tonneau Cover For F150
Highly functional
This Retrax Pro XR tonneau cover is extremely functional, making it perfect for versatile use and a wide range of purposes.
It offers the complete functionality of the cover and delivers full truck bed access while placing the large cargo on top of it. Its integrated Trax Rail System makes the tonneau unique and allows customization based on personal preferences.
Despite this, its sealed ball-bearing roller system makes it effortless to slide along the rail while the convenient handle eliminates the necessity of pulling the straps or springs.
You can also lock this retractable tonneau in any position to get ultimate flexibility. When you combine these, it's a highly versatile and convenient tonneau cover available right now.
Read Also: 5 Common Retrax Bed Cover Problems
FAQs
Is The Retrax Pro XR Waterproof?
Unfortunately, there is no 100% waterproof tonneau cover. Still, this Retrax Pro XR doesn't leak much water to wet the loads and truck bed, thanks to its seal around the edges.
Taking extra care will prevent water from entering the inside of the truck bed during severe weather and car washing.
Can I Open The Tailgate While Keeping The Tonneau Lock To Secure The Contents?
To secure loads in the bed, you can lock this retrax pro xr separately from the tailgate. You lock and secure the cover, and then you should also lock the tailgate.
Is It Necessary To Remove The Front Bed Tie-Down To Attach The Canister?
Yes, you have to. You can follow the instructions that come with this tonneau cover to get a jump start.
Is This Tonneau Cover Needed To Open Up Manually?
You have to operate this tonneau cover by hand instead of opening it up by pushing a button. If you prefer automatic operation, we recommend you buy a Retrax power cover.
Read also: How To Keep Dust Out Of Tonneau Cover?
Final words
Overall, the Retrax Pro-XR retractable truck bed cover is highly recommended for any truck bed compatible with it.
Though you will lose a little cargo space in the truck bed where the tonneau rolls into the container, this cover will still offer you a streamlined and nice look. 
It also has enough space for loading small accessories, making it perfect for carrying large amounts of items. I hope you find this Retrax Pro-XR review helpful and informed enough to get details about the tonneau and make a wise decision.
Read also: Can You Go Through A Carwash With A Tonneau Cover?
Read also: Best Weather Stripping For Tonneau Cover