Gator Trax vs retrax, are you feeling confused between these two well-accepted models? Don't worry; you are not the only one.
Even some experts get confused to choose the right model. That's why today we have covered this guide with the following information:
Gator Trax truck bed cover review
Retrax truck bed covers review
Differences in several key features
And more!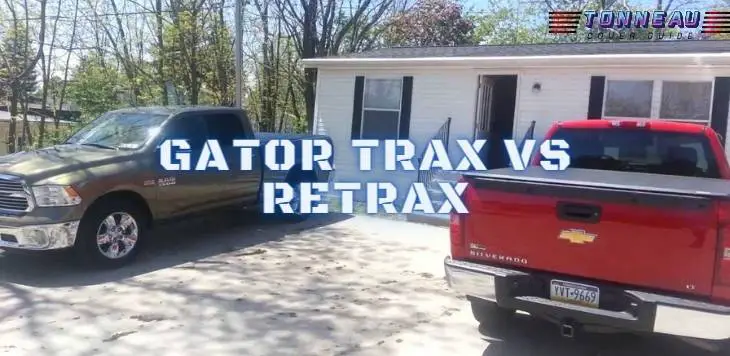 Quick Look
| Product name | Gator Trax Truck Bed Cover | Gator Retrax Truck Bed Covers |
| --- | --- | --- |
| Material | Made with LEXAN polycarbonate  | Made with industrial-strength aluminum slats  |
| Design | Design with the ball-bearings technology | Design with Trax Rail System |
| Protection | Allow locking in any position  Construct With the tailgate locked   | Can be locked in place anywhere along the truck bed by latch or key |
| Installation | Allow to install easily with clamp-on rails and it doesn't need any  drilling or cutting | Though a user manual is included but seems tough to install first |
| Weather-resistant | Can bear the load of rain, snow, and any type of harsh weather conditions | Assured water tightness security Can trap dust, wear out or freeze |
| Price | Available at a relatively low price than retrax | Cost more than gator Trax |
Difference Between Gator Trax And Retrax
Finding the right tonneau cover is not so easy task as driving a truck. A good quality truck bed cover not only helps transports goods easily but safely.
But when it comes to such a well-accepted brand like gator Trax and Retrax, choosing one is even tougher.
Both brands has reputation for producing top-class truck bed cover that offers complete protection to the goods as well as made of advanced technology.
But the difference between them isn't less. Let's have a look at some of the key differences:
Construction
As we are talking about a safety material that allows transport goods safety, the material should come from tough and heavy-duty design.
In this case, gator Trax made their product using sturdy polycarbonate slats with a matte finish. With a glossy and smooth black finish, the gator Trax bed cover will offer the truck a classy look.
Read More: Gator EFX Hard Fold Tonneau Cover Reviews
Retrax bed cover, on the other hand, constructs bed cover with industrial strength aluminum. Thus the product offers a driver full confidence to load 500 pounds and above. Even the Retrax bed cover allows carrying a metal without getting any scratches.
Design
The bed cover from Gator Trax is especially suitable for those users who don't have much time loading and reloading the stuff on the truck. The brands offer a user-friendly bed cover that helps open and close the cover more smoothly and quickly.
Read More: Gator SFX Tri-Fold Tonneau Cover Reviews
Apart from the aluminum structure, the retrax bed cover comes in a perfectly fitting design and a range of colors. So the user will not only have a durable and tough quality bed cover but a matching one to make a dull day brighter.
Protection
With a good weight capacity, the tonneau cover from gator Trax can bear the load of rain, snow, and other harsh weather conditions. Even it will keep the truck safe and maintained.
If you are looking for truck bed covers for rough uses with different locking systems, still it will be an acceptable option. The feature will allow you to lock the cargo or other luggage at any point on the rail-based on your convenience.
Read More: Undercover Armor Flex Tonneau Cover Reviews
Conversely using a retrax truck bed cover you will have such tight security that cant is brake without causing alarm. So in the toughest condition, the brand offers a safe journey.
Installation
Another key feature that should take into count while comparing is installation. If you consider gator trax, it will let you install the truck bed cover so easily that you won't require any drilling or cutting.
Read More: Truxedo Sentry CT Reviews
At the same time, its ball-bearing technology will make the cover smoothly retract over the rail. Even you don't need to worry about freezing or getting locked.
The retrax bed cover is also easy to install and fix. However, it may feel a bit tricky for the first time. As the manufacturer offers a quick and easy-to-read manual book so the process will be a matter of time. 
Cost
The final consideration is the budget. If you want to have a truck bed cover that includes a Compact built-in canister, low-profile design, weather-resistant, sleek and stylish look, then you will need to have a healthy budget as gator Trax cost a bit more.
However retrax truck bed cover comes with an Aluminum structure, Water tightness, Secure and stylish look, but you will have it at a comparatively low price.
Gator Trax Tonneau Cover
Gator Trax offers a low profile design Tonneau cover that looks amazing on the truck. With Lexan material, this brand made a heavy-duty tonneau cover. Besides the product that is brand offers are durable yet lightweight, UV rays protected and can survive at temps between -50 degrees to 200 degrees Fahrenheit.
With one-piece construction at the top, the product prevents water penetration. Another attractive thing about the brand is the product they offer are doesn't need any special maintenance. Design with the ball-bearing technology, the brands let users easily open and close the tonneau cover.
Read More: Common Gatortrax Tonneau Cover Problems
As the tonneau cover doesn't have any moving parts on the canister, so the product won't get jammed. Moreover, its rails are clamp-on, so the user won't have to experience any cutting or drilling to install it. Proudly made in the USA, the brands offer their product with a lifetime warranty.
Retrax Tonneau Cover
With a unique design, retrax is offer user friendly and highly durable products. With a hard aluminum layer, the manufacturer offers a barrier from a tonneau cover. 
While other brands offer tonneau cover that rolls into itself as the sleeping bag does, this retrax brand designs their product in such a way that rolls inside a canister situated at the front of the bed of the truck.
Read More: Can You Stand On A Tonneau Cover?
Besides, you will have to take a canister-size cargo into the truck bed. However there is a limitation on the size, but the Retrax offers such a tonneau cover optimum privacy, security, and protection for whatever you keep inside the truck.
Lastly, the rands produce a power-operated retractable truck bed cover that is extremely easy to operate with one-touch remote control.
Final words
In this gator Trax vs Retrax debating guide, we have covered a whole lot of information and compared them in several crucial features.
We intend to offer you the right information. Thus, you can choose the most preferred truck bed cover to enjoy safe and comfortable transport.
However, both of the brands produce products that are long-lasting, weather-resistant, and easy to operate, but it's you who will have to make the final decision based on truck type and budget.