If you have already made a short list of access Lorado and Truxedo Lo Pro tonneau covers, you are one step away from picking the best truck bed cover.
In such a confusing situation, access Lorado vs Truxedo Lo Pro comparison guide can only help you decide. 
But it must have well-researched and detailed information, and comparing face to face in their aspects will be quite handy to make an informed decision within a short time frame.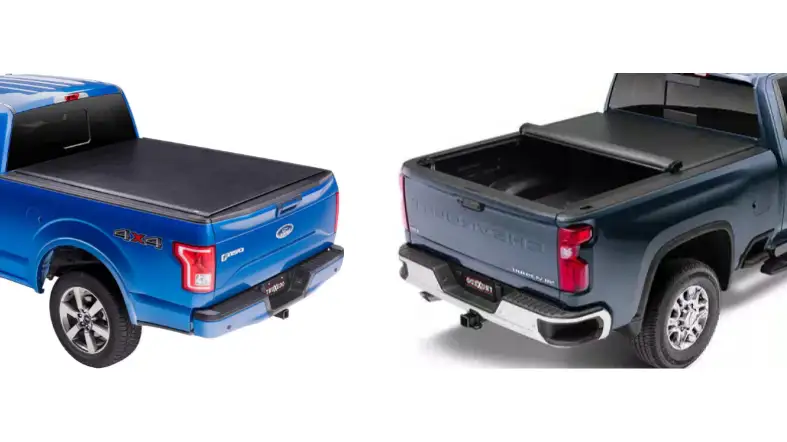 Luckily, we have made all those efforts and deal with the hassle and prepared this guide so you can simply read it thoroughly and make a sensible decision.
Quick Comparison
Feature name
Access Lorado 
Truxedo lo pro
Type 
Soft roll-up
Soft roll-up
Material 
Agricultural grade vinyl
Double coated vinyl
Appearances 
Sleek low profile look
Clean, low-profile look
Operation 
Automatically latches and smooth action pull cord
One finger release trigger latch 
Installation 
Drill-free tight bite clamps
Drill-free clamping system 
Tension control 
Tension adjuster
Patented self-adjusting spring tensioner
Security features
Deluxe storage straps.
AutoLatch II.
Element weather seal.
4-way sealing system.
Hook and loop strips.
Rear latching system.
Truxedo lo pro Soft roll up Tonneau Cover
This soft roll up Tonneau Cover from Truxedo is one of the best-selling truck bed covers in the class due to its user-friendly operation and unmatched protection.
Made of heavy-duty anodized aluminum and a durable double-coated vinyl trap, this soft roll up tonneau cover is UV resistant and withstands beatings without any hassle. 
To protect it from Mother Nature and bad people, the manufacturer designed this truck bed cover with hook and loop strips throughout the tonneau and a 4-way sealing system. 
It also has a rear latching system that keeps the tonneau lock in place and allows it to open only after opening the tailgate. With a combination of drill-free installation and a lifetime warranty, this tonneau cover makes every penny worth it.
Access Lorado soft roll up tonneau cover
This Lorado truck bed cover also has an aluminum frame and UV-resistant agricultural grade vinyl to hold rain, snow, and other pressure quite effectively. But the fact that attracts us most is its security feature. 
This soft roll-up tonneau cover features a couple of security functions, including an automatic latching mechanism, an element seal weather blocker, and a manual slide lock.
Combining these features, this soft roll up tonneau cover handles any kind of changes that come from nature and humans. 
This Lorado truck bed cover also guards against water damage. But the tonneau cover only has a 5-year warranty, which is also decent for a soft roll up type bed cover.
Access Lorado Vs Truxedo Lo Pro: comparison in different aspects
Construction
Edge: Both
Both the tonneau covers are made of durable yet lightweight aluminum frames to offer a long lasting lifespan.
But when it comes to vinyl, Access Lorado uses durable agricultural grade vinyl while Truxedo Lo Pro uses double coated vinyl.
Thus, both of these soft roll up tonneau covers are resistant to UV rays, scratches, knives, as well as snow and rain.
Appearances
Edge: Both
The TruXedo Lo Pro tonneau cover offers a unique and stylish look to the truck. Everything on this tonneau mounts on the inside of the truck bed and offers a sleek appearance. 
Apart from hiding everything, the Truxedo tonneau cover also uses patented spring adjustments that keep the tonneau tight and smooth throughout all climates. In the case of appearances, access Lorado also offers a low-profile look.
Weather Protection
Edge: Truxedo lo pro
Access Lorado does an impressive job when it comes to protecting the goods from harsh weather. It has an adjustable tension control big knob to adjust the tension of the tonneau during temperature fluctuations or inclement weather. 
This truck bed cover is also made of a high-quality material that can endure temperatures between -40 and over 110 degrees F.
The tonneau also has a watertight gasket and waterproof seals all around the rails to prevent water from entering the inside of the truck bed.
You won't find the truxedo tonneau cover ahead of access Lorado in terms of weather protection. This tonneau features an automatic tension adjuster to retain the good shape of the tonneau and close easily, no matter how the temperature rises or drops. 
Despite its double-coated and UV-resistant vinyl, the tonneau keeps the tonneau tight with the help of a patented self-adjusting spring tensioner.
For water-tight protection, the manufacturer designed this truck bed cover with a four-way sealing system and hooks and loop strips for the whole length of the truck bed.
Durability
Edge: Access lorado
The Access Lorado tonneau cover is made of a commercial-grade aluminum frame and an exceptionally tough tarp. The tonneau is also made of ripstop fabric that makes it resistant to scratches and tears.
The ripstop technology also extends its longevity. Despite, a combination of black 6000-grade aluminum rails, bars, and bows, this truck bed cover can also withstand extra weight.
The Truxedo Lo Pro Tonneau Cover, on the other hand, is made of heavy-duty anodized aluminum that can withstand the added pressure of rain and snow. Its double-coated vinyl is also UV resistant and ensures beating without causing any damage.
Ease of Use
Edge: Both
The access lorado has a long-lasting anodized trigger latch that you can open with one finger. This trigger latch operates flawlessly, no matter how old the tonneau cover is.
The tonneau cover is secured to the rails with three tight-biting clamps on each side. The truck bed cover only takes a few minutes to install.
Their teeth are accurately carved, which ensures strength and a firm grip. The tonneau rolls back smoothly and remains secure in place with clips, keeping the bed dry.
You won't even need to re-tension the cover after years of installation. On the other hand, Truxedo Lo Pro takes around 45 minutes to install and 10 seconds to remove.
It needs to be put on each side rail and tightened with the clamps without drilling anything. Though it can be easier if you get aid from somebody to hold the tonneau level, you can also do it yourself. 
The tonneau rolls up smoothly with its crossbars towards the bulkhead to offer full bed access. And its pop lock tailgate lock keeps its locks in place.
Like the Lorado, this lo pro soft roll up tonneau also has a one-finger release trigger latch for quicker operation. To close the cover, simply roll it back towards the tailgate and push on the end of the tonneau cover.
>> Tri Fold Vs Roll Up Tonneau Cover
Security
Edge: Access lo pro
Access doesn't compromise the security of the truck bed. This access Lorado soft roll-up truck bed cover from Agri-Cover has plenty of features to keep the truck bed and its content safe from nature and unwanted hands.
The Auto Latch II Locking System of this tonneau is the most reliable function that ensures complete security. 
Its passenger-side latch keeps the cover locked to the tailgate to protect cargo. The tonneau also has a push cord placed on the driver's side to activate the reflex latch.
Despite this, its Velcro hook and loop closure adds an extra layer of security. Finally, the ripstop trap is tough for a thief to cut.
The Trudexo Lo Pro roll up tonneau cover also offers trustworthy security for the truck bed and the loads. It features a four-way sealing system to protect the cargo and bed from Mother Nature and thieves. 
The tonneau also has hook and loop strips along the length of the truck bed to keep the tonneau locked. Plus, its rear latching system keeps the tonneau secure in place and only allows it to open after opening the tailgate.
>> Is A Hard Tonneau Cover Worth It?
Cost
Edge: Both
Both the Access Lorado and the Truxedo lo pro tonneau come in pretty much the same range in terms of price. They differ by a few pennies, so you won't have to choose based on your budget.
If you have a budget of around $500, you can buy any of these soft roll up tonneau covers.
Read also: How To Fix Tonneau Cover Latch?
Warranty
Edge: Both
The warranty is also a deciding factor when you are comparing access Lorado and Truxedo Lo Pro Tonneau Cover. Both the Lorado and Truxedo lo pro offers an exciting lifetime warranty.
>> How Long Do Tonneau Covers Last?
Access Lorado vs truxedo lo pro: which soft roll up tonneau is best for you?
It's a bit hard to decide whether the access lorado or truxedo lo pro tonneau cover is best for you. Both the soft roll up tonneau cover has plenty of similarities including type, look, construction, and even warranty policy. 
Though this tonneau cover has a little difference in security and protection, they are quite minimal to declare one as a clear winner over the other one.
Read Also: 5 Common Retrax Bed Cover Problems
Final words
In this access Lorado vs truxedo lo pro debating guide, we have compared them in numerous factors to help you set them apart. But the truth is, these soft roll up tonneau covers are more similar to each other than different. 
It means you can go any of these truck bed covers to get the ease of operation and reliable protection to the truck bed and stuff. Still, it's worth checking the compatibility to pick the right size tonneau for your certain make and model of truck.
Read also: Best Weather Stripping For Tonneau Cover