One of the best ways to secure tray cargo is to use a cover. BAKFlip is one of the most reliable covers you can ever find in the market. It's been a darling for many truck owners. BAK industries make the backflip, and it's effective in covering your truck bed. 
And just like any other flip, BAKFlip may develop some issues. But that's not the end. Some of these issues you can fix them easily on your own. 
In this article, we'll share with you the possible issues you might experience with BAKFlip covers. We'll also give you a detailed guide on how to solve these issues. 
The Most Common BAKFlip G2 Problems
Fitting Issues 
The first issue that you might encounter with the BAKFlip G2 covers is the fitting issue. Unless you bought your truck with the cover, you might experience this problem when you buy it. 
The most important thing to do is always check the measurements of your truck. And when ordering, ensure you buy the right cover for your truck. Get the size that will fit properly on your truck. 
The Bakflip g2 tonneau cover comes with a step-by-step installation guide, and it has smooth latches. Still, some users find it difficult to get the left latch to click even after following the instructions properly. 
They experience the latch sinking under the bed rail and tailgate instead of over the bed rail, making it tiresome to lock the cover. The possible thing that can happen is that the rail that should sit closer to the tailgate may slip down. 
Solution
So, always buy the right size of bakflip cover. However, if you have the cover with you and can't return it by any chance, we advise you to get help from an experienced mechanic. Find someone who can customize it for you so that it can easily fit and seal your truck bed. 
>> 8 Common Bakflip Mx4 Problems
Securing Problem
Sometimes BAKFlip g2 tonneau cover doesn't allow you to secure it at the tailgate. If you grab one corner and slide it, the tonneau opens itself. This is common if you don't have bed rail caps. 
Read also: How To Patch A Hole In A Tonneau Cover?
Solution
If you experience the same problem, use a few plastic spacer strips to keep the rails closer together. They will ensure the flip securely fits on the truck bed. Besides, these spacers are also helpful for draining water properly.
Sharp End
Unlike the other tonneau covers, the backflip has a sharp, unfinished end. So you must be careful when holding the cover edges. Otherwise, you could cut yourself. So, always be mindful when you're handling the BAKFlip G2 Tonneau cover. 
Leaks 
According to BAKflip, the G2 tonneau cover is designed with EPDM rubber weather seals. It runs along the end of the cover to provide waterproof coverage.
However, most people who have used the cover complain that these rubber seals fail to prevent water from leaking through the gap between the panels and rails. It can lead to worse situations during the rainy season, especially if you have a defective drainage tube system.
Solution 
Most of the time, the leaks are caused by poor installation. So, if you notice the cover leaks, check how you installed it. Ensure that there are no gaps that were left on it. 
Also, ensure your truck drainage is okay. It will ensure that any water that finds itself in the truck it's drained out. 
If the cover is perfectly installed, you shouldn't experience cases of water leakages. But if this is the case, consult with an expert. Consult with your mechanic. They will check your cover and ensure that it's well installed. 
However, the cover might not entirely prevent the water from getting into your truck bed under heavy rain or storms. In this case, it might not be the cover. If you experience these leaks under heavy rainfall, then find a waterproof cover and tie it on top of the BAKFlip cover. 
Locking System
Another issue with the BAKFlip g2 tonneau cover is its locking system. You need to have the tailgate locked in the truck to ensure complete protection of the cargo or other loads. If you don't have the tailgate, then it's very difficult to lock the cover. In short, you need an entire locking system for your truck. 
Solution
If your cover doesn't lock properly, ask a mechanic to check it for you. They will fix the problem.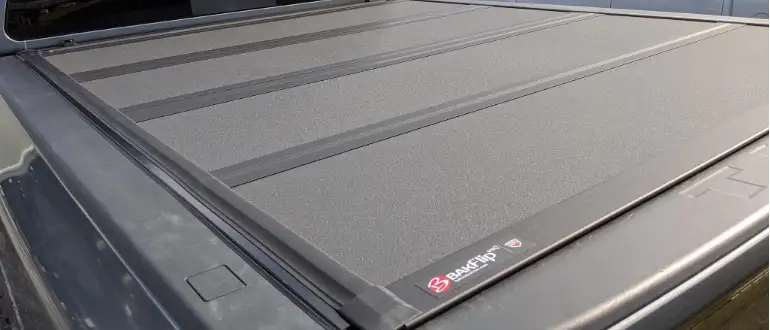 Inefficient Heat Resistance
The harsh summer temperatures can easily melt the rubber seal around the cover edges. When this happens, they're nothing else you can do apart from replacing it. The heat issues also lead to other problems, such as leakages. 
So always check the cover and ensure that the rubber is intact. Because if you don't pay attention to it, you'll have to deal with other serious issues such as leakages. 
Loose Integrated Prop Rods
The Bakflip g2 tonneau cover comes with integrated prop rods to support the cover in a vertical position. This way, the tonneau offers full bed access. But it can get loose if you go out for a long drive and run the truck over a bumpy road. The only solution is to inspect and tighten it after a long drive. 
So, Is The BAKFlip G2 Tonneau Cover Worth It?
BAK has been producing truck bed covers since the early 2000s. It's loved and hated in equal measures. But one thing is evident, the back cover it's reliable. If you have installed it properly, you might not have to worry about some of these issues. It's the reason why it's a top seller in the market. It gives better performance than most other covers. 
This G2 cover comes in a matte finish and is resistant to scratches. The tonneau cover also tends to smudge less than a bright cover. It performs very well and withstands both heavy rainstorms and snow loads. 
So you can leave the truck outside without worrying about leakages. Its water drain tube and dual-action seal protect the bed and loads. The minor BAKFlip g2 problems we have mentioned can be avoided through proper installation and maintenance.
And even better, their customer support is always waiting to hear from you. All you need to do is reach out to them.
Read also: What Size Toolbox For Toyota Tacoma?
>> Which Bakflip Cover Is Best?
Alternative To Bakflip G2 Tonneau Cover
If you're looking for an alternative to the Bakflip G2 tonneau cover, a few options may suit your needs. Here are three of the top alternatives, along with a review of each.
1. Gator EFX Hard Tri-Fold Truck Bed Tonneau Cover
The Gator EFX hard tri-fold tonneau cover is a perfect alternative if you're looking for a cover that's easy to install and use. The cover folds up easily and can be installed without special tools. 
Gator EFX Hard Tri-Fold Truck Bed Tonneau Cover | GC24022 | Fits 2019 – 2022 Ford Ranger 5′ 1″ Bed (61″)
Fits 2019 – 2022 Ford Ranger 5′ 1″ Bed (61″)
TOUGH TRUCK BED PROTECTION | The Gator EFX Hard Tri-Fold is constructed of heavy-duty aluminum panels that automatically lock when closed. Panels are coated with a scratch-resistant, UV-protective, black powder coat finish
EASY INSTALL & LOW-PROFILE DESIGN | The EFX tonneau cover can easily be installed in less than 30 minutes, without the use of tools or need for drilling. EFX sits flush with your truck bed, providing a stylish low-profile look
WEATHER PROTECTION | Gator EFX provides an integrated water management system to keep the rain, snow, dirt and dust out of your truck bed. EFX's unique seal design channels the element out of your truck bed, providing superior bed protection
3-YEAR WARRANTY | The Gator EFX Hard Folding cover is backed by a 3-year warranty, and is supported by our US-based customer service team. If anything goes wrong with your cover, our tonneau cover experts are at your service and ready to help!
Fits 2019 – 2022 Ford Ranger 5′ 1″ Bed (61″)
Tough truck bed protection 
Easy to install
Weather protection—water and snowproof
Scratch resistant 
UV-protective 
3 years warranty
Read also: How To Fix Tonneau Cover Latch?
2. UnderCover ArmorFlex Hard Folding Truck Bed Tonneau Cover
This is the perfect option if you're looking for a durable cover. It's also easy to install. With its features, it will serve you better than most of the other covers. Besides, it comes in different covers that could easily match the color and design of your truck. 
UnderCover ArmorFlex Hard Folding Truck Bed Tonneau Cover | AX12022 | Fits 2019 – 2022 Chevy/GMC Silverado/Sierra 1500 5′ 10″ Bed (69.9″) , Black
Fits 2019 – 2022 Chevy/GMC Silverado/Sierra 1500 5′ 10″ Bed (69.9″)
ULTIMATE DURABILITY | The ArmorFlex hard folding cover has durable, matte-finished aluminum panels with a patented LINE-X coating to help prevent dents, dings, & scratches for superior protection in extreme environments
ENHANCED SECURITY & FUNCTIONALITY | This cover's automatic latching system locks each panel in place with releases on either side of the bed for easy operation. Its dual-action tailgate seal allows you to shut the tailgate without lifting the cover first
100% BED ACCESS | The ArmorFlex allows you to drive with the cover in three secure positions: closed, partially closed, & fully open. The cover folds into an upright position with dual prop rods, without resting on the back of the cab
PURCHASE WITH CONFIDENCE | The UnderCover ArmorFlex hard fold is lightweight and easy to install. It comes with a 5-year, hassle-free guarantee and is proudly made in the USA with globally sourced materials with a US-based customer support team
Fits 2019 – 2022 Chevy/GMC Silverado/Sierra 1500 5′ 10″ Bed (69.9″)
Durable 
Prevent dents, scratches, and dings
Automatic latching lock system 
Allow full or partial bed closing 
5-year warranty 
Read Also: 5 Common Retrax Bed Cover Problems
3. oEdRo Hard Tri-fold Truck Bed Tonneau Cover
This is it if you're looking for a durable and easy-to-install cover. It's made from high-quality materials, and it's available in a variety of colors.
oEdRo Hard Tri-fold Truck Bed Tonneau Cover Compatible with 2016-2022 Toyota Tacoma (Excl. Trail Edition), 5 ft Bed (60.5") with Tacoma Bed Rail
【Precise Fit】OEDRO hard tri-fold truck bed cover is compatible with 2016 2017 2018 2019 2020 2021 2022 Toyota Tacoma (Excl. Trail Edition) with Tacoma bed rail | Fleetside 5ft / 60.5in bed
【Hard Cover Benefits】 Provides maximum protection using high strength honeycomb aluminum plate; Save yourself the headaches of fingerprints, scratches, or cargo theft; Extends lifespan by having excellent corrosion, water, and snow resistance, along with impressive 350lb weight capacity.
【Easy Installation:】Simply follow the included instructions, no drilling required in most cases; (NOTE: Small holes need to be cut for trucks with over-the-bedrail bedliner to secure clamps; No modification needed for pickups with under-the-bedrail bedliner; Cargo racks must be removed beforehand.)
【Heavy Duty Material】 Composed of double aluminum honeycomb plates; This hard top bed cover has been thoroughly tested to provide UV protection and superior load-bearing capacity; Comes with premium quality aluminum frames and clamps for unshakable stability.
【All Weather Protection】 Please measure your truck bed size or contact us before purchasing; With the tailgate locking, your truck bed instantly converts into a 100% secure, snow-proof, and dust-proof trunk; Front and rear waterproof strips are included for enhanced sealing; Enjoy all-encompassing protection all day long. We offer returns but the buyer may be liable for return shipping if the order is incorrect; Contact us if any inquiries arise.
Compatible with 2016, 2017, 2018, 2019, 2020, 2021, 2022 Toyota Tacoma (Excl. Trail Edition) with Tacoma bed rail | Fleetside 5ft / 60.5in bed
Maximum protection 
Snow Resistant 
Water-resistant 
Anti-scratch 
Easy to install or modify
No drilling needed
UV Protection 
All weather protection 
Dust-proof 
Heavy duty material made of double aluminum plates 
Read also: How To Keep Dust Out Of Tonneau Cover?
Also read: BAKFlip F1 Vs BAKFlip MX4
Final Words
BAKFlip G2 is an excellent cover. However, it might develop some issues with time. All you need is to ensure it's well installed and properly working. But if the issues are beyond you, always consult your mechanic. 
Alternatively, you can replace it with either of the above three covers. They are all available on Amazon. Buy and replace your cover with either of them.
Read also: Bakflip MX4 vs Bakflip G2
Read also: Best Weather Stripping For Tonneau Cover