Two good options with almost similar greatness! That's what best describes the dilemma when you will differentiate Truxedo Sentry Ct Vs Bak Revolver X4S covers.
Bak Revolver X4S has a rotational locking mechanism rail, whereas the Sentry CT has a lock-and-loop rail. Vinyl-coated silver aluminum slats of Revolver X4S come with a 5-year warranty. But Truxedo Sentry CT has a woven fabric cover on black aluminum metal slats with a 3-year warranty.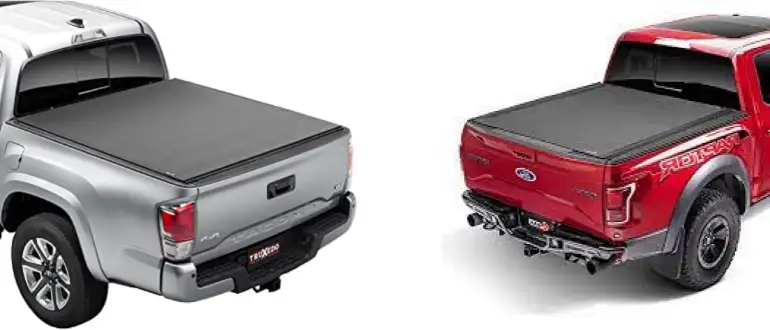 You will find a few similarities between these two high-quality tonneau covers, like water resistance, outlook, and security features. However, comparing these two will still be tricky.
Let me help you to get a clear idea.
Truxedo Sentry CT Vs Bak Revolver X4S: Quick Review
| | | |
| --- | --- | --- |
| Features | Bak Revolver X4S | Truxedo Sentry CT |
| Materials | Silver aluminum slats covered with heavy-duty, matte-black vinyl. | Black aluminum slats covered with matte-black, woven fabric. |
| Rail type | The rotational locking mechanism locks secure the full length of the truck bed. | Heavy duty hook-and-loop fasteners at the tailgate and middle of the bed. |
| Accessibility | Maximum | Full |
| Warranty | 5-year | 3-year |
Truxedo Sentry CT Vs Bak Revolver X4S Comparison Table
The Truxedo Sentry CT
The Truxedo Sentry CT is made of a combination of heavy-duty aluminum slats and flexible matte fabric. Plus, the fabric of this hybrid roll-up tonneau cover is pressure-bonded to the metallic boards. 
You will have a flush-mount profile. The fabric is also weatherproof to keep the loads dry and dust-free during harsh weather. 
This tonneau cover also sits right at the top end of the truck bed to offer complete bed access for various purposes. The feature also makes it simple to load and unload large cargo.
The manufacturer offers security straps with this tonneau to keep the cover in place during extreme situations. This Sentry CT truck bed cover also comes with an extra security latch to prevent the load from theft.
Another impressive thing about this tonneau cover is that it doesn't require any nail hammering or drilling to install. Instead, it has clamps for quick and effortless installation.
The BAK Revolver X4S
This BAK revolver X4s hard roll-up tonneau cover is an upgraded version of the Revolver X4. This truck bed cover comprises industrial-grade aluminum slats and vinyl and has a matte black finish. 
You will get long-term durability and a stylish appearance. The surface construction also shields the truck bed and loads from harsh weather and theft. 
To maximize security, BAK offers rotational locking rails with this X4S tonneau. This hard rolling tonneau ensures drill-free installation and offers full bed access.
>> Roll N Lock A Series Vs M Series
Truxedo Sentry CT vs BAK Revolver X4S: Detail Comparison
It's time to dig deep into the issue. Yes, I am comparing these two popular tonneau covers from Truxedo and BAK. These covers has some similarities that I will share a bit later so that you can focus on the differences first.
Material
These hard rolling tonneau covers are made of heavy-duty aluminum slats to withstand high pressure and weather. But the difference is that the BAK X4s has silver aluminum slats and matte-black vinyl fabric. 
Conversely, Truxedo CT has black aluminum slats and matte-black, woven fabric. Though they vary in material, both are extremely durable and resistant to rain, dust, and scratches.
Edge: Both
Truxedo Sentry CT Problems (Causes And Solution)
Design
The BAK revolver X4 tonneau cover has a patented rotational locking system to keep the cover in place along the length of the bed. This prevents the tonneau from flapping during wild winds, keeps the inside dustproof, and improves the truck's performance.
Conversely, Truxedo Sentry CT has heavy-duty hook-and-loop fasteners at the side. It also has latches at the center of the bed and the tailgate. Combining these, this tonneau protects the bed and loads in place.
However, you'll need some effort and stretching to close the latches and keep the cover attached to the tailgate. Despite this, it leaves some space between the slates, which can let some dust enter inside.
Edge: BAK Revolver X4S
>> Best Roll Up Tonneau Cover For F150
Durability
Since both the Truxedo CT and the Bak X4 are constructed with heavy-duty aluminum slats and a premium matte black finish.
They are durable enough to withstand wild weather and extreme pressure. These tonneau covers can withstand a weight distribution load of up to 400 lbs.
Edge: Both
Ease of Use
You won't need to drill or use special tools to install these tonneau covers. Despite this, you'll need to roll both tonneau covers toward your bulkhead to get full access.
Still, there are some differences in the operation of these hard roll tonneau covers. Thanks to its pull cable release, the BAK X4 is suitable for one-handed operation from either side. It also has automatic slam latches to secure the cover at the back when closed. 
You can also drive the truck while keeping this tonneau cover open by securing it with buckle straps without blocking the rear mirror.
Conversely, the Truxedo Sentry CT features Slam Latches close to the tailgate to let the user open the tonneau from either side. It also has an extra security latch in the middle of the truck to enhance security. Its quick-release system allows removing the tonneau within seconds to get full bed access.
Edge: Both
Security
Though both of these tents can effectively protect your bed and belongings from weather and theft, the BAK X4 is slightly ahead of its counterpart.
It has patented Rotational Locking Rails that automatically hold the cover's frame after it is fully closed. These locking rails offer unmatched security.
Edge: BAK Revolver X4s
Warranty
A warranty is vital when comparing something that costs thousands of dollars. In this case, you will be disappointed with neither buying a Truxedo tonneau cover nor a BAK.
However, BAK will serve you two years more than Truxedo as the first brand offers a five-year warranty and the second one offers three years.
Edge: BAK Revolver X4s
Truxedo Sentry CT Vs BAK Revolver X4s- Shared Features
Hard rolling
Both tonneau covers are hard rolling types to offer customizable control. These are also made of aluminum slats for improved durability.
Truxedo Sentry Vs Sentry CT (Detailed Comparison Guide)
Low profile
It doesn't matter which tonneau you install, Truxedo ct or bak x4s, both will offer a low profile. These tonneaus sit right over the truck bed and offer a sleek look without detracting from the truck's body lines.
Water resistance
The Truxedo ct and the bak x4 have soft overlays that keep water off the side of the tonneau cover.
Read also: How To Fix Tonneau Cover Latch?
Protection
Both the tonneau cover and the tailgate lock. Simply close the tonneau, lock the tailgate, and have better protection.
The USA made
Both Truxedo and BAK are US-based manufacturers.
Read also: Roll N Lock Bed Cover Problems And Solutions
Which tonneau cover to go for? Truxedo Sentry CT vs BAK Revolver X4S
Honestly, it's difficult to declare a winner between these Truxedo Sentry CT vs BAK Revolver X4s tonneau covers. Both of them have the same material, installation process, and appearance. 
Though they are different in design, operation, and security, the differences are minor. It can be controversial as every truck owner has different preferences and needs.  
But the obvious thing is that both Truxedo CT and BAK X4s are game-changers and perfect for protecting your bed and cargo throughout any season. So you can choose any of these hard rolling tonneau covers according to your preferences.
Also read Bak Revolver X4 Problems
Final words
In this Truxedo Sentry CT vs BAK Revolver X4s debate guide, we have mentioned both the similarities and dissimilarities between the tonneau covers. I hope now you can easily separate these truck bed covers and pick the best one for your truck.  
But don't forget to check the compatibility, as Truxedo and BAK offer a wide range of covers for different makes and models of trucks in various bed sizes.
Read also: How To Keep Dust Out Of Tonneau Cover?