Feeling confused between Gator SR1 and Truxedo truxport means you are one step far from the best tonneau cover.
A quick comparison between these two soft roll-up tonneau covers from well-reputed brands can solve your problem and lead you to the best one.
However, making a well-researched gator sr1 vs truxedo truxport comparison guide isn't as simple as it sounds. Both tonneaus have a lot of similarities, making it tough to separate them.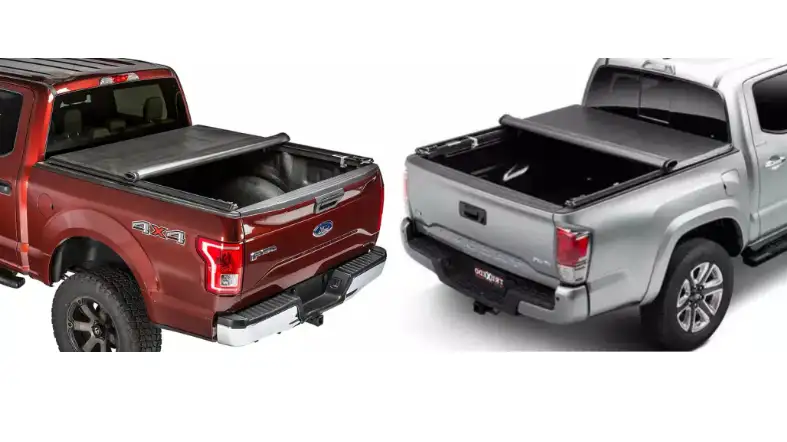 So if you want to avoid all those difficulties and pick the most appropriate and preferred tonneau for your truck, keep reading!
Truxedo Truxport Soft Roll Tonneau Cover
The Truxedo Truxport is a soft roll-up tonneau cover that is watertight and easy to use without investing much.
Made of leather grain black material, this durable soft roll can hold up effectively during harsh weather. Sits only 1.5 inches over the truck, this tonneau offers a low profile look to the vehicle and its dual paddle latches make the tonneau simple to operate.
This tonneau cover also remains tight and secure while the truck is in motion and doesn't flap or move on the highway. Along with smooth operation, this tonneau takes only a few seconds to remove and can withstand heavy snowfall.
Gator SR1 Tonneau Cover
Made of a heavy-duty aluminum frame, this Gator SR1 roll-up tonneau cover is suitable for use in all climates throughout the year. The tonneau rolls up completely to offer complete bed access and allows you to drive down the road and remain secure. 
It is a tear-resistant tonneau cover that can withstand snow and ice and deliver a superior seal against water. It has easy-to-use latches to keep the bed secure and automatic spring-loaded tension to offer a nice and tight-looking tonneau.
Gator SR1 vs Truxedo Truxport- Comparison in Different Aspects
Both the SR1 and the truxedo are soft roll-up type tonneau covers and come at about the same price. These also meet the common or average necessities, especially for the safety of the tonneau. Still, these tonneau covers have some differences that the customer should know about to make the best choice.
Material
Edge: Truxedo tonneau cover
Both tonneau cover has a thicker aluminum frame and is finished with vinyl. These combinations make the tonneaus lightweight, durable, and easy to operate.
More importantly, the vinyls make these trucks bed covers tear-proof, long-lasting, and ensure a seamless fit.
Still, they use two different quality vinyls, which can affect those benefits. The truxedo uses leather-embossed vinyl while the gator utilizes commercial grade vinyl, making the first one more durable and able to withstand wild weather and harsh elements.
Exterior Design
Edge: Both
The gator sr1 tonneau remains 1 1/2″ over the bed rails and rolls towards to cab. This way, it offers full bed access to haul large cargo and use for various purposes. This truck bed also offers a smooth finished look to the vehicle and makes it extremely appealing while increasing the cover's functionality.
Conversely, the Truxedo TruXport sits 1.5 inches over the truck bed rail and offers a low-profile look. Its design also provides a unique, smoother, and more flat look to the truck, thanks to its straight cross tubes.
Read More: Who Makes Gator Tonneau Covers? (Find Out Now)
Durability
Edge: Sr1 tonneau cover
Due to using leather grain, the Truxport cover is more durable than a typical truck bed cover. This tonneau can hold a max of 250 pounds without expanding the fabric.
The woven fabric of this tonneau cover also helps clean the dirt very efficiently, along with non-toxic protectant sprays. This UV-protected tonneau also doesn't fade due to exposure to scorching heat and lasts longer in the harsh climate conditions.
The load holding capacity of SR1 is far more than that of truxport, but it's made of the same vinyl fabric. This tonneau can hold up to 400 lbs, making it perfect for carrying heavy loads. 
You can also clean it easily by applying tonneau cover cleaner to keep the surface tidy and clean. This anti-slip tonneau cover also lasts a long during wild weather.
Though its durability is quite similar to the truxport, the larger holding capacity makes it more suitable for busy customers.
Read Now: Can You Run A Generator Under A Tonneau Cover?
Protection
Edge: Truxport tonneau cover
The Truxport comes with a pre-set tension control design and an integrated dual latching system, making it tough and stable. This function also protects the tonneau from adverse weather conditions. 
Apart from that, this tuck bed covers the rubber seal and special crossbar bows to prevent dust and water from entering inside and endure heavy snowfall.
Conversely, SR1 performs with Automatic Tension Control to protect the bed and loads from the unexpected atmospheric pressure of nature. After sealing the truck bed cover accurately, it effectively prevents the trickling of water. 
The SR1 tonneau cover won't let you struggle with wind chills or snow, resulting in the stuff remaining unharmed. Lastly, this tonneau mount on the top of the truck bed cap offers a tougher seal experience.
When it comes to protection, the soft roll-up cover and the hard roll-up cover are nearly identical. The design of the truxport is more impressive due to its aerodynamics feature, as it offers a large space to transport bulky goods without making them wet.
10 Best Tonneau Cover Protectant And Cleaner
Ease of use and installation 
Edge: Both
The Truxport tonneau cover allows you to latch exceptionally well by attaching the tonneau to the rails before clamping to the truck bed.
So you can simply unroll the tonneau cover by taking its safety straps out and knocking it near the latch to quickly protect the loads from unexpected elements. 
Truxedo also focuses on customer satisfaction, allowing you to experience a drill-free quick installation experience. It also doesn't require any special tools or skills, making it user-friendly to install by following the instructions.
To use your truck bed, all you need to do is simply open the tailgate and pull down the two latches on either side. This way, you will roll the tonneau from the front side and lock it securely with safety straps. Thus, the driver can drive their vehicle confidently on the highway.
The SR1 tonneau cover, on the other hand, promises that it will take less than half an hour to install this tonneau if follow the instructions properly.
To install this tonneau cover, the operator needs to place the rail in place and attach the cover to the rails. Thus, the truck owner can open the tailgate feasibly to release the dual latches and roll the front part to the fullest truck bed. It also allows you to secure the tonneau with stretchable Velcro straps to keep it secure.
In short, it's extremely easy to fit both the tonneau without using any premium tools, drilling, or hollowing.
>> What Can I Use To Protect My Tonneau Cover?
Security 
Edge: Both
With higher protection standards, the Truxport tonneau cover will protect your loads from theft. With a combination of hook and look, this truck bed cover remains secure to the rail, which makes it almost impossible to unlock without opening the tailgate.
Its tailgate lock ensures premium-level security and doesn't give a bad guy a minimal chance to steal the valuables.
The manufacturer also uses stiff and tough fabric, making it quite impossible to tear with a blade or knife. For this reason, the truxedo truxport tonneau cover has become highly popular among truck owners who often haul their cargo.
Similar to the truxport, the SR1 tonneau also offers exceptional security for the loads. No one can release its latch to get access to the truck bed without unlocking the tailgate.
Gator uses thicker marine-grade vinyl fabric in this tonneau to make it highly challenging to cut using a knife.
Read also: How To Fix Tonneau Cover Latch?
Gator SR1 vs Truxedo Truxport: Which one is best?
It's an extremely difficult task to choose between high-end tonneaus like SR1 and truxport. Both of the tonneaus are exceptional in their design, quality, and service. The truxport tonneau offers an appealing mount top look while sr1 offers enhanced stability.
Both the truck bed and the trailer bed are convenient to install, operate, and remove without having much skill or special tools. 
And their level of security is also the same as protection from wild weather and theft. However, the load-carrying capacity makes these tons different from each other, which can be a deciding factor.
Read also: How To Keep Dust Out Of Tonneau Cover?
FAQs
Is TruXedo TruXport Waterproof?
The TruXedo TruXport tonneau cover has a rubber seal and special crossbar bows to ensure watertight security. Though the tonneau is not fully waterproof, it blocks most of the water entering the bed to keep the loads dry.
Are The Locking Mechanisms Of SR1 And Truxport The Same?
Though both the tonneau and the person have different locking systems, the person effectively protects the bed and loads.
To secure the tonneau and bed rail and protect them from theft or intrusion, the Gator SR1 employs automatic spring tension control and a latch system.
Conversely, Truxedo TruXport has an inbuilt dual paddle to keep the cover secure and offer the necessary protection.
Final words
Though it was tough, now you should be able to pick the best one after reading this Gator SR1 vs Truxedo truxport debating guide.
We have compared both of these soft roll-up tonneau covers in all the potential aspects, so you can judge category-wise.
Lastly, whichever tonneau cover you go for, check its compatibility with your certain make or model of truck. However, both offer satisfying customer service.
Read also: Gator ETX VS SFX