Extang encore tonneau cover is undoubtedly one of the best options in the market. The high-end design, flexibility, superior protection, and durability make it a top choice. But often you may face some problems during using extang encore cover.
Learning about the common extang encore problems will help you to avoid those issues as well as dissatisfaction. That's why we sort out some common problems of extang encore and some tricks to fix them easily.
Common Extang Encore Problems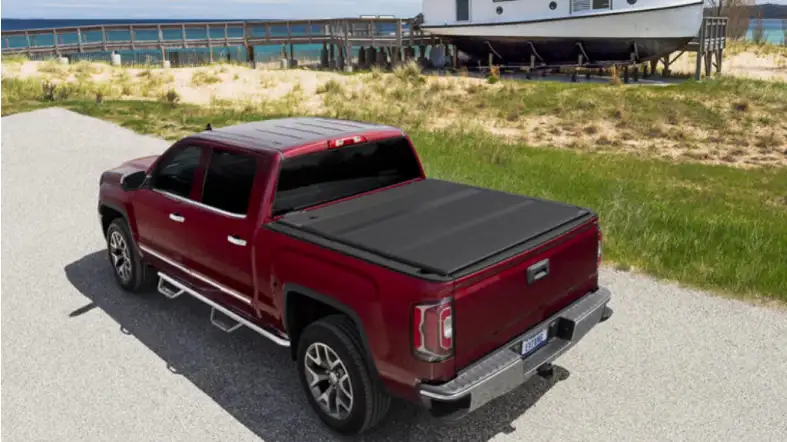 I have used different extang encore covers for my truck. Easy installation, fuel efficiency, affordability, and strong protection always keep extang encore at the top of buying list. Despite the robust advantage I also face a few negative sides. Let's learn what the problems are.
Extang encore Fitting issues
Extang encore manufacturer claim that it would fit all short of bed trucks. The cover comes with a simple and complete installation guide.
I use it in my 2019 1500 limited truck with a 6.4 bed. But there is a small gap that exists against the tailgate. So it is one inch short for a 6.4 bed.
If you don't want leakage then don't forget to check the cover size. Because some cargo beds' sizes won't match with the particular cover sizes. But fortunately, the maximum cargo bed fits with the extang encore Cover.
>> Extang Trifecta 2.0 Problems
Cover leakage
The extang tri-fold hardcover has chances to get leaks. Water leakage is the most common problem for this cover. Water enters the truck via the hinges and ruins your expensive products.
Often it happened due to the wrong installation. So you can re-install the cover to fix the water leakage. But if the issues through hings remain then sealing won't solve the problems. 
You need to call the customer service department to solve the issues immediately. Otherwise, the water will corrode the hings over time. I recommend avoiding solid cover if you want high protection from water.
Rail caps problem
Extang encore cover rarely faces rail cap issues in some trucks. The distance between rails to rail is too narrow. As a result, the cover can't lay flat. It keeps a 1/4″ gap.
In this scenario, you can ask for a replacement. The funny part is it fits correctly when you re-install the cover without the caps. These annoying issues happened in very few models of trucks.
Scratch and Dent
When your extang encore cover gets scratches on the paint it causes dent. Many users complain that they are finding leftover glue on the surface.
Despite facing scratches often wrong installation can hamper cover alignment in both panels. As a result, one part of the tonneau cover gets higher or lower than the others.
To get rid of scratches you need to make the area smoothen. First, put some putty in the paint. Then use some piece of sandpaper to smooth the affected area. It will prevent denting problems. If the issue is for the wrong installation then re-install can solve your problems.
Read More: 7 Most Common Extang Solid Fold 2.0 Problems (Find Out Now)
Torn In
Extang encore cover is very durable and made of high-quality materials. Yet it is not possible to prevent tonneau cover from causing issues. You can take proper care to extend the durability and slow down the problems.
Some extang cover usage fiberglass type fabric. This type of fabric has a risk of tearing. If you face tearing then go to the workshop. They can easily fix it.
Or buy a fiberglass repairing kit and painting equipment to solve the problem at home. The quality of fixing depends on how much dedication you give or how much money you invest. So it is better to repair from a certified mechanic instead of a local one to get quality work.
Read More: 8 Common Bakflip Mx4 Problems (Solved)
Wrong installation
Yet it is easy to install extang encore cover many users do the installation in a wrong approach. When you do the installation incorrectly it is common to face lots of problems such as leakage, fitting issues, and more.
Even you can face unwanted water due to incorrect installation. So tight the screws to ensure a proper locking system. Check your installation mistake to fix cover problems.
Read Also: 5 Common Retrax Bed Cover Problems
Shortness
Some Extang encore Tonneau cover model is a bit short than other covers. It comes with a weather strip on the back that hardly meets the tailgate. It barely touches the ending edges which cause water leakage.  So check the cover length carefully before buying it for a big truck.
Read More: Lomax Tonneau Cover Problems & Solutions
So, is the extang encore tonneau cover worth it?
Extang is a popular brand for producing high-quality tonneau covers. It gains customers' trust for its durable and Strong product.  But hard tri-fold style tonneau cover is normal to cause some problems. Yet extang minimizes the problems and Maximizes the performance such as it provides UV and weather protection.
The appealing design, exclusive finishing, and fuel efficiency make the cover-worthy. It performs very well to give users maximum protection from sun, dirt, and obstacles. Even in heavy storms or snow, you can protect your cargo bed with this powerful tonneau cover.
So it gives you the freedom to leave your cargo outside the home without getting wet.  It gives you easy accessibility inside the cargo without removing the cover. The loading and unloading are super simple. 
So you can skip the above-mentioned minor extang encore cover problems as it is fixable and avoidable. However, Extang customer support is too friendly and professional. You can immediately call their customer support for repair or replacement.
Read also: How To Patch A Hole In A Tonneau Cover?
Final Words
After learning the common extang encore problems you must agree that it is one of the best tonneau covers in the market. If you want a strong, durable, UV and weather-resistant cover then there is no better choice than an extang encore.
If you need a hard tri-fold cover it is natural to face some problems. It is not only about extang encore cover you will face this type of issue in other brands too.
But most of the problems are simple and solvable. Take proper care and follow the installation steps correctly to avoid most of the problems.
Read also: Best Weather Stripping For Tonneau Cover