Undercover is a trustworthy manufacturer of tonneau covers, and Ultra Flex is its top-selling model among wide variations. Still, you can face some undercover ultra flex tonneau cover problems right after installation or a few months later. 
Thus, it's worth being aware of those troubles so you can prevent them and enjoy their unbeatable durability, protection, and appearance.
Undercover Ultra Flex Problems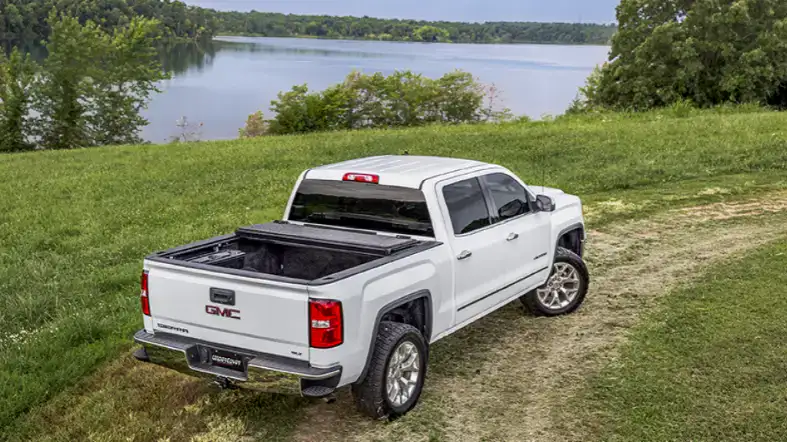 The following are a few undercover ultra flex tonneau cover problems to be aware of:
Rail Fix
The Undercover Ultra Flex tonneau covers the vehicle's bed rail system completely and makes it useless. It comes with brackets that feed into the rails. But its large bracket covers it all up.
If you are facing the same difficulty, follow this hack:
Purchase the Core-Trax tie-down system and bolt it right into the bed rails. And if you are looking for an alternative to drilling to make the bed drains larger to hold the drain pipe, buy an adapter.
>> Undercover Ultra Flex Tonneau Cover Vs Undercover Armorflex
Leakage
Undercover ultra flex tonneau cover is designed with rubber seals all around to block the water, weather, and other elements. It also has a sealed tailgate to ensure better protection. 
Apart from that, this tonneau cover is constructed with a bed rain mounting system that channels water into the drain tube to carry out the water. But unfortunately, this undercover ultra flex isn't completely waterproof like other typical tonneau.
Still, here is a simple and cheap fix to prevent undercover leaks to keep the truck bed and cover dry:
In general, the undercover ultra flex tonneau leaks as the weather stripping on its rails can't get compressed far away. In this case, the thing you can do is buy some foam window seals. Then remove both of the seals, clean the inside of the cover, and then utilize the weather stripping. 
After applying the first strip, apply the second one on top of it, and finally, put the rail back on it. You'll notice that after tightening the rails, the foam strip makes a good seal to prevent water.
Broken hinge
Undercover tonneau covers come in a tough design. However, the hinge on either side can break down according to the complaints of some users. The design of this tonneau can introduce these difficulties. The hinges of this ultra-flexible are held in place by 3/16′′ pop rivets.
So while driving the truck, this tonneau cover tends to move around consistently, even if it is on paved roads. Thus, the ultra flex user needs to re-adjust the hinges more often to keep them straight.
Otherwise, the hinge can break down and it can cause other problems like damaging the painting on both sides of the box.
>> Undercover Truck Bed Cover Problems & Solving Guide
Rivets sheared
Some undercover ultra flex tonneau cover users also complain that the rivets on the tonneau shear frequently and leave the tonneau on the roadside. It can also damage the paint of the truck, and you'll have to take it to the body shop to repair it.
Seal issue
Some users find its material causes seal issues after installing this ultra flex for a month. It's a very concerning thing for a truck owner, particularly if there is no garage nearby and they live in a rainy place.
Some other cons of undercover ultra flex tonneau covers:
Some ultra flex also tends to make a noise while hitting the bump.
Its aluminum panel has sharp edges, which takes extra care and attention.
The Ultra-flex tonneau is a bit tough to remove after installation and requires help.
It's a bit pricy.
Tips to solve undercover tonneau cover problems
A faulty installation is the main culprit that causes those undercover ultra flex problems. Consistent use is also reliable.
So if the installation causes the problem, take the truck to the repair shop. Despite the use and maintaining the tonneau cover properly. This will help solve most of the ultra flex tonneau cover problems.
Read also: How To Patch A Hole In A Tonneau Cover?
Some important things to note about the undercover ultra flex tonneau cover
Undoubtedly, the outer seal on its bed cover is tough. It takes a long time for it to set down and seal.
During the summer, sealing this ultra flex isn't time-consuming. But if your vehicle has a bed liner, you will need to cut and drill it a little bit.
You should install the drain of this ultra flex in the corner.
If you want to install the back corner mount, you have to drill the bed liner through several times so you can have the insert hole.
The installation guide that comes with this ultra flex isn't very clear. It doesn't suggest closing the tailgate before closing the last fold while it needs to be done in practice. And ignoring it can damage the last fold.
Read also: Best Weather Stripping For Tonneau Cover
Final words
The undercover ultra flex comes with a full aluminum construction to ensure optimum strength and durability. This multi-position folding tonneau cover is weather-sealed and doesn't require any drilling for installation.
Still, you may experience some undercover ultra flex problems that we have mentioned above along with the solution. These will help you avoid those troubles and enjoy the optimum protection from them.
Read also: Bakflip Mx4 Problems