Hard folding covers are the best for protecting your truck bed. 
BAKflip F1 and UnderCover Flex are two of the most renowned hard folding covers. 
But you still have to make a choice? BAKflip F1 vs UnderCover Flex which one is better?
I'll help you pick the better one.
BAKflip F1 is a hard folding tonneau cover. It's aluminum construction with the top surface made of Fiberglass Reinforced Polymer (FRP). The UnderCover Flex is another hard folding cover. With a top surface of aluminum, this tonneau cover gives you ultimate control of your truck bed.
Before we examine the differences, let's examine the similarities between these bed covers.
BAKflip F1 vs UnderCover Flex: Quick Overview
Before we jump into the nitty-gritty of the two covers, let's have a look at this quick info table:
| | | |
| --- | --- | --- |
| Features | F1 | Flex |
| Frame Material | Aluminum | Aluminum |
| Top Surface | Fiberglass Reinforced Polymer | Aluminum |
| Opening Style | Folding | Folding |
| Warranty | 2-year | 3-year |
| Price | $1080-$1108 | $1029-$1200 |
| Finish | Gloss-black | Matte-black |
Now, let's get to the detailed Comparison.
How Bakflip F1 And Undercover Flex Are Different
Both covers are good in terms of their quality and value for money. However, some things set them apart. 
Now, let's examine the key features that separate these two covers from one another.
Bed Access
You can have full bed access with these truck bed covers.
The BAKflip F1 tonneau cover folds open and rests against your cab. This is how you get full access to the truck bed. It's safe even if you drive your truck this way.
On the other hand, the UnderCover Flex folds open all the way. But unlike the F1, it does not rest against your cab. It stays upright at an angle of 90 degrees with the truck bed. You can drive your truck with the cover fixed in this position.
Although technically, the BAKflip F1 is in a more stable position than the UnderCover Flex. Because it is supported by both sides.
Top Surface
BAKflip F1 has a top panel made of a composite named Fiberglass Reinforced Polymer or FRP. This composite makes its top surface scratch, dent, and ding resistant.
One very impressive feature of FRP is that it keeps your truck bed cover cool. FRP is a good insulator with a very low thermal conductivity.
UnderCover Flex has a top panel of durable corrosion-resistant aluminum. It's strong and will protect your truck bed comprehensively.
But, aluminum is not a good insulator. It conducts heat and has a very high thermal conductivity.
So, regarding top panel comparison, BAKflip F1 has the edge over the UnderCover Flex.
Surface Finish
BAKflip F1 has a gloss-black finish. Which will make your bed cover reflective. The downside is that gloss-black covers will show more scratches as time passes.
Matte-black covers aren't as reflective as gloss-black covers. But the advantage matte-black covers have is they don't show scratches or swirl marks.
But in the end, it depends on how you want your truck to look. If you are looking for that appealing look, gloss-black should be your choice. 
On the contrary, if you consider scratch marks, you should go for matte-black covers.
Lower Panels
BAKflip F1 has powder-coated aluminum on its lower panel. This gives the lower panel a grainy look.
The lower panel of UnderCover Flex is lined with a carpet-like material. This adds a soft but durable feature to the lower panel.
It's hard to select the better cover based on this difference. But if you are looking for less hassle, you should go for BAKflip F1.
Because the adjacent carpet-like material can be a headache for you when it comes off the panel.
Price
The BAKflip F1 tonneau cover comes in 5.6', 6.6', and 8' sizes. Its price ranges from $1080 to $1180. No shipping cost is required.

The UnderCover Flex is 5.7', 5.10',6.4', and 6.10'. Price ranges from $1029 to $1202. No shipping cost is required.
Compatibility
The BAKflip F1 will fit:
2017+ Honda Ridgeline
2005-2015 Honda Ridgeline
Toyota Tacoma
Toyota Tundra
Dodge Rambox – 2019
Dodge Rambox – 09-18
UnderCover Flex will fit: 
Dodge RAM 1500-3500
2019 – 2022 Chevy/GMC Silverado/Sierra 1500 5′ 10″ Bed (69.9″)
Common Features 
Nevertheless, there are some characteristics that are shared by each of these instances. Before we conclude them, let's have a look at them first.
Tonneau Cover that is Rigid and Folds Up
UnderCover Flex and the BAKflip F1 are examples of hard folding covers. The protection provided by a hard folding tonneau cover for your truck is elevated to the next level.
Multiple panels are utilized in the construction of these tonneau covers. You may access the truck bed by unfolding these panels toward your cab, allowing you to access the bed.
Integrated lock system for the tailgate
These truck bed covers can be readily closed by shutting and locking the truck's tailgate. You may lock the truck bed in place using these steps.
The only way to gain access to the cover latch is to open and unlock the tailgate.
Weight-bearing ability
Hard folding tonneau covers often have a higher weight capacity than their soft counterparts.
The BAKflip F1 and the Undercover Flex have the same maximum allowable weight. A load of four hundred pounds is uniformly distributed on the covers.
Buckle Straps
When the cover for the truck bed is opened to its last panel, you will have complete access to the truck bed. Once it is in the desired position, you can secure it, thereby securing the buckle straps.
Tailgate that Operates in Two Modes
You can close the bed cover regardless of whether or not the tailgate is open.
Components of the Frame
Aluminum are used to create the chassis of both the F1 and the Flex.
Read also: Bakflip Mx4 Problems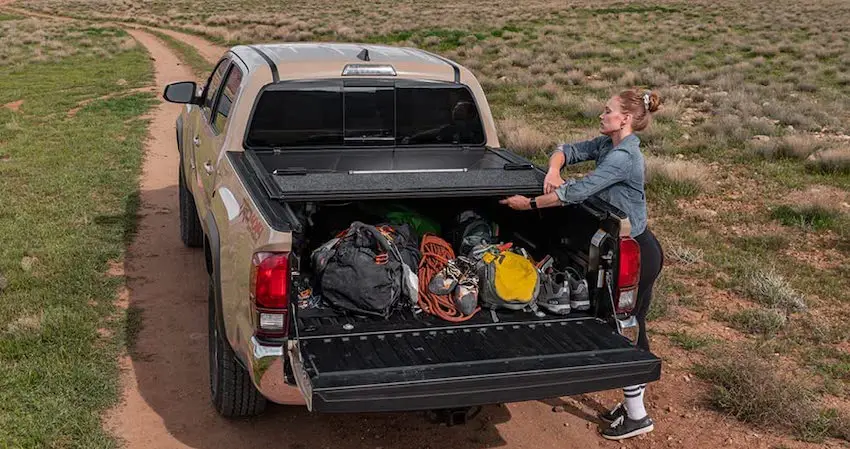 Which One Is The Right Tonneau Cover For You?
Both BAK and UnderCover industries have come up with two great tonneau covers. BAKflip F1 and UnderCover Flex are two leading hard folding designs. And it's really hard to pick the right tonneau cover for your truck.
Be sure to compare these two types of tonneau covers side-by-side. This way, you will get a better understanding of the similarities and differences between these two covers.
While comparing, you have to consider your own desired conditions. Then see which features fit them well. Protection, installation, looks, performance – consider all of these.
One more important thing to consider is your budget. So make sure to check out the numbers while choosing a tonneau cover.
Frequently Asked Questions (FAQs)
Are BAKflip tonneau covers worth it?
Generally, BAKflip tonneau covers are more expensive than other tonneau covers. It's because they come with many premium quality features. The product comes with impressive quality, workmanship, and convenience. Which makes the price tag worth it.
Is the UnderCover Flex waterproof?
Yes. You can drive your truck when the cover is in the upright position. The UnderCover Flex utilizes strut mounts to fix the bed cover in the upright position. You can get full bed access by fixing the cover in this position. As well as drive it without hesitation.
Read also: How To Fix Tonneau Cover Latch?
Conclusion
Hopefully, you have a better understanding of BAKflip F1 vs UnderCover Flex right now.
Make sure that you consider your desired conditions while selecting the best truck bed cover.
If this article helped you to choose the right cover, comment down below and let us know.
Also read: BAKFlip F1 Vs BAKFlip MX4