A shiny hard tonneau cover, without any doubt, will look the best while driving on a sunny day. To make it shiny, most people consider waxing it.
But can you wax a hard tonneau cover?
You should not wax a hard tonneau cover as it can damage it. For example, making the cover get stuck, malfunctioning electric tonneau components, and damaging the cover material, especially if it is vinyl. In addition to that, wax makes the cover stiff, as well as leaves a filmy residue. 
If there are any scratches after waxing a hard tonneau, it looks more revealing than if there wasn't any wax on the cover. Wax also reduces the durability of a tonneau cover's material. Moreover, if any warranty is left, it may invalidate after waxing. 
There are many more bad effects of wax on the tonneau cover. Read on to know them in detail.
6 Major Cons of Waxing Hard Tonneau Cover?
After using a tonneau cover for a few months or years, there can be scratches or a bit of damage to it. A hard tonneau cover faces the most damage as it is usually used for most heavy tasks. 
So to make it look new and shiny, waxing could be the first thing that may come to your mind. But wait, is it a good idea? Check out below how waxing could damage your hard tonneau cover.
Reduce Cover Durability
Waxing reduces the durability of a tonneau cover, especially soft ones. It may make it look shiny for a few days at first. But as time goes on, the cover material will lose its durability and may also become very stiff.
Make the components get stuck
If wax somehow gets into the mechanical cover components, it may cause it to get stuck. It's the nature of the wax.
Most importantly, if you have an electrical tonneau, the electrical and retracting components could malfunction. 
Leaves residue
Your tonneau may look nasty if this happens. After waxing, if it is not polished properly, it could leave white or wax-like trails. If you have a matte finish black or dark-colored tonneau, anyone can notice it easily. 
Warranty issue
Many tonneau companies will not back you up with the promised warranty if there are any man-made changes or damages. Since waxing can damage your tonneau materials, it is normal that it can invalidate the warranty of your tonneau cover.
May not work on deep scratches
Many truck owners may wax to hide or repair the scratches on their glossy tonneau hard cover. But ultimately, waxing doesn't do anything good for the scratches, especially if it is too deep. 
Wax doesn't go very deep. But the whole coating can get harmed if it gets underneath the paint. Then it will require special treatment. 
Costly
It takes both time and money to wax a hard tonneau properly. Because professionals can only do proper waxing. A decent container of wax may cost you $10 to $50. The service charges are excluded.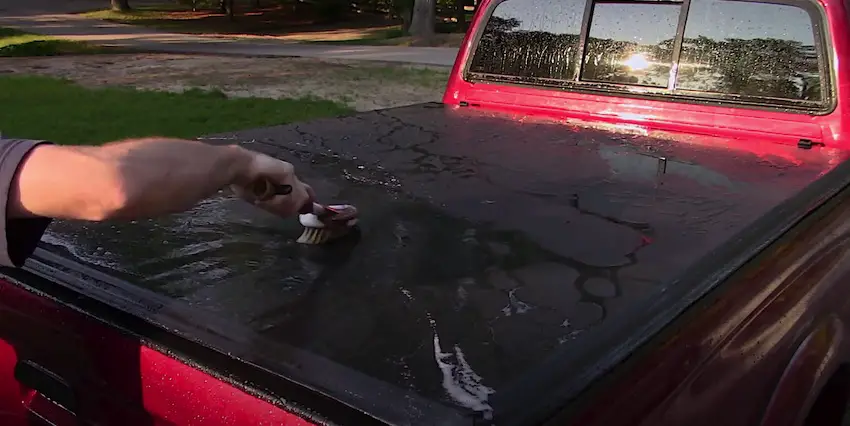 Is Applying Car Wash-wax On Hard Tonneau a Good Idea?
When you go for a car wash, most automated car wash offers and uses a variety of cleaning chemicals. They also offer a wax finish after your truck and tonneau are dried. But I don't think using that on a tonneau cover is a great idea.
However, you can use car-wash wax on your cab if you want. Before that, you must uninstall the tonneau cover. Remember two things. One, a spray or rinsed wax is never equal to a hand-waxed finish. Two, wax can clog and jam the rails that your tonneau sits on.
There is a better option for an automated car wash if you have to keep your tonneau cover on, and it is a hassle to uninstall the tonneau. The next best thing is touchless automatic car washing.
Car washes utilize pressurized water jets in combination with soap to provide a thorough cleaning. The exterior paint of your vehicle will also be less likely to be damaged by them. It is important to keep in mind that even tonneau covers with touchless systems can pose risks. 
Water pressure or a dryer fan may damage a soft truck bed cover. Tonneau covers made of soft materials can sometimes be washed in a standard car wash that uses brushes. It is, however, recommended that you remove it first if the manufacturer advises you to do so.
Ensure your truck's tonneau cover is securely closed before taking it through a carwash. Most are extremely effective at repelling water, but if they are not properly latched, they cannot do so.
Ultimately it is a great idea to opt out for automatic waxing and apply wax on your cab manually after the wash. 
Different Types Of Car Wax Applying In Car Wash
Based on the functionality and need, you can choose the type of wax you want to apply on your cab. Just ask before you start to wash your truck. 
Types Of Car Wax
Functionality
Paste Wax
An automotive paste wax protects and beautifies the finish of vehicles by being thick, often hard, and flaky.In most cases, it is made from natural carnauba wax or synthetic wax-like polymers.The superior sheen of this wax has led many lifelong vehicles detailing professionals to consider it the best form of car wax.In addition to taking more time to apply, paste wax lasts longer on a car's surface, anywhere between three and six months.
Liquid Wax
In comparison to paste wax, liquid wax is more gentle on your vehicle's finish. 
You can apply liquid wax more easily and buff it off more easily. 
There is a typical lifespan of two to three months for liquid and paste waxes. 
In addition to protecting the paint from fading, they also minimize scratches.
Spray Wax
You will be able to apply spray-on wax uniformly and efficiently at the car wash. 
In addition to its cosmetic benefits, it prevents water spots from appearing on the car. 
However, it cannot address the specific requirements of your automobile.
Generally, spray waxes last between two and four weeks.
It is recommended that you spray your car at least twice a week or a maximum of once a month.
What Can You Use Instead of Wax?
You want to wax your cab and the tonneau on your truck bed to protect it from scratches, weather, and fading, right? Well, some protectants will keep our tonneau from fading and most scratches. 
Check out the table
Protectants
| | |
| --- | --- |
| Product Name | Function |
| Chemical Guys SPI_193_16 Convertible Top Protectant and Repellent | Tonneau Protectant  |
| 303 (130340) Aerospace Protectant | Tonneau Protectant  |
| LEER Tonneau Cover & Truck Bed Cover Protectant | Tonneau Protectant  |
| Wolfsteins Tonneau Cover Care Kit | Tonneau Protectant and Cleaner |
| TYGER TG-CP8U3228 Tonneau cover Cleaner & Protectant  | Tonneau Protectant and Cleaner |
Does Waxing A Hard Tonneau Cover Improve Gas Mileage?
Well, a smooth surface will always get you through the air with the least resistance. Keeping the harmful side of waxing a tonneau cover aside, waxing a tonneau cover can actually improve gas mileage.
A smoothly polished tonneau at the back of your cab will catch the least amount of air on its surface. This will let your truck run with the least drag, so the pressure on the engine will be lesser.
So yes, Waxing A Hard Tonneau Cover Does Improve Gas Mileage.
Read also: Bakflip Mx4 Problems
FAQs
Does synthetic wax provide a better surface finish?
Most synthetic waxes are designed to bond chemically with the paint on the car, thereby providing a higher level of protection for longer. For those who don't have time to recoat their vehicles very often, synthetic wax is more durable than natural carnauba wax.
How do you shine a tonneau cover?
A tonneau cover can become dull and fade over time, impacting its appearance and performance. Luckily, there are a few simple steps that can make a tonneau cover look new again. You may use a mild soap and water solution to remove any dirt or grime. Also, you can  apply a protectant to help repel water and dirt. 
Also read: BAKFlip F1 Vs BAKFlip MX4
Conclusion
Waxing a hard tonneau cover is not a great idea. So try to protect it with proper protection. Washing your tonneau with bare hands is the best idea, and the next best thing is a touchless wash.
Think and decide wisely. Good luck!!
Read also: Can You Go Through A Carwash With A Tonneau Cover?