Both the tonneau covers are manufactured by Truxedo!! Doesn't it bother you to spend this much time picking between two of the almost identical tonneau covers? Well, as long as you are here, let's make it worth your time.
Everything you will get to read and know here leads to one "SIMPLE" question. Which is best for your truck, TruxedoTruxport or Truxedo Lo Pro QT?
In Truxport, you get regular leather grain fabric, but in Truxedo Lo-pro, you get industrial-grade leather grain. The Truxport system has dual paddle latches, but Lo-Pro has a four-way sealing system that latches from the rear. Lo Pro's tension control is self-adjustable, unlike Truxport.  
These aren't the only differences, folks; there are more. We will explain the differences throughout the article to make a choice easy. Let's get started.
TruxedoTruxport Vs Truxedo Lo Pro QT: Differences at a glance
Simply glancing at the features may not be sufficient to make an informed decision. What you will gain, however, is a clear vision, which will assist you in determining the differences between the two. Let's keep reading;
Truxedo Lo Pro QT: a quick look
Comes with heavy-duty anodized aluminum and a durable double-coated vinyl trap. 
The cover is more durable, UV resistant, scratch resistant, yet amazingly lightweight.  
Rear latching system to lock the cover in place. 
The cover gives your truck a Lo-Pro and clean appearance. 
Features a Drill-free clamping installation.
Comes with a Patented self-adjusting spring tensioner.
Truxport: a quick look
Truxport comes with one of the simplest installation systems. 
The cover features quality leather-grain fabric.
Provides your truck with a sleek and stylish appearance. 
Features a Dual paddle latch security feature.
The tension controller needs to be pre-set.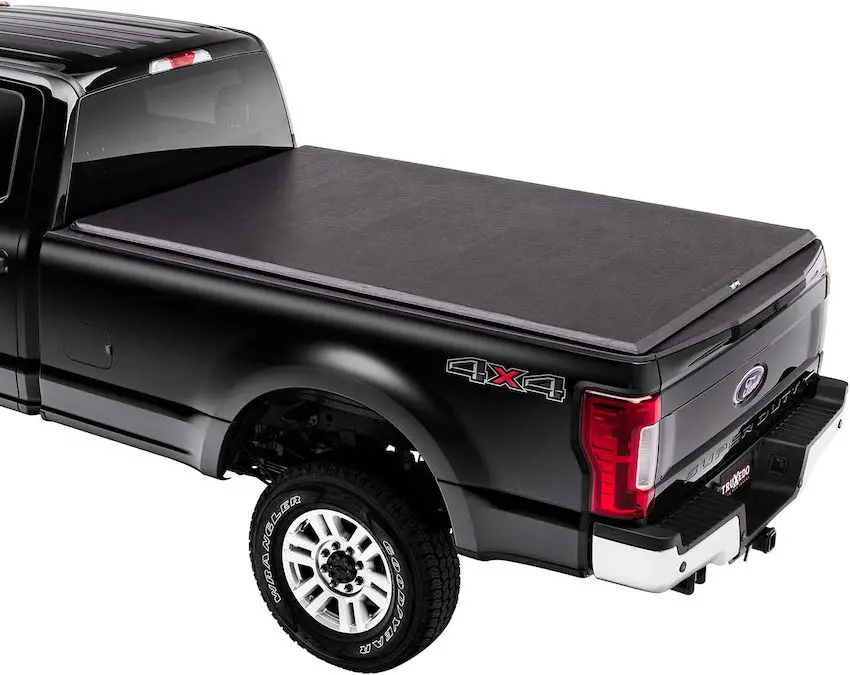 Quick Comparison Table
| | | |
| --- | --- | --- |
| Factor | Truxedo Truxport | Truxedo Lo Pro QT |
| Materials | Quality Leather Grain Fabric | Industrial Grade Leather Grain |
| Look/Finish | Low profile, sleek and stylish appearance | Low Profile Appearance |
| Safety Features | Dual paddle latches | 4 way sealing system with a rear latching system |
| Installation | No drilling or special tools required | Drill-free clamping system |
| Tension control | Pre-Set Tension Control | Patented self-adjusting spring tensioner |
| Price | $309.99 – $349.99 | $459.00 – $514.00 |
| Compatibility | Fits 1999 – 2006, 07 Classic Chevy/GMC Silverado/Sierra 1500 | Fits 2009 – 2018, 2019-20 Classic Dodge Ram 1500, 2010-21 2500/3500 |
Truxedo Lo Pro QT Vs TruxedoTruxport: Differences among the features
Quick glances are never enough to decide the best tonneau cover for your truck. But it is true that now you have a clearer idea. Now let's get started with detailed differentiations. 
Material
Featuring leather grain fabric, TruXport's tonneau covers are attractive and functional. It has been thoroughly tested under extreme conditions and is incredibly high quality. In addition to being UV-protected, this material is also fade-resistant. 
In contrast, the Truxedo Lo-Pro QT is made from Industrial Grade Leather Grain. The rigidity of this material allows the cover to protect your belongings from any damage. In addition to its lightweight characteristics, the aluminum frame ensures the cover's durability.
You need to remember something else other than the slight martial differences. Please read the following carefully!
It is important to note that both tonneau covers are made from leather grain fabric. You may hand wash it or take it to a car wash of your choice to safely clean it. Whatever you select needs to be cleaned with mild soap and water. Get rid of soap residue by rinsing the cover thoroughly. 
Don't use petroleum-based products or citrus-based cleansers on the cover; don't use silicone-based protectants.
Security Features
Dual paddle latches are included with the Truxedo Truxport tonneau cover. With its two latches, the tonneau cover can be opened from either side of the truck bed, providing security when the tailgate is locked. Both sides of the truck are equipped with these latches, which are easily accessed. 
In any weather, the locking mechanism under the tarp, combined with pre-set tension control, keeps the bed covered.
Meanwhile, the Truxedo Lo Pro QT comes with a 4-way seal, a hook-and-loop strip, and a rear latch. The cover can provide added security when used with a locking tailgate. 
The system is excellent for protecting against Mother Nature and thieves. To get maximum security, a rear latching system locks into place. It can only be opened after you open the tailgate.
One of the most exciting features of these two covers is that they can be securely fastened to the bed. As a result of this feature, the cover cannot be opened without opening the tailgate, thereby ensuring its security. You may wish to consider using a locking tailgate for added security. 
Operation
If we talk about the operation, you get an easy-to-use dual latch system with the Truxport tonneau cover. The latches go under the tarp, allowing you to open it from either side of the truck bed.
This provides your truck with some extra security when the tailgate is locked. The latching mechanism under the tarp works with the pre-set tension control to keep the bed covered by keeping the cover tight in any weather. 
On the contrary, Truxedo Lo Pro QT has a one-finger release trigger latch. This provides you with a quicker operation.
It's easy to close, just roll the cover back towards the tailgate and push on the end. The tailgate lock keeps its locks in place. With the help of a Patented self-adjusting spring tensioner, the tonneau stays tight.
Installation
A popular choice among truck owners is Truxedo Lo Pro QT for its exceptional installation process. Installing it takes approximately half an hour and removing it is equally simple.
It must be clamped to each rail side and placed on each side. It is not necessary to drill to tighten clamps. All of it can be done by yourself. It is easier to complete the process with the help of someone.
Meanwhile, Truxport's installation process is incredibly simple as well. The clamps do not require drilling, so installation takes less than half an hour. Basically, you clamp the rails onto your truck bed, attach the cover, roll and close the cover, and you're done. Boom!! Your tonneau cover is installed.
Truxedo Lo Pro QT Vs Truxport: Which One Is Better For Your Truck?
"Oh no, not again!' Not sure what to do. I love them both!" This is an issue that many of my daily readers are struggling with when they have to choose between Truxedo Lo Pro QT and Truxport.
Let's try to make this a bit simpler, Shall we?
With Truxport, you are getting easy-to-use dual paddle latches. Still, Truxedo is offering you one finger release trigger latch.  
Truxport covers are needed to be pre-tensioned before going on a drive, whereas Truxedo covers have the feature of a self-adjusting spring tensioner which keeps your bed cover tight in every possible situation. 
Both can be installed without any drilling. 
Truxedo Lo Pro QT features Industrial Grade Leather Grain which covers the heavy-duty aluminum skeleton. On the other hand, Truxedo Truxport features regular-grade leather grain. Both of the covers provide your truck with a low-profile appearance. 
FAQs
Tonneau covers are hard to remove, right?
Tonneau covers come in all kinds of shapes and sizes. Tonneau models with hard hinges, like fiberglass, are the hardest to get off. A forklift, a small overhead crane, or multiple people might be needed. It takes less than 15 minutes to remove soft covers.
Do all Truxport tonneau covers fit all trucks?
I would say no. A Truxport tonneau cover is designed with specific measurements based on the make and model of the truck. Understandably, not all trucks are created equal, and their sizes and dimensions vary wildly.
How much gas does it save to put the tailgate down?
Adding a tonneau cover or lowering the tailgate did more harm than good to fuel economy. With the tailgate up and no tonneau, we got 22.3 mpg. Dropping the tailgate decreased efficiency to 21.5 mpg.
Conclusion
Well, there you have it, folks, the apparent differences between two great tonneau covers, Truxedo Lo Pro QT and Truxport. Which one is better? Well, that is totally up to you, folks. I have presented all the possible differences that might help decide which is better.
Best of Luck!!
Also read Bak Revolver X4 Problems