You won't have an easier choice if you shop for the upper tier of Truck Bed Covers. Companies like Retrax and Truck Covers USA make the most impressive products for those looking for something more affordable. But the question is, which is the best fit for your truck, Truck Covers USA vs Retrax?
Truck Covers USA and Retrax come with heavy-duty aluminum slats. But only Retrax offers you polycarbonate thermoplastic with adequate UV protection. You will get a key lock system with Retrax. But Truck Covers USA lacks the feature. The electric key fob option only comes with Retrax covers.
I have found a few more differences which I have elaborated through the article. Let's get started;
Truck Covers USA vs Retrax: Quick Comparision
Choosing a truck bed cover by looking at a quick comparison chart is not wise. But this will surely give you a clear idea about what you should consider the right choice. 
Truck Covers USA: A Quick Glance
These incredible covers are made with heavy-duty double-paneled aluminum, which can withstand 500lbs+ distributed weight. Tonneau covers from Truck Covers USA come with a convenient water drain system.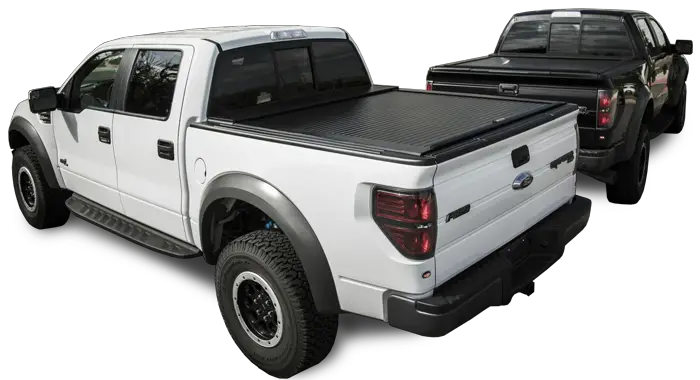 Because of the innovative drainage system, you only have to drill a few holes to install it. You'll find these drainage systems at each corner of the truck bed, so rainwater stays out.
Moreover, it is equipped with molded rubber gasket, which will keep out dust and water.
Retrax: A Quick Glance
The Retrax comes with durable, heavy-duty aluminum slats. Ruggedness, durability, and UV protection are Retrax's most outstanding features.
Additionally, it features a key lock and a more "low-profile" look.
Quick Comparison Table
| | | |
| --- | --- | --- |
| Factor | Retrax | Truck Covers USA |
| Materials | Aluminum or Polycarbonate Thermoplastic | Heavy-duty, double-paneled Aluminum |
| Look/Finish | Matte Finish With A Low-Profile Patented Design | Available in semi-gloss or matte textured powder coating |
| Safety Features | Comes with a key lock | Locks with tailgate |
| Installation | No drilling needed if rail camp is used | Might need minor drilling |
| Weight Capacity | Upto 500 lbs | Up to 500 lbs |
| Price | $1099.00 to $2799.00 | $2349.00 to $3349.00 |
| Compatibility | Ford F-150 Super Crew & Super Cab models from 2015 to 2020. Classic Dodge Ram 1500 2009 to 2020 models as well. | With Any Modern-Day Pick-Up Truck |
Truck Covers USA vs Retrax: Feature Differences
Now, You have a clear idea about these two truck bed covers main features. Now let's get down to some elaboration of these features. I hope you can choose the best one for your truck with the help of these details.
Materials
Retraxone covers are constructed with polycarbonate and Polycarbonate Thermoplastic, providing you with the best impact, scratch protection, and an excellent matte finish. This design also offers superior UV protection and not to mention both style and rigidness. 
Due to the intelligent design of the polycarbonate sheet, there is no chance of trapping dust, wearing out or freezing. Retrax is a maintenance-free truck bed cover. The cover can be retracted without using joints, hinges, or moving mechanisms.
Truck Covers USA, on the contrary, is made from double-paneled aluminum and an innovative drainage system. It has a great weight capacity of 500 pounds, evenly distributed on top of the cover when fully closed. 
It gives your truck a semi-gloss textured powder-coated finish, which is perfect for new & existing roll cover customers. 
Read also: Pace Edwards Vs. Retrax
Installation
Unlike other truck bed covers, installing a Retrax is much simpler. You only need a few essential tools and can do it yourself.
Additionally, you don't have to drill if you use rail clamps. Since Retrax offers an adjustable mounting system, you can fit it into two different trucks of yours. Sealed ball-bearing rollers help to retract or close the bed cover effortlessly. 
However, for Truck Covers USA, minor drilling may be required for the installation if your truck doesn't have holes for drainage tubes.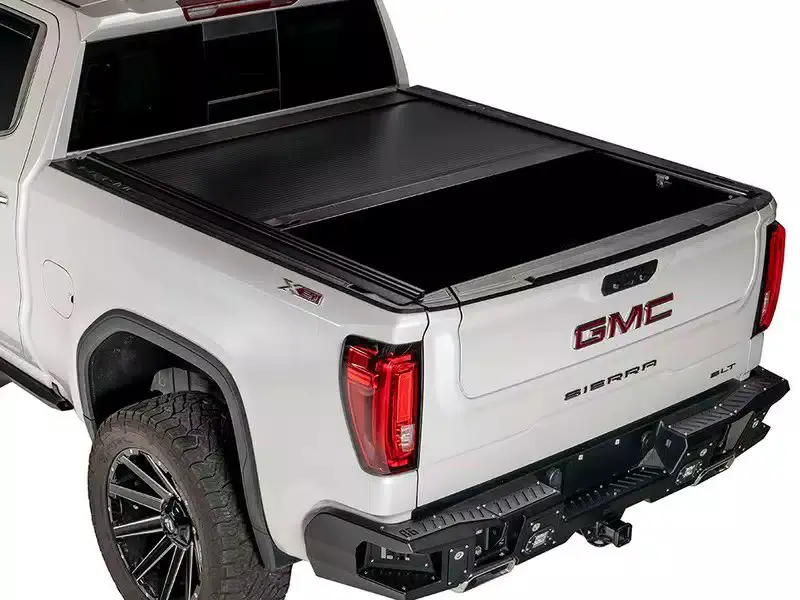 Weight Capacity
Both of the truck bed covers seem to have an equal match for weight capacity. But there is a slight difference; the difference in weight capacity model-wise.
For example, if you are going for Retraxone MX, you will have a weight capacity of 250lbs. But the number amazingly increases to 500lbs with the Retrax Pro MX model. You will find the differences when you have a look at them.
More surprising and extraordinary is that all of Truck Covers USA's truck bed cover models can withstand 500+lbs. It does not matter if it is "The American Roll Cover" or "American Work Cover Jr."; you will get the maximum weight capacity.
Read also: Retraxone MX vs Retrax Pro MX
External Locking
Here comes the decision-making point!! Truck owners worldwide, especially in America, are very concerned about their belongings in their truck beds. So they tend to go for a more secure option.
For this safety feature, Retrax scores one point higher. A built-in key lock secures the truck bed against theft or unwanted interruptions. The spiral track system prevents contact when opening and closing the cover.
Retrax is more valuable and attractive to professional truck users because of the built-in key lock feature. But this fantastic feature only comes with Retrax Pro MX.
On the other hand, Truck Covers USA does not have this feature. But the cover has OEM-grade locking mechanisms and a gas shock opening. If you use an after-market locking system, someone would need a blow torch to get into it. 
Style
Between these two covers, there is a significant difference in style. 
In comparison to the Retrax, the Retrax is more low-profile. This durable matte powder-coat finish gives the Retrax a firm and dependable appearance.
Furthermore, this design blocks UV rays as well. This matte finish adds to its style and rigidity.
Your truck will look great with a more glossy appearance of Truck Covers USA truck bed covers. There are two types of truck bed covers available, to be exact: semi-gloss and matte powder coated. You can trust Truck Covers USA for scratch resistance & ultimate durability.
Compatibility
Ford trucks look fantastic and are an excellent match for Retrax truck bed covers. Any Ford F-150 Super Crew or Super Cab model from 2015 to 2020 will look great with these covers. As well as the Classic Dodge Ram 1500 from 2009 to 2020, the matte finish also looks great on that model.
On the other hand, it is a point up for the Truck Covers USA truck bed covers that these covers can fit your trucks like a glove. These are compatible with any modern-day pick-up truck. So you do not have to be hassled to fit these covers to your trucks.
Truck Covers USA Vs Retrax: Which One Is Better For Your Truck
This is the most crucial question. The answer of which can only be answered by the truck owners because it is totally their choice. Let's make this a bit simpler for you. 
With Retrax, you can get a more low-profile, matte finish look; on the other hand, the USA has a semi-gloss look. Retrax can offer you a weight capacity range from 250 to 500lbs. But you can get a defined 500+lbs weight capacity.
As I mentioned, Retrax has the upper hand for its key lock system, which the USA lacks. But Truck Covers USA can be fitted with a wide range of trucks. However, Retrax has a limited capacity for that.
If you compare the installation process, Retrax has a simpler operation. On the other hand, Truck Covers USA bed covers may need additional drillings. 
Retrax covers are more suitable for professional truck owners who want to use them for recreational and professional purposes. Retrax covers come in different weight capacities. You can choose to have whichever goals you want.
On the other hand, Truck Covers USA covers are mainly used for professional purposes. It is suitable for handymen, for example, plumbers, carpenters, and HVAC. 
Overall, in my opinion, it is totally a win for the Retrax covers due to its more usability. 
FAQs
What kind of truck bed cover is best?
Hard quad-folding covers are the ideal all-around option if your truck bed is routinely required. When fully opened, they provide excellent access to the entire bed; when closed, they provide outstanding security.
Do truck bed covers increase gas mileage?
By preventing airflow from entering your pick-up truck bed, truck covers improve gas mileage. If you do not use any truck bed cover, air might get into that gap and drag your truck. So it is wise to use a truck cover to improve the gas economy.
Is a truck cover worth it?
The purpose of a truck bed cover is to cover whatever you are hauling so that it is not visible to the public. Additionally, a truck bed cover is absolutely worth the investment in preventing damages, improving the truck's appearance, and improving fuel mileage.
Can you stand on a tonneau cover?
If it is a Soft folding tonneau cover, it won't be able to withstand someone's weight. These are ideal if you are looking for something more affordable. Hard tonneau covers might be able to carry the weight of someone standing, but it is not recommended. 
Read also: How To Keep Dust Out Of Tonneau Cover?
Conclusion
I have tried my best to help you to choose the best truck bed cover with the details explained throughout the article. Choosing the best one is not always easy when only two exist. Not to mention both of them are top tire brands and offer the best as well.
So it is totally up to you to choose the best for your truck. Hope the article helps you. Best of luck!!
Read also: Best tonneau cover for snow and ice