You are ready to hit the road with your precious gears on the truck. But is your truck cover durable enough to endure everything throughout the route?
Well, as long as you're here, let's make it worth your time. So what do you think, which one is better, Truxedo Sentry CT or Bak Revolver X4?
If you have a 2020 – 2023 Chevy, GMC, Silverado, Sierra 2500/3500, Revolver X4 will fit great. Meanwhile, Truxedo Sentry CT fits great with the 2015-17 Ford F-150s. Bak Revolver X4 has a Patented Rotational Locking System, whereas Truxedo Sentry CT has an extra security latch in the center.
Don't just get satisfied now. There is more of it! Let's get started;
Truxedo Sentry CT Vs Bak Revolver X4: A Quick Comparison
Identifying and understanding the differences between two tonneau covers at a glance is not easy. Although, I can assure you that this quick comparison will provide an overview of Truxedo Sentry CT vs Bak Revolver X4.
Truxedo Sentry CT at a glance
Designed with heavy-duty aluminum slats that are covered with Industrial Strength Vinyl Fabric.
Has an extremely low profile appearance.
A security latch is included in the center of the cover to ensure your cargo.
Truxedo Sentry CT can handle 400 pounds of distributed weight.
Bak Revolver X4 at a glance
Bak Revolver X4 is made of aluminum slats for durability and overlaid with vinyl.
Has an extra-low profile and a sleek appearance.
It can support a distributed weight of up to 400 pounds.
Has an easy clamp-on installation.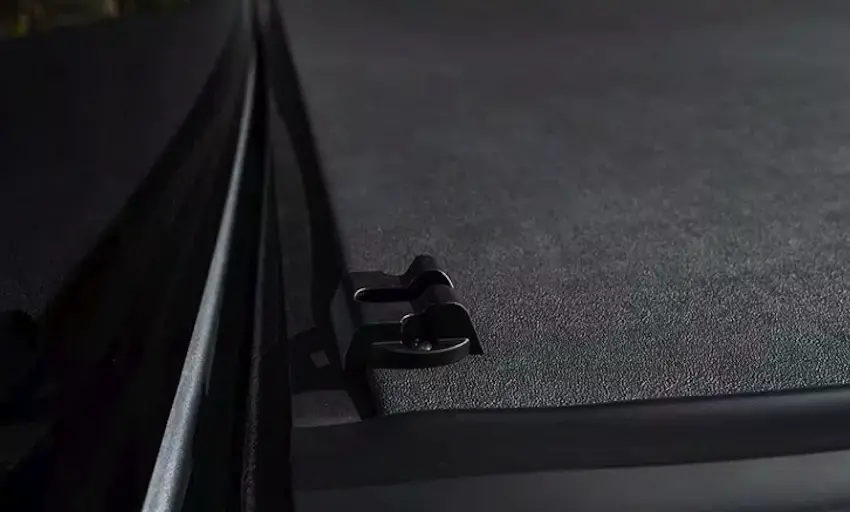 Quick Comparison Table
| | | |
| --- | --- | --- |
| Factor | Truxedo Sentry CT | Bak Revolver X4 |
| Materials | Heavy-duty aluminum slats covered with Industrial Strength Vinyl Fabric | Durable aluminum slats overlaid with glossy vinyl material |
| Look/Finish | Extra low profile design | Extra-low profile with matte-black finish |
| Safety Features | Extra security latch located in the center of the cover | Patented Rotational Locking System |
| Installation | No-drill installation | Easy clamp-on installation, no need of drilling |
| Weight Capacity | 400 lbs Of Evenly Distributed Weight | Evenly distributed  400 lbs weight capacity |
| Price | $989.99 – $1,089.99 | $939.88 – $1,079.88 |
| Compatibility | Fits 2015 – 2023 Ford F-150 | Fits 2015 – 2020 Ford F-150 |
| Warranty | 5 YEAR WARRANTY | 3 YEAR WARRANTY |
Truxedo Sentry CT Vs Bak Revolver X4: Know The Differences
If you would like to better understand how these two fantastic tonneau covers differ, please read through the apparent differences between them. The process will only take a few moments, but the outcomes will be highly insightful.
Materials
Truxedo Sentry CT is constructed with heavy-duty aluminum slats to withstand a wide range of weather conditions. It is coated with Industrial Strength Vinyl Fabric. This makes the cover have a low profile appearance. In addition, the cover is UV-resistant and protects against rough weather. With its sleek design, Truxedo Sentry CT is the ideal complement to any vehicle. 
Meanwhile, Bak Revolver X4 tonneau covers also come with durable aluminum slats. Nonetheless, for superior resistance to impacts, UV rays, weather, and knives, the 1/4″ thick slats are wrapped in matte black vinyl. It provides your truck with an extra low profile with a matte black finish.
Vinyl covers keep water out, so the aluminum slats of this Tonneau cover don't rust. A weather-resistant seal forms a tight seal around the bed rails, protecting them from the elements.
Security Features
All truck owners are worried about the theft of their belongings from the truck bed. There are also records of cutting the bed cover to steal things from it.
Due to the hard aluminum slats, Truxedo Sentry CT tonneau covers provide better protection from theft since thieves won't be able to cut it with anything sharp. It has extra security latches toward the center of the truck bed.
So instead of crawling to the middle of the bed to lock them, these latches lock automatically with the slam latches. Truxedo Sentry CT truck bed cover has latches on the side to prevent thieves from pulling it up and sticking their hands underneath.
On the other hand, a Revolver X4's aircraft-grade aluminum and vinyl construction makes it an ideal fit for your Ford, no matter your profession. When it's rolled out, it can handle 400 pounds evenly distributed.
When latched, the Revolver X4 has 3/4″ Rotational Locking Rails that lock the cover securely across the entire truck bed. Each aluminum slat is inserted with a composite locking block that rotates into a 3/4″ locking rail. As the roll top closes, spring-loaded levers engage automatically to secure the cover.
A locking tailgate can be used for extra security. If your tailgate is locked, you won't be able to roll up the cover once the release handles are closed.
I recommend going for the one with a better security option, Revolver X4, as both covers are very easy to install and require no drilling.
Installation
Installation of the Truxedo Sentry CT requires no drilling. To ensure that the side rails remain square with the bed rails as you tighten the clamps, the side rails have built-in lips. Installing the rails is easy, and the cover rolls evenly every time with this self-leveling design. 
Close the tailgate after you have unrolled the cover completely. Make sure both slam latches are locked by pushing down on the cover. Just press down along the length of both rails before you drive to keep the cover from lifting. The rails will then be secured with hook-and-loop fasteners.
Thanks to a handy quick-release system, you can easily remove the cover without using any tools.
On the other hand, Bak Revolver X4 comes with an Easy clamp-on installation, and you don't have to do any drilling. It's just a matter of lining up the rails and tightening the clamps. Using the tonneau's frame rails, you can build a base for the cover by clamping them to the inside of the truck bed. 
The bolts with the package secure the front hinge rail to the frame rails. The Revolver X4s rails also have pre-installed shims and spacers, so they're installed squarely. This means extreme security, easy installation, and superior performance.
Read also: Bakflip Mx4 Problems
Price Range
If you want if you can go for Truxedo Sentry CT. The price range for this amazing tonneau cover is from $989.99 – $1,089.99. But if you want to go for a bit cheaper option, you can choose Bak Revolver X4. Because its price range is from $939.88 – $1,079.88.
However, if you are worried about the weight capacity, then it's a draw for both tonneau covers. Truxedo Sentry CT and Bak Revolver X4 can withstand up to 400lbs of distributed weight.
So, what do you think? I mean, if you just only consider the weight capacity, I think it is always an easy choice to go for the cheaper option.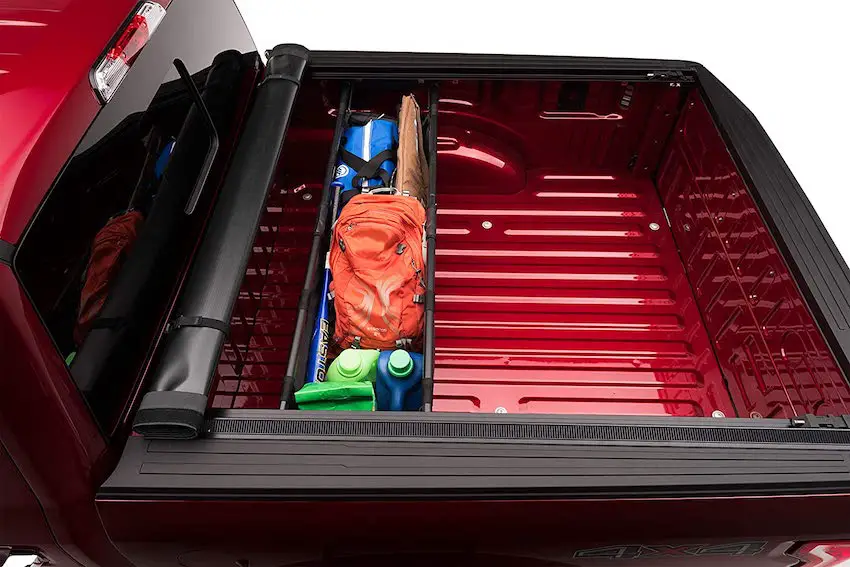 Truxedo Sentry CT vs Bak Revolver X4: Which one should you get?
Here I go again!! I always have a hard time with this part. You can't beat either of those tonneau covers, they're both amazing. Still, there are some differences.
Considering the installation part, Truxedo Sentry CT has a much easier process. You can install both covers easily. But if you're looking for a more secure option, Bak Revolver X4 has a Rotational Locking System.
If you want to compare and consider the price range, Truxedo Sentry CT is just a bit cheaper than Bak Revolver X4. But if you want to bring the weight capacity into consideration, of course, Bak Revolver X4 is an easy choice.
Finally, Truxedo Sentry CT's construction material makes it more suitable for professional use. However, the Bak Revolver X4 is better for recreational use.
As far as I know, you have already chosen a winner. Don't forget to choose covers based on what you feel will be more convenient.
FAQs
Are hard tonneau covers safe to wash in the car wash?
If the tonneau is made of fiberglass or hard plastic, it should be able to go through a car wash without sustaining any damage. But it is highly recommended that the cover should be removed before taking it through a car wash.
How does the tonneau cover lock?
An anti-theft painted one-piece tonneau cover overlaps the tailgate. The tailgate can only be opened if the cover is unlocked and upright. The locking system varies depending on the manufacturer of the cover.
Where is TruXedo made?
Founded in Indiana, the company has its headquarters there. Several tonneau covers are made in the United States, including Extang, BAK, TruXedo, and Access.
Is it true that tonneau covers keep out water?
Most water won't get into your truck's bed if your tonneau cover is installed correctly. In a rainstorm, you'll usually encounter a few drops intruding on a tonneau cover, which isn't 100% waterproof.
Conclusion
That's it, boys. It was my pleasure to give you some detailed information on Truxedo Sentry CT Vs Bak Revolver X4, and I hope you enjoyed it.
It's hard to pick one of the best tonneau covers between the two. However, I want to suggest what you feel is best for you. Good luck!
Also read Bak Revolver X4 Problems