Are you looking for the best tonneau cover to protect your cargo products from environmental obstacles?
Well, when the topic is about bed cover or tonneau cover a debate arises about which one is the best?
After intense research, I suggest Truxedo Sentry CT which comes with a hard rolling bed cover. It not only protects from rain or storms but also protects from thieves. Let's read the full Truxedo Sentry CT reviews to know,
Why Tuxedo Sentry CT is the best
Truxedo Sentry CT review
& many more.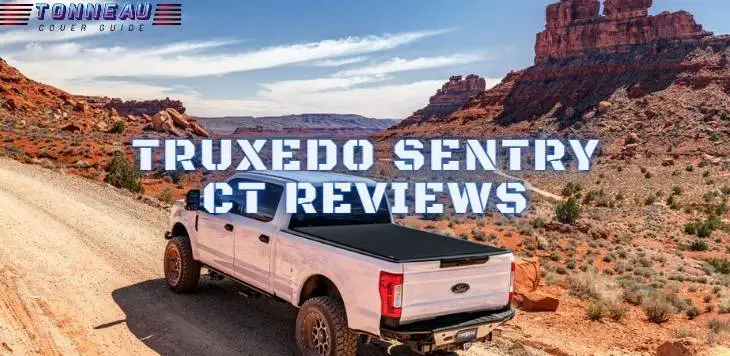 Why Tuxedo Sentry CT Is Best?
Tuxedo Sentry CT introduces a hard roll-up truck cover that comes with luxury matte black woven fabric. The best part is the fabric is stain & mold resistant which guarantees long durability without spoiling the outlook.
These high-quality materials offer an elegant outlook. Besides, this premium fabric is combined with heavy-duty aluminum slats to deliver superior strength & protection.
You will get the majority of access to the bed for its roll-up features. Also, it introduces a quick latch release technique to deliver 100% bed access for user convenience.
It does not block the rear- view or third brake light while rolled up tightly on your car or truck. After installing the Sentry CT the outlook is really impressive & enhances the beauty of your car.
It also comes with an additional security latch situated on the center of the cover to ensure superior protection.
By using this great bed cover your valuable cargo items are safe & secure. Another great part is it comes with easy & simple installation.
You do not need any special tools or mechanical help to install this great tonneau cover like an ordinary one. Moreover, this high-performing, strong bed cover is highly durable.
This matte black bed cover is highly versatile & can meet your thousands of needs.  If you want a long-time investment then Sentry CT is the best choice.
Benefits Of Tuxedo Sentry CT Bed Cover
Enhance your cargo beauty.
Protects your valuable products from rain, snow, or environmental disasters.
Extra protection from thieves or robbers.
Helps to organize your cargo.
It provides slam latches to reveal rear visibility or third brake light to ensure driver safety.
Dive into the review to explore its exclusive features to buy the best quality bed cover at a reasonable price.
Truxedo Sentry CT Reviews
Material: Aluminum.
Type: Hard Roll-Up.
High point: Weather proofing, easy installation, affordable & 100% access to the bed, provides cargo safety & more.
Low Points: Nothing.
Overview
It comes with high-quality woven fabric. That is stain & mold resistant.
Also, it offers easy installation within 20 minutes without drilling or tools.
It comes with a roll-up technique to deliver 100% access to the bed cover.
Also, it introduces slam latches to reveal rear visibility to avoid an accident.
You will get a 3 years warranty.
It can protect from snow, rain, storms & thieves.
Materials
Well, this matte finish premier bed cover comes with high-quality woven fabric. That is interlocking aluminum slats. These high-quality aluminum slates ensure long durability & maximum protection.
The fabric is stain & mold resistant to give a brand new look over the year. This matte black finish sleek design bed cover enhances the overall beauty of the vehicle.
Also, the sturdy materials do not only protect from rain but also provide safety for your products. This stylish fabric prevents any kind of mold growth that also extends its durability.
Besides, powder-coated aluminum slats interlock when you turn off the bed cover. As a result, the bed cover converts into a safe workhouse. You can carry your valuable gadgets without worries.
Read More: Can You Use A Tonneau Cover With A Bed Liner?
Latch
Sentry CT introduces a string latch to open the cover which is accessible after opening your tailgate. When you pull the latch & roll the bed cover onwards & you fix it on the bulkhead with safety straps that ensure 100% security & total bed access.
I know it's unbelievable but this premier system provides 100% bed access with a quick latch release technique. You simply roll up the cover, haul the laches & gradually the cover lift off within a few moments.
This slam at the rear & center point helps to derive clear visibility to avoid accidents. Also, the latch ensures secure opening & closing. Besides, safety straps help to deliver maximum safety of your cargo products.
Installing
Sentry CT comes with a super-fast & simple installing technique. It takes only 20-30 minutes to finish the installation with basic tools.
It does not need drilling or any special installing tools. It offers bolt-on installation so you can leave your driller in the box.
After installing the cover it gives an ultra-low-profile look with some versatile features. It easily fits in your vehicle. You can just watch the video & follow the directions to install it correctly.
You should start with the side claps & out the bolt to fix it. Then gradually position your cover. You will get a detailed instructions video with the cover. It's fun to install it by yourself.
Read More: Best Retractable Tonneau Cover For F150
Easy to use
This premium cover not only provides easy installation but also fun to use. You can simply roll up to open the cover & roll down to close it. Just using the safety straps that's all.
This one-touch rolling system makes this cover one of the popular choices. It is a value-worthy product that can give maximum protection.
Read also: How To Fix Tonneau Cover Latch?
Design
It comes with a sleek design. The black matte finish construction enhances the beauty of the cover.
When you roll up this elegant lightweight cover it gives an appealing outlook. It also provides powder-coated aluminum slats to enhance the beauty & protection ability.
Read More: Tonneau Cover Vs Camper Shell
Guarantee
Tuxedo Sentry CT is a popular brand for a quality tonneau cover. This versatile & durable cover provides a 3-year warranty & a 30-day return guarantee. If you face any issues before 30days you can replace them with a new one.
Also, it is an affordable choice but provides many advanced features. You can buy it without worries because they have enough warranty & guarantee policy. But I can bet it must meet your needs.
Roll up
Well, I suggest a roll-up cover because it does not block the back window or rear visibility like a tri-fold cover.
Also, it provides 100% access to space. Besides, a hard roll ensures safety. These three combinations make roll-up cover one of the value-worthy purchases.
Read More: Best Retractable Tonneau Cover For Ram 1500
How To Choose The Right Truxedo Sentry CT Tonneau Cover?
A tonneau cover is an important accessory for your cargo truck. You are carrying expensive items in your truck so the protection needs to be outstanding to avoid an accident.
The bed cover is providing safety, protection & style. To choose the right bed cover consider the below 5 factors.
Determine your needs
Before choosing any particular model, find out your needs. For example, whether you need security or protection from rain or snow. Because a lightweight waterproof cover is best for rain protection.
But that is not able to give security. For deriving security, you need strong & heavy materials like Sentry CT. So, find out your requirements.
Then choose a model that can meet your needs. Different types of cover are available such as roll-up, trifold & more.
Based on your needs choose the type. If your requirements are protecting from thieves then a hard roll with a lock is the ideal one. If you need an easy access cover then roll up is unbeatable.
Protection
You are buying the cover to protect your products from rain, snow, or natural disasters. Based on your environment types you should select the cover materials.
Such as your country faces snowfall so the soft covers are not for you. On the other hand, a rainy or snow area requires a cover with a superior weather protection seal. Choose a waterproofing cover to get the best experience.
Maintenance
A high-quality tonneau cover does not require lots of maintenance. If it is used for a long period only then it needs little mechanical maintenance.
Some cover needs rarely lubricate their rails to ensure smooth movement. But the vinyl cover needs additional UV protection.
So before purchase, any model learns its maintenance process clearly to avoid future maintenance costs.
Installation
Well, if you don't want to waste time with installation then choose a cover that comes with simple installation. For example, the Sentry CT roll-up cover provides 20 minutes easy installation technique.
Some models do not require an extra tool or effort like Sentry CT. If you are not an expert then it's better to buy a tonneau cover with easy installation.
How to Install TruXedo Sentry CT Tonneau Cover?
Final Thought
A truck cover is essential to meet your versatile needs such as protection, security & beauty. Based on your needs & budget the cover type should be chosen to get the best experience.
If you buy the wrong tonneau cover you won't get good services. That's why we share a helpful buying guide to choosing the right bed cover.
Besides, we share the best performing & budget-friendly Tuxedo Sentry CT reviews. It will help you to buy a value-worthy bed cover within your budget. We share this review after manual testing & research.