If you're looking for a quality truck bed cover, the TruXedo Lo Pro QT is a great option. However, recently we've been hearing reports of some quality control issues with this product.
We wanted to take a moment to address these issues and let you know what to do if you're experiencing problems with your TruXedo Lo Pro QT.
TruXedo Lo Pro QT Problems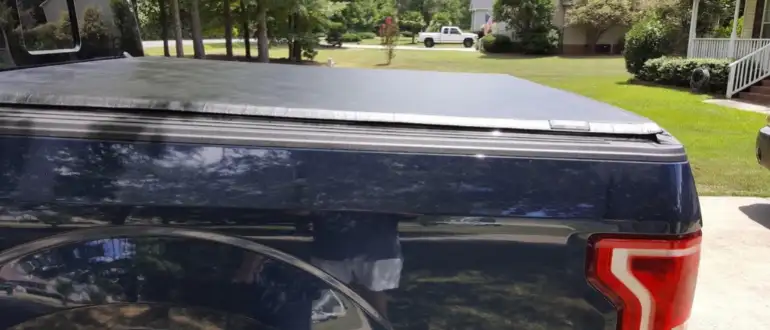 If you're considering the Lo Pro QT, be aware of these issues and be prepared to deal with them if you encounter them. Hopefully TruXedo will address these issues in the future, but for now, buyer beware.
Installation Problem
Two main issues were addressed by the customers who reviewed TruXedo Lo Pro QT soft roll-up tonneau cover.
The first one is clamps that are not strong enough. The C-clamps used in this model are responsible to attach the side rails and also hold the cover. The clamps play a vital role during clipping on and clipping off of the tonneau cover.
The next problem reported arose from the same issue. The cover even though evenly tightened and clamped on both sides flapped quite as if the truck had some speed.
Customers found this unsatisfying as during the drive, a constant flap sound would make you worried if the cover is coming off and be an element of disturbance.
Now, these issues can be overcome by simply following the manual book that comes with TruXedo Lo Pro QT. Even though it says you can install it in under 30 minutes, we suggest you take your time to get a good fix.
Ensure the tension is well adjusted and the rails are aptly positioned with tightened clamps. If you are not familiar with this installation process, seek help from a mechanic and get your truck on the road.
7 Most Common Extang Solid Fold 2.0 Problems (Find Out Now)
Design Problem
TruXedo Lo Pro QT has a top mount design. This design is supposed to stop water from gathering at the top of the cover. 
But due to their Lo-profile frame, the gathered water doesn't go away as swiftly as it is expected.
The water sometimes piles up on the top mount and eventually drips down the rails and ruins them. The rails become rusty. Rusty rails lead to difficulty in latching, unlatching, and keeping the tension right for the TruXedo Lo Pro QT cover.
Another issue is when it is time to roll up the cover it creates a mess from all the gathered dirty water. 
The best way to deal with this is to keep in check after heavy rain and or in accounts where there is a possibility of water accumulating on the top mount of the cover.
Top 5 Peragon Bed Cover Problems And Solutions
Problems with the vinyl cover
If there is a heavy snowfall the vinyl cover will inevitably suffer. Once the snow melts down there is some bit of water found inside the truck. 
This is not extreme but we expect a dry truck. To avoid this instead of letting the snow melt at its course, use a broom to get rid of the accumulated snow.
Do not use sharp materials and it will only lead to the destruction of the vinyl cover and allow more water to gather on the back of the truck through the cover.
Lomax Tonneau Cover Problems & Solutions
Effect of the wind on the cover
While driving at a speed of more than 80 miles/hour the cover is pushed down by the wind. This compromises the appearance and makes it look like it is about to crumble under pressure.
However, it does not create many ripples and can be easily fixed by fastening the screws and keeping them aligned.
>> Do Tonneau Covers Keep Water Out?
Vinyl cover flutters
The TruXedo Lo Pro QT has the best latching system, a secured tailgate, and a four-way sealing system. 
However, if the spring tensioner is faulty and the truck speeds up the vinyl cover flutters. It raises to 3-4 inches in such cases while on the drive.
This can be solved by adjusting the tension better if this problem keeps arising. Through trial and error, you can find the sweet spot that keeps your cover tight and strong.
Faulty Velcro Strip
Some of the TruXedo Lo Pro QT models have faulty velcro strips. Due to this the four-way sealing system does not work and has loose ends. This results in making the cover not as secure as it's supposed to be.
This can be easily solved by replacing the velcro strips. These are available and easily replaceable.
Read also: Bakflip Mx4 Problems
Tips to maintain your TruXedo Lo Pro QT tonneau cover
There is no doubt this cover is one of the bests in the market. The small issues that may arise have easy remedies. 
The cover comes with a limited lifetime warranty. However, it is your cover to care for and keep as good as possible.
Below we have listed some tips  to keep your cover safe and secure:
Do a routine check to see if the rails, the clamps, the screws, the velcro, and the spring tensioner are functioning well. 
Look out for loose ends and tighten them up by following the manual.
Clean the vinyl cover with soap and water. Do not use vinyl cleaner or unknown cleaning products. Using these products will shrink, discolor and ruin your vinyl tonneau cover.
Keep the latches and tailgate clean. You do not want them to rust and lose their functionality.
After a heavy-duty tour, see if the cover is properly fixated. Readjust if necessary.
Top 3 Alternatives Of TruXedo Lo Pro QT
Final Words
TruXedo Lo Pro QT is an easy-to-handle tonneau cover despite its small issues. Now you may face your unique set of difficulties while dealing with this tonneau cover.
But this guide covers all the common issues that have been faced by various users. If you keep the manual and this guide handy, we can ensure you that you will not have a tough time installing, using, and maintaining this easy-to-roll-up cover for a very long time.