There are a lot of different types of truck bed covers on the market these days, and it can be hard to decide which is the best option for you. Two of the most popular brands are Retrax and BAKFlip.
The two types of truck bed covers are not mutually exclusive, so it is up to the individual to decide which one they want. While they serve the same purpose, there are some significant differences.
The main difference between Retrax vs BAKFlip is that Retrax cover is retractable, and BAKFlip cover is foldable and rollable. Retrax uses aluminum and polycarbonate, while BAKFlip uses aluminum, FRP, and vinyl over aluminum. Retrax cover has a matte finish and BAKFlip is more on the glossy side.
So, which one do you think is perfect for you? Let's find out.
Retrax vs BAKFlip: Quick Comparison
Although both covers serve the same purpose, they are different in many cases and have their own benefits.
| | | |
| --- | --- | --- |
| Features | Retrax | BAKFlip |
| Operation Type | Retractable | Hard folding, hard rolling |
| Lock | Latch/Key in any position | Can't lock anywhere |
| Material | Aluminum, Polycarbonate | Aluminum, FRP, Vinyl over Aluminum |
| Weight Capacity | 200-500lbs | 300-400lbs |
| Warranty | 1-year full warranty to Lifetime guarantee | Three to five years |
| Finish | Matte | Powder Coated Aluminum, High Gloss Fiberglass, Vinyl over Aluminum |
| Bed Use | You cannot use whole bed | Use your whole bed |
| Installation time | 30 minutes to 1 hour | 10 minutes for professional, 30 minutes to 1 hour for regular users |
| Price | $1099-$2799 | $977-$1133 |
Retrax vs BAKFlip: Key Differences
Tonneau cover work on protecting the load or improving the aerodynamics. Retrax and BAKFlip are the two commonly used covers by truck owners. So, new truck owners may get confused about choosing between these two. Let's see the key differences between Retrax and BALFlip.
real also: RetraxONE XR vs RetraxPRO XR
Operation type
Retrax tonneau cover is retractable, which is a great way to keep your vehicle safe and clean while you're on the go. In addition to that, it can give you increased protection against snow and rain for the truck's cargo. Also, it gives better access to your cargo and eventually enhances the appearance.
On the other hand, the BAKFlip comes with hard folding and hard rolling features. While the folding cover is quick and easier, the rolling one takes longer to open and close. BAKFlip may block your rear view when folded or rolled.
Between these two, Retrax is more user-friendly than the BAKFlip as it will not block your view, and you can access it easily.
Lock
You can lock your Retarx to cover any position you want. They come with a latch or key lock in any position, which makes it easy to keep your Tonneau closed when you need it.
Unfortunately, the BAKFlip doesn't provide such a feature. You will need to lock in the folded part. But, the good thing about the BAKFlip lock is that it is located underneath the cover, so it is not visible.
If you prioritize flexible locking, Retrax is your type. However, if you have no issues with the locking position and don't want to show the lock to anyone, BAKFlip will work great for you.
Material
Retrax covers are mainly constructed with aluminum, but they also come with polycarbonate series. The aluminum series provide a more robust feature, while the polycarbonate series offers UV protection.
On the other hand, BAKFlip uses aluminum, FRP, and vinyl over aluminum for different series of covers. And all the materials are UV resistant.
Both companies offer premium built with high-quality material in terms of built quality. So, you can pick your cover according to other features and what you need.
related: Bakflip Fibermax Vs Mx4 (Is Mx4 Better Choice?)
Weight Capacity
Retrax comes in three different series with different weight capacities. While the aluminum-made series can take up to 500 lbs load, the polycarbonate series can take up to 200lbs.
On the contrary, the BAKFlip's load limit is 300lbs to 400lbs, even though they are made with premium aluminum material.
So, if you are using your truck for business purposes, Retrax will be feasible as you can travel with more loads on the back.
Warranty
Depending on the models, Retrax offers 1 year to a lifetime guarantee. For example, RetraxONE MX comes with 1-year full warranty, and RetraxPRO MX can get you a legendary lifetime warranty.
The BAKFlip comes with a 3 to 5 years warranty. For example, G2, FiberMax, and Revolver X2 provide 3 years warranty. MX4, F1, and Revolver X4S offer a 5-year warranty.
So, in terms of warranty, Retrax is the complete winner, as some of the models come with a lifetime guarantee.
Finish
Retrax covers are matte-finished, which are less likely to cause dust and lint build-up. In addition to that, matte finishes provide a more natural look.
BAKFlip offers powder-coated aluminum, high gloss fiberglass, and vinyl over aluminum finishes. All these give protection from a dent. But these can attract dust. So, you might need to clean your BAKFlip regularly to keep them looking glossy.
Whether the cover is matte finish or glossy, it doesn't hinder durability. So, it is up to you whether you want it glossy or more natural.
Bed Use
If you install Retrax, you cannot use the whole bed as it takes some space inside to roll.
On the other hand, using the BAKFlip cover gives you the opportunity to use the whole bed space as it is foldable on the top and doesn't take any space from the bed.
So, if you need to use each part of your truck bed, go for the BAKFlip.
Installation Time
Most of the Retrax cover takes 30 minutes to 1 hour to install, depending on the models. But, two or more people may be needed for the installation.
However, BAKFlip takes less time than Retrax. For example, it may take 10 minutes to install for professionals, while amateur users may require 30 min to 1 hour.
While buying the tonneau bed cover, you should not make a decision based on the installation time.
Price
Retrax has both expensive and inexpensive covers ranging from $1099-$2799. PowertraxPRO XR is the most expensive one at $2799.
BAKFlips are less expensive than the Retrax. The price range for BAKFlips covers is $977-$1133.
So, price is surely a decision factor and depending on your requirement you can carefully compare different models. But, BAKFlips are best suited for budget truck owners.
Which One Is Better for You: Retrax vs BAKFlip?
The BAKFlip tonneau truck bed cover is better for you if you are looking for a weatherproof cover that also doubles as a storage container. The Retrax truck bed cover is better for you if you are looking for a product that will protect your truck bed and increase your safety while driving.
Retrax has some of the most popular options and can be found at a variety of prices. BAKFlip tonneau truck bed covers are also popular but are not as high-quality.
So, if you have enough budget buying Retrax will be worth every penny.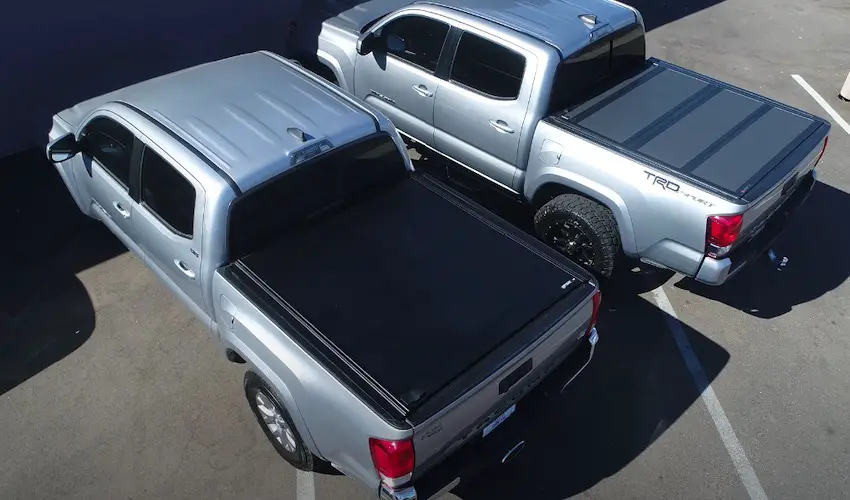 Read also: Bakflip Mx4 Problems
FAQ
Are Bakflip Covers Worth It?
The short answer is yes. BAKFlip offers numerous features that are worth the investment. They offer full use of the bed, protection from theft, and even mud and snow. The covers also offer comfort when driving long distances or when carrying heavy loads in the truck bed. Moreover, BAKFlips are built to protect your truck bed from scratches and other damage, and they also look great.
Read also: How To Fix Tonneau Cover Latch?
Is Retrax Waterproof?
Although Retrax is made from water-resistant materials, they are not fully waterproof. So, use extra care during the severe weather to protect your truck's bed from water. Also, the cover may collect water, so make sure you remove the water before opening. However, Retrax has two drain tubes to drain the water.
Also read: BAKFlip F1 Vs BAKFlip MX4
How Secure Is Retrax?
Retrax gives the ultimate security as you can lock it in any position. Also, you can use keys so no one can access your cargo. Also, the sealed ball bearings provide a high level of safety, and no one can damage the bearings. 
Read also: How To Keep Dust Out Of Tonneau Cover?
Final Words
If you're looking for a cover to protect your truck bed from damage and want robust security, Retrax is a good option. However, if you're only looking for a cover that you can easily remove and replace, BAKFlip is more likely to meet your needs. BAKFlip covers are a popular choice for many because they are affordable, durable, and easy to clean.
Read also: Bakflip MX4 vs Bakflip G2