When it comes to retractable truck bed covers, there are a few different options on the market. And if you are done with your research, you might wonder if the RetraxONE XR or the RetraxPRO XR is right for you, as both offer almost the same features.
But are there any differences between RetraxONE XR vs RetraxPRO XR?
The main difference between RetraxONE XR and RetraxPRO XR is that the ONE XR is built from a one-piece sheet of polycarbonate, while the PRO XR is from heavy-duty aluminum slats. The ONE comes with a 1-year full warranty and carries 200 lbs. The PRO offers a lifetime guarantee and holds 500 lbs.
So, which one is right for you? Let's take you through the key differences to make an informed decision.
RetraxONE XR vs RetraxPRO XR: Quick Comparison
Both are great choices with various benefits, but there are some key differences to consider. Let's see the differences at a glance.
| | | |
| --- | --- | --- |
| Features | RetraxONE XR | RetraxPRO XR |
| Construction Materials | One-piece sheet of polycarbonate | Heavy-duty aluminum slats |
| Lock | Single rail lock point | Dual rail lock point |
| Canister Height | 11.687 inches | 11.625 inches |
| Weight Capacity | 200 lbs | 500 lbs |
| Price | $1,519 – $1,592 | $2,099 – $2,249 |
| Compatibility | Fits 2020 – 2022 Chevy/ GMC Silverado/Sierra 2500/3500HD, Toyota, RAM, Chevrolet | Fits 1998-2022 Chevrolet/ GMC, 2020-2022 GMC/ Nissan, Ford, Chevrolet, RAM, Toyota |
| Warranty | 1 Year full warranty | Lifetime guarantee |
RetraxONE XR vs RetraxPRO XR: Key Differences
The XR Series from Retrax is the perfect choice for anyone looking for a powerful and durable truck bed cover with unique customization options.
RetraxONE XR and RetraxPRO XR are two popular hardcover tonneau covers that offer a sleek, stylish look for your truck bed.
However, both covers are made from durable materials and feature a low-profile design that enhances your truck's efficiency. But what are the key differences between these two covers?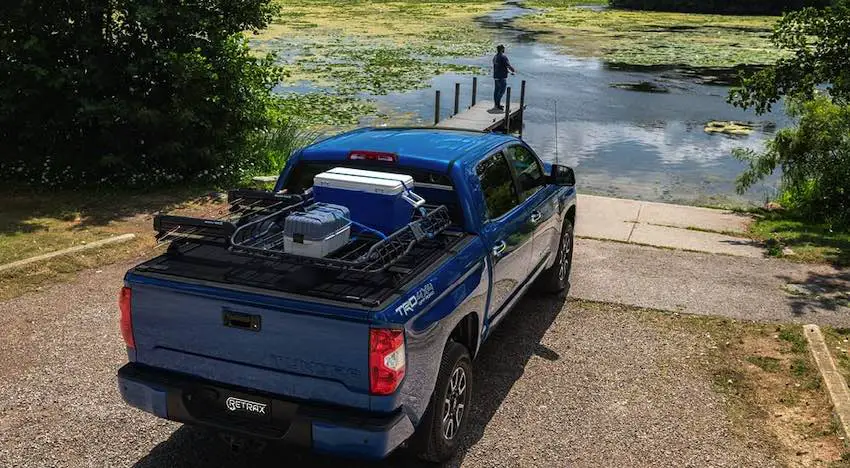 Construction Materials
The combination of the ONE MX cover with the integrated Trax Rail System allows you to personalize the look of your truck bed, while the strong and durable polycarbonate construction ensures that your cover will stand up to anything you throw at it. 
The RetraxONE XR also features a powerful and scratch-resistant matte finish, which gives it a sleek and stylish look that will complement any truck. In addition to that, polycarbonate also helps protect from UV damage.
The RetraxPRO XR protects your investment and keeps your belongings safe. The cover is made with premium aluminum that will not fade or crack. The cover is also scratch resistant and will not corrode or rust.
In terms of construction, PRO XR is a winner as it is more durable than the ONE MX.
read also: RetraxONE XR vs. RetraxPRO XR
Lock
The RetraxONE retractable cover features a single rail lock point that secures the cover. The lock is good enough to provide lasting protection. 
On the other hand, the RetraxPRO XR is a great choice for those who need a more heavy-duty option. The cover features dual rail lock points for added security, and the adjustable lock is perfect for those who need a little extra support.
So, if you want me to pick one, I will use the dual lock feature, RetraxPRO XR.
Weight Capacity
The RetraxONE XR can carry up to 200 lbs of evenly distributed weight, which make ONE XR suited for light-duty task such as hauling a kayak.
RetraxPRO XR is ideal for hauling heavy loads such as you can carry a heavy bicycle.
So, if you are a frequent traveler or need to carry lots of heavy stuff, buying RetraxPRO XR will be a smart investment.
Canister Height
Although when closed, both covers have an identical low-profile appearance. But, ONE XR gives you 11.687 inches of space to put your things.
On the other hand, the PRO XR has 11.625 inches of height. However, it is not a significant difference as few fractions should not be a problem.
Remember that the width is the same for both models, and you will horizontally be 13.75 inches. If a tiny amount of space is important for you, you may go for the RetraxONE XR.
Compatibility
Both models are compatible with maximum trucks. But, ONE XR fits great with 2020-2022 truck models.
On the other hand, PRO XR also fits with the latest model trucks. In addition to that, you can use it with some old trucks too. For example, 1998-2022 Chevrolet/ GMC trucks can use PRO XR without any problem.
So, you should pick the cover according to your requirements and truck models.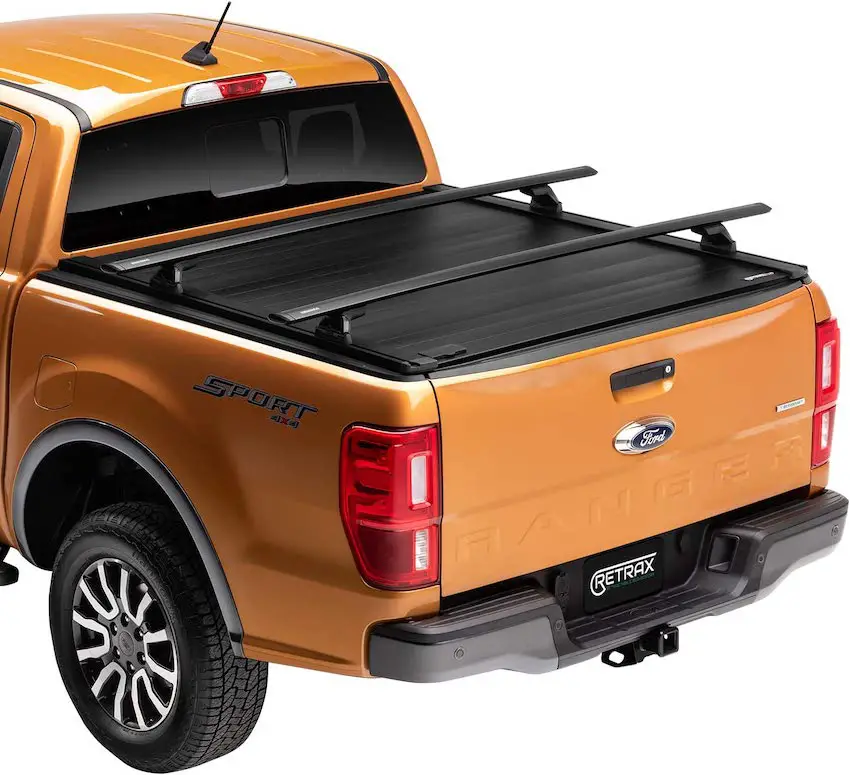 Price
The RetraxONE XR has a suggested retail price of $1,519 – $1,592, while the RetraxPRO XR may cost $2,099 – $2,249. This makes the RetraxPRO XR more expensive but also gives it a higher weight capacity and robust build.
So, choose the right model for your needs, and you'll surely be happy with your purchase.
Warranty
RetraxONE XR comes with a 1-year full warranty and a limited lifetime warranty after one year.
The RetraxPRO XR provides a legendary lifetime guarantee. So, if something goes wrong with your cover, Retrax will repair or replace it for free.
So, if you want to use your truck cover without any tension, go for the PRO XR, as the company got your back for any unavoidable issues. However, make sure you read the terms and conditions.
Read Also: 5 Common Retrax Bed Cover Problems
Which One Is Better for You: RetraxONE XR or RetraxPRO XR?
Both covers come with similar features and benefits except for a few differences. The weight capacity and material will be your deciding factors.
So, if you need a cover that is extra sturdy and can handle a heavier load, the RetraxPRO XR is the better choice. However, it is a bit expensive, but you are getting a lifetime guarantee.
If your budget is a constraint, RetraxONE XR will be the better option for you.
Shared Features
These two models have many similarities, such as their sleek, low-profile design and durable, weather-resistant construction.
They are also waterproof and contain a drain tube in case water gets into them. The good thing about these models is that they are compatible with T-slot accessories from Rhino Rack, Yakima, Thule, and many more.
Also, both models contain sealed ball-bearing rollers with an integrated lock system.
FAQ
Does RetraxPRO XR Leak?
Its unique design allows it to be installed and removed in minutes without needing any tools. And thanks to its sealing system, it provides a watertight seal that keeps your gear dry, no matter the weather conditions.
Can You Stand on A RetraxPRO XR?
One of the most notable features of the RetraxPRO XR is its ability to support up to 500 lbs of weight. This makes it an ideal choice for people who need to stand on hard surfaces.
How do you clean Retrax?
Retrax covers are a great way to protect your bed from the elements and keep your cargo safe and dry. But eventually, even the tough polycarbonate or the aluminum cover will need to be cleaned. The good news is that it's easy to do – just wash it with mild soap and water. Just be careful not to use any harsh chemicals or cleaners, as they could damage the cover. With a little regular care, your Retrax cover will last for many years.
Conclusion
Both of the models are easy to install and remove, making them a great choice for those who need to access their truck bed frequently. The RetraxPRO XR is made from aluminum, making it slightly heavier and more rugged.
The RetraxONE XR, on the other hand, is made from polycarbonate, a lightweight yet durable material. It's also less expensive than the RetraxPRO XR, making it a good choice for budget-minded shoppers.
So, which one is right for you? That depends on your needs and preferences.
Read also: How To Patch A Hole In A Tonneau Cover?