Do you want to protect your cargo lying on your Ram? Pick a tonneau cover.
A truck bed cover is necessary to protect your cargo from getting stolen or harmed. But picking up a tonneau cover is challenging since you have plenty of options.
Among the many, one of the best brands is Retrax. But then you may have a bigger puzzle to solve – Retrax Pro vs. Retrax One – which is good?
Retrax Pro is made of aluminum, whereas  Retrax One is made with aluminum and polycarbonate. Besides, Retrax One holds 100 lbs more weight than Retrax Pro. Furthermore, Retrax Pro keeps raindrops away from stored cargo, Retrax One acts like a weather-resistant blanket.
However, there are similarities too; they offer excellent service in their respective styles. Finally, your preference and requirements will help you decide on the right one.
So, without delay, let's explore Retrax Pro vs. Retrax One to make a perfect pick.
Retrax Pro vs. Retrax One: Quick Comparison 
While the Retrax Pro and Retrax One are great tonneau covers for your truck bed with several similarities, they also differ drastically.
The first noticeable difference between the two covers is how they look. While the Retrax Pro looks matte, Retrax One appears glossy.
They also differ a little regarding their strength.
The former is made with only super strong aluminum slats; the second cover is a mixture of temperature-resistant polycarbonate and aluminum. In addition, Retrax Pro is low profile; Retrax One is an ultra-low profile, and while the Retrax Pro has a plain texture with stripes, Retrax One has a glossy and wavy texture.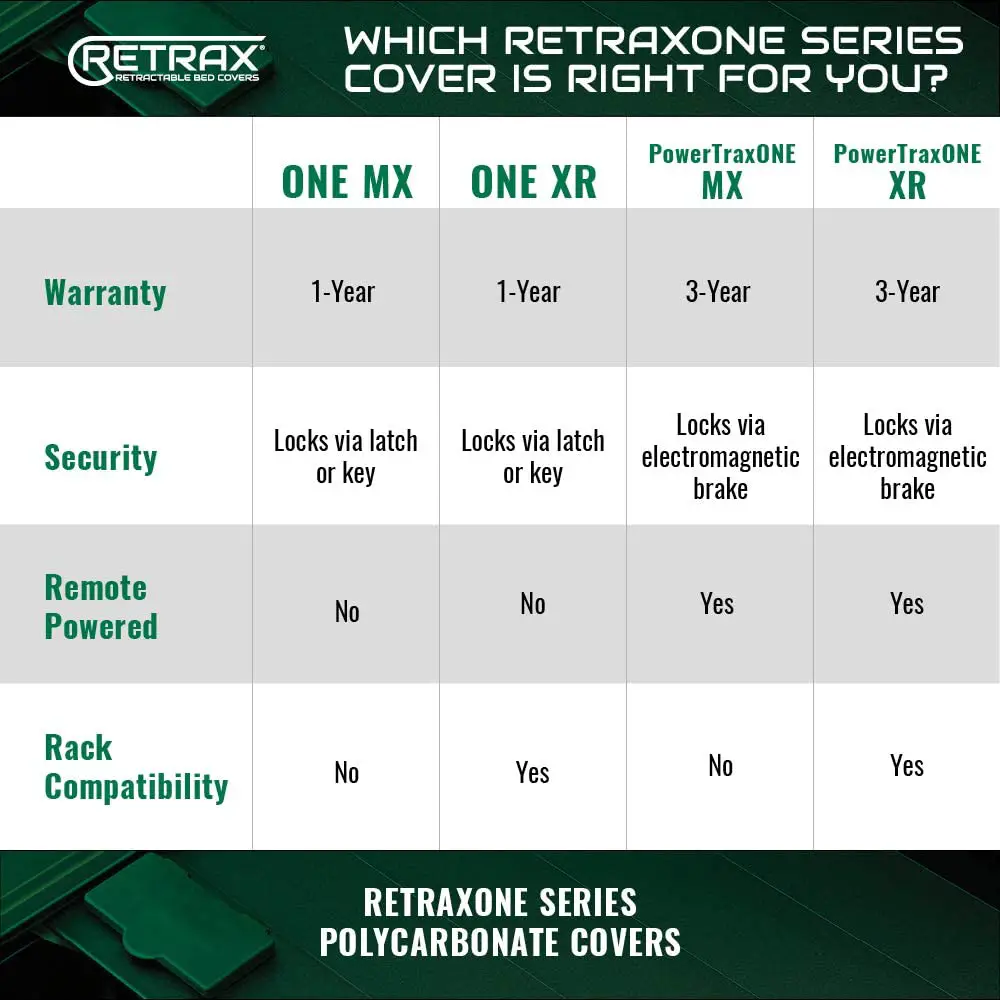 | | | |
| --- | --- | --- |
| Factor | Retrax Pro | Retrax One |
| Materials | Aluminum | Aluminum and Polycarbonate |
| Look/Finish | Matte | Glossy |
| Safety Features | Theft Prevention | Theft Prevention |
| Installation | No Drilling Required | No Drilling Required |
| Weight Capacity | 500 Pounds | 600 Pounds |
| Price | $2,099.00 | $1,519.00 |
| Compatibility | 2019-2023 Dodge Ram 1500 | 2016-2023  Toyota Tacoma Double Cab |
| Warranty | Limited Lifetime | Limited Lifetime |
| After-sales Services | Excellent | Excellent |
Materials
Retrax ProXR
Retrax Prois created with high-engineered aluminum slats. The manufacturer didn't use any extra compound in creating it, but that doesn't make it weak, but rather a much stronger than other tonneau covers out there since it's considered a stronger metal than several elements.
Retrax One XR
On the other hand, Retrax One XR is made using two combined materials, polycarbonate and aluminum. Polycarbonate is a reliable plastic. It is primarily used in making roofing as it can withstand extreme temperatures out there, and the aluminum adds to the strength so that your cover does tear out or you get robbed. 
Retrax Pro is better for its security, as cutting through aluminum is tough unless someone tries to cut it with powerful weapons, such as a wood-cutting saw with a tipped blade. The Retrax One is best if you want both weather protection and security.
Read also: Bak Revolver X4S  Vs. Gator HR1
Finish
Retrax ProXR 
Retrax Pro comes with a matte finish. It's painted with powder-coated paints, making the cover surface look excellent and ensuring the blanket is safe from scratches and harmless from direct sunlight.
Retrax One XR
Retrax One gives a glaze. It's a glossy-looking cover; however, it is painted with powder-coated paint and will provide the same benefits but look different than the Retrax Pro.
As both the covers are painted with powder-coated paints, they are of the same quality in this case. Still, whether you like a matte finish or glossy, pick the envelope that makes your truck appear better.
Safety Features
Retrax ProXR
This product offers durable roofing with a great locking and unlocking system for your truck bed. You can one-handedly operate the security mechanism. It allows you to access the truck cover without opening the tailgate since it can independently move.
Besides, you can lock the cover at any point on the rails. All you have to do is move it to anywhere you desire and close the blanket by pushing the locker underneath the weather guard.
In order to unlock it, open the weather guard and push the button underneath it. It will release the handle, and the cover will be unlocked. Moreover, the body is made with full aluminum slats. These metals will prevent theft.
Retrax One XR
Retrax One offers a similar locking and unlocking system and benefits. However, it's a bit weaker than the Retrax Pro since it has hybrid materials that include a mixture of heat-resistant plastic, Polycarbonate, and aluminum.
Comparing the production materials, I would say Retrax Pro will perform better than Retrax one in keeping things more secured as it's stronger than Retrax one.
Related: Bak Revolver X4 vs. X4S: Get the Right Cover for Your Truck
Installation
Retrax ProXR
Installing Retrax Pro will require you to use less effort as you can install it without drilling or doing the professional installation. You can set it on your truck bed using a few simple tools like an Allen, screwdriver, etc., that you will get at your garage.
Retrax One XR
Retrax One is installed the same way as the Retrax pro. So, there are no hassling tasks that you would need to worry about.
As both the covers require the same installation techniques, you can pick any of them, looking at other qualifications of these blankets.
Weight Capacity
Retrax ProXR 
You can completely rely on Retrax Proor when you have to carry cargo worth 500 pounds on it. However, you need to distribute them evenly. It lets you take several heavyweight things on it and travel knowing that nothing happens to the stuff.
Retrax One XR
Retrax One can bear weight up to 600 pounds. It means it offers your extra 100 pounds capacity and will not get broken if you evenly distribute things over it.
Since Retrax One can provide more room for your cargo, it is a better option if you often carry heavy things on your truck cover and travel to long distant places.
Price
Retrax ProXR
Retrax ProXR is available on Amazon, and it will cost you 2,099.00 dollars.
Retrax One XR
You can purchase Retrax One XR on Amazon for 1,519.00 dollars.
You can get almost the same advantages from both the tonneau covers. Hence, if you have a low budget, you can get the best out of Retrax One, and if you have a higher budget, then you can rock with the Retrax Pro, which is more secure.
Compatibility
Retrax ProXR 
It will fit all the 2019-2023 Dodge Ram 1500.
Retrax One XR
This cover is compatible with the 2016-2023  Toyota Tacoma Double Cab. 
Both covers are best for the specific models that they are compatible with.
Warranty
Retrax ProXR 
It comes with a limited lifetime warranty.
Retrax One XR 
This cover also offers a limited lifetime warranty. 
The two truck bed envelopes offer the same warranty. Therefore, I suggest you choose to check other attributes of the products.
After-sales Service
Retrax ProXR
The after-sales service of Retrax pro-XR is excellent because it's the US-based helpline.
Retrax One XR 
This one also provides US-based client service and is reliable. 
The Retrax Proand Retrax one after-sales services are surprisingly great. Hence, you can select any of the covers you like depending on your model truck.
Which One is Better for You: Retrax Pro XR or Retrax One XR 
After comparing the two covers properly, I have concluded that Retrax ProXR is best for rough usage because it's super durable. Also, it offers a drainage system, so you don't have to worry about the stored stuff when it's raining. 
The canister can collect the rain drops or water from snowfall and will keep the truck bed dry by removing all the water from it through tubes.There is no way for a thief to steal things from the truck bed, as cutting the metal aluminum slats with sharpened knives is impossible.
On the other hand, Retrax One XR is a better option than Retrax ProXR because it has more holding capacity.So, if you often go kayaking or shift stuff under 600 pounds, this truck bed cover is what you need to rely on. 
Also, its polycarbonate component will ensure your cover is safe from harmful UV rays. No matter how hot or cold the weather is, the body will maintain its quality if the owner uses it carefully.
Read also: Bakflip Mx4 Problems
FAQ
Is Retrax ProXR waterproof?
Retrax Pro is not waterproof. However, it can drain any excess water collected inside the canister. Its drainage system prevents water from entering the truck bed through the cover.
Can you stand Retrax Pro?
The only element of Retrax Pro is strong aluminum. It lets a person stand on it; however, it's not recommended.
How good is Retrax One? 
While Retrax One is available at an affordable rate, it can provide several benefits, like expensive tonneau covers. For example, it offers secure locking, stays scratch-free, allows one-hand operation, keeps itself safe from extreme temperature, and gives full bed access.
Conclusion 
I liked both covers, but after the Retrax Provs. Retrax One comparison, I would suggest you select Retrax Pr ofor carrying heavyweight things and using roughly. This makes it perfect for daily labor workers such as plumbers and construction workers.
On the contrary, get the Retrax One if you are always busy and are looking for a cheaper cover. This is because the Retrax One requires less maintenance, is less costly, and offers more room for your heavyweight cargo.
Also read Bak Revolver X4 Problems