Hard-folding truck bed covers are a popular product in the hardscaping industry. Two of these designs are particularly interesting:
The BAKFlip MX4 and Gator FX3.
They both offer a great combination of style and function. So which of these two covers should you go for? Before we get to how they differ, let me give some background information on Bakflip Mx4 vs Gator FX3.
The Bakflip MX4 is made of aluminum, whereas Gator FX3 has three aluminum-coated panels for safety and durability. Also, the Bakflip has a higher weight capacity than the FX3. As a result, Gator has created a beautiful and functional design for almost every job.
So, which is the best? Let's go through the key distinctions to help you make the right decision.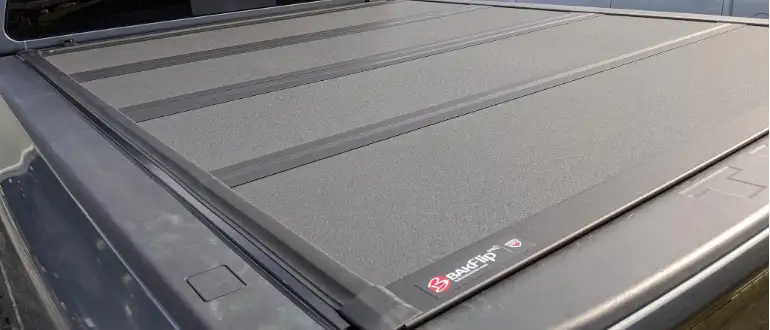 Bakflip Mx4 vs Gator FX3: Quick Comparison
Both are great products, but some key differences could make one or the other a better choice for you. Let's take a quick look at how they compare:
| | | |
| --- | --- | --- |
| Features | Gator FX3 | Bakflip MX4 |
| Materials | Made from powder-coated aluminum with low profile design | Made from standard, premium or Vinyl over Aluminum |
| Manufactured in | USA | USA |
| Weight ratio | 300Ibs evenly distributed | 400lbs evenly distributed |
| Finish | Gloss-black finish | Matte-black finish |
| Price | $239 to $2599. | $899 to $1110 |
| Tailgate Seal | The flap seal | The dual-action tailgate seal |
| Protection | Classy semi-gloss appearance, strong composition, resistant to dents, cuts, and scratches. Weather protection. | Protects it from UV radiations, dents, and scratches, prevents the water from entering the bed |
| Ease of Use | A drill-free installation | Installed without drilling  |
| Warranty | 2 years | 5 years |
Bakflip Mx4 vs Gator FX3: Key Differences
Let's compare the gator FX tonneau cover and Bakflip tonneau cover so you can understand their similarities and differences.
Comparison of various aspects, such as materials, manufacturing, compatibility, price, finish, protection, and warranty, can all assist you in determining which product is best for you.
Materials
Gator FX3
The Gator FX3 tonneau cover is made of powder-coated aluminum with a low profile. The foldable design of the panel makes it easy to access your backseat when needed.
In addition, it can be held at an angle with help from prop rods, making this semi-gloss top surface very classy looking.
Bakflip MX4
The Bakflip tonneau cover is available in three materials: standard, premium, or vinyl-coated aluminum. It employs a stamping process to cut and shape aluminum panels.
MX4's low-profile design and simple construction make them a favorite among consumers. In addition, their manufacturing process has been perfected over time.
It means that MX4 is better than gators or any other brand in terms of durability.
Manufacturing
Gator FX3
FX3 is made in the USA. Gator is a family-owned business that started in Florida, making them one of the most trusted names in the industry.
Bakflip MX4
Bakflip is also made in the USA with pride. They have earned a good reputation for producing high-quality products.
Weight ratio
The best way to determine if your tonneau cover will work with your truck is by checking its size. Both gator and bakflip have many models in different sizes, so make sure you measure before buying.
Gator FX3
You might wonder how much weight the Gator FX3 can hold. The answer is 300Ibs.
Bakflip Mx4
Bakflip Mx4 is the perfect solution for people with a lot of weight to transport but who don't want anything too big and cumbersome.
It can easily fit under your car's seat or in any other space, you might need, which makes moving around easy. With a weight limit of up to 400lbs, this tonneau can hold whatever you need and still be easy enough on your vehicle.
Finish
Gator FX3
The FX3 has a smooth, black finish with an effortlessly cool texture.
Bakflip MX4
The MX4 features a matte-black finish.
Price
Price is an essential factor to keep in mind when choosing a tonneau cover. Backflip is a high-quality, low-cost option that's available in a variety of styles and price points. 
Gator FX3
The gator brand offers high-quality bed covers that are more expensive than the bakflip.
The relabeled tonneau cover from this company can cost between $239 and 2599 dollars, depending on your needs for protection and durability.
Bakflip MX4
With an average price of $899 to $1110, the Bakflip bed cover is not too expensive for what you get. The quality seems to be pretty good and well-made.
Tailgate Seal
Gator FX3
The FX3 flap seal overlaps your tailgate, so you must ensure it is shut before installing the cover.
Bakflip MX4
The MX4's dual-action tailgate seal makes it easy to close your pickup whether the cover is open or shut.
Protection
Gator FX3
FX3 is a beautiful, high-quality piece of equipment that will last for years.
The classy semi-gloss appearance of the FX3 is the result of fiberglass-reinforced polymer, making it much more resistant to dents and scratches than other products.
The tailgate seal extends down and fits tightly around to keep water out.
The durable aluminum coating is an excellent barrier against water, wind, and sun. In addition, the hydrophobic rubber seals help keep your home safe from harmful elements like rain or snow while also being easy to clean.
Bakflip MX4
The MX4 is made of heavy-duty aluminum that withstands a lot of wear and tear. It's also powder-coated to resist UV rays, so your cover will look good for years to come.
In addition, TheMX4 has an integrated rail system that provides superior strength and durability. Finally, the patented design allows you to use your truck bed for storage without worrying about damaging the cover.
The Gator FX3 and the Bakflip MX4 offer excellent protection for your truck bed and its contents. They are both made of high-quality materials that will last for many years.
Ease of Use
Gator FX3
The Gator FX3 is easy to install and remove, so you can access your truck bed when needed. The simple and quick installation process of the FX3 means you can get it done in no time. 
There are no bolts or screws required for installation, and the cover can be rolled up and stored in a matter of seconds.
This car cover has three aluminum panels. Firstly, you must open the cover and place it against the cab.
After that, you need to lower the tailgate to engage the safety latch. Now you can start folding the cover towards the cab. To remove the cover, simply reverse the process.
Bakflip MX4
The Bakflip MX4 is easy to use and can be installed or removed in seconds. The patented design allows you to access your truck bed without removing the cover.
Simply fold it against the cab when you need to access your truck bed. To remove the cover, simply unlatch it from the cab and roll it up.
Warranty
One major difference between gator and Bakflip's tonneau covers is the warranty. While they offer a one-year limited period, some additional benefits with BakFlip may be worth looking into.
Gator FX3
With the 2-4 year warranty on their tonneau cover, you'll be able to enjoy your truck for years with no worries. They also have a 30-day return policy if something doesn't feel right or meets expectations.
Read also: Bakflip Mx4 Problems
Bakflip MX4
The bakflip guarantee is different from other flip models. They offer a 3-5 year warranty and excellent customer service, which makes them better than most of the competitors in this industry.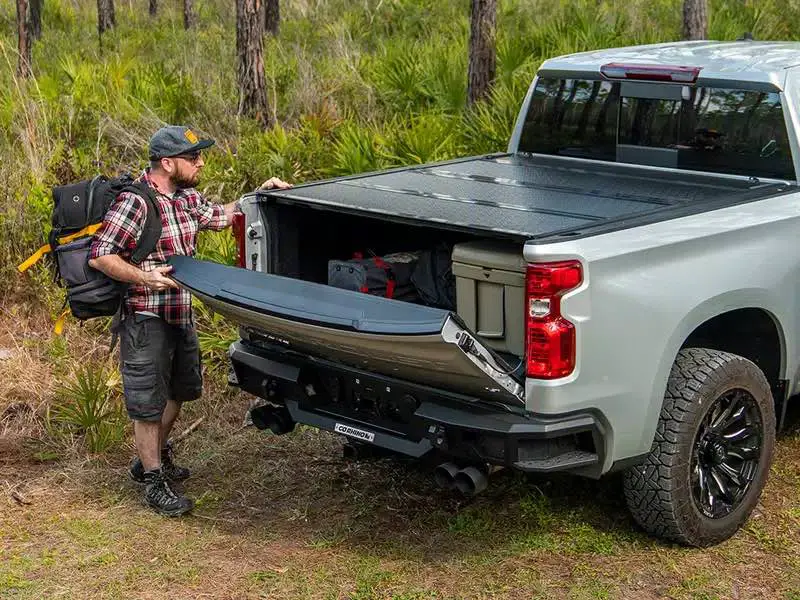 Which One is Better for You: Gator FX3 Or Bakflip MX4?
It is a tricky question. Each option has advantages and disadvantages, so you must consider what's best for your situation before making any decisions.
The Gator FX3 and Bakflip MX4 are truck bed covers that serve the same purpose but are made by different companies. They both protect your truck bed and belongings, but the FX3 is coated with FER, which makes it more protective.
The MX4 is more durable because it has a matte-black powder coating that is UV resistant. It can also carry more weight and comes with a longer warranty. The MX4 is also a bit easier to use because it has a dual-action seal lock.
If you are looking for a cover that will give you more protection, go with the Gator FX3. If you want a cover that is easier to use, go with the Bakflip MX4.
Read also: Best Weather Stripping For Tonneau Cover
FAQs 
Is BAKFlip and Gator the same?
No, they are not the same. Gator is a company that makes covers for trucks, RVs, and other vehicles.
Is the BAKFlip MX4 worth it?
Although this bed cover doesn't offer the best protection and security, it does have some great features that make for an easy installation process.
What is the most secure tonneau cover?
If you're looking for the most secure cover on your truck, look no further than beautifully designed and manufactured one-piece tonneau covers. These covers provide maximum protection against the elements and potential theft.
Conclusion: Gator FX3 VS Bakflip MX4
After taking a closer look at both the Gator FX3 and Bakflip MX4, it's clear that they are both great options for truck bed covers. However, they each have unique features that make them stand out.
The bakflip ensures that the items of its manufacture are fully protected so users can simply customize their fitting without scratching or scuffing anything.
On the other hand, the gator is not as easy to install but offers superior protection against the elements.
In the end, it comes down to personal preference.