The tonneau covers are not just great for your truck's bed cover; they also have many benefits. There are many options when choosing between your Ford, Honda, or dodge truck bed covers.
Sometimes it doesn't get any easier to choose between many brands such as Gator FX or Bakflip. So, you might be wondering, which one would be great if it comes to Gator FX tonneau cover vs Bakflip?
In terms of size and types of truck models, Bakflip has more. On the other hand, you have full bed access, easy installation, warranty, and weight, same for both brands. But the capacity and overall customer satisfaction are better with Bakflip. Thus, Gator's price is lower than Bakflip's.
Don't worry! If you're asking for more, we'll give you more! Here we'll discuss all the essential aspects before buying a bed cover. So, stay with us to know more about the tonneau covers.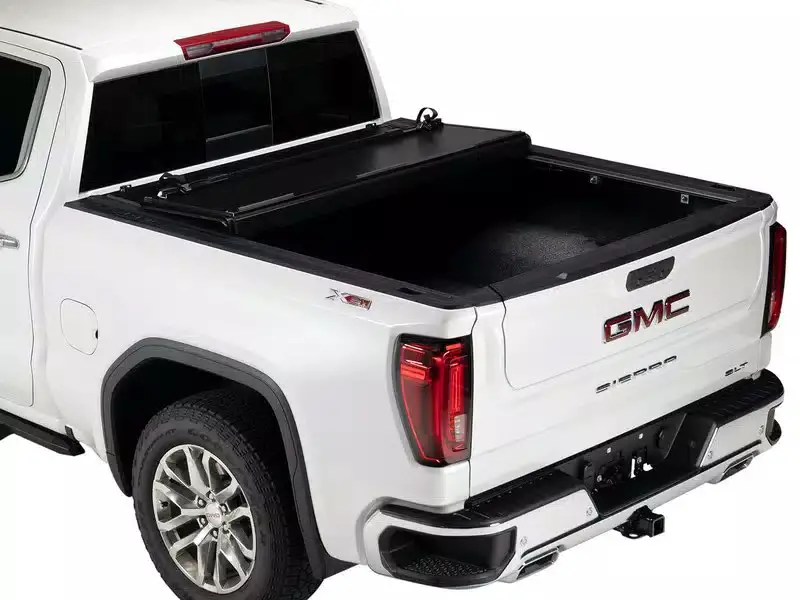 Gator FX Tonneau Cover Vs Bakflip – Quick Comparison
Gator FX and Bakflip Tonneau covers are the best brands. That being said, even though the aspects are quite similar, these also come with some differences. 
Before going into details, let's compare the Gator FX tonneau cover and Bakflip.
| | | |
| --- | --- | --- |
| Aspects | Gator FX | Bakflip |
| Car Brands | 9 | 14 |
| Sizes | 15 | 15 |
| Types | 30 | 35 |
| Bed Access | Full | Full |
| Installation | Easy | Easy |
| Warranty | 5-years | 4-years |
| Weight | 61 lbs | 74 lbs |
| Capacity | 300 lbs | 300 lbs |
| Price | $800 to $1000 | $700 to $1100 |
Gator FX Tonneau Cover Vs Bakflip – Head to Head
Choosing the right type of cover for your truck's bed is crucial. Because it can protect your bed from outside dust and other things that can ruin the bed. 
Besides, having a decent idea of what you will buy and knowing all the aspects can give you an upper hand in choosing the right product. So, what are we waiting for? Let's dive in! 
Sizes and Types
Maybe you're using an old model truck from the last decade. But you don't need to worry about that! 
Because Gatox FX comes in tons of sizes for different types, even some of the suppliers have 1988 model cars, till now! 
You can find the cover model from 1988 to 2023. Though for those old model trucks, the company or brand is limited. The list includes only GMC and Chevy for the years 1988 to 1992. 
But, from the year 1993, the list increased by one new brand, which is Ford. 
Here is the list of all available brands you can find your cover's for. These brands are common for both Gator FX and Bakflip;
GMC.
Chevy.
Ford.
Toyota.
Dodge.
Nissan.
Lincoln.
Suzuki.
Ram.
But, Bakflip comes with more brand covers. That list includes;
Isuzu.
Honda.
Mitsubishi.
Suzuki.
Jeep.
So, Gator has covers available for nine brands, whereas Bakflip has 14! 
And depending on your brand, those also come with different models. Gator comes with 30 different models for these brands. On the other hand, Bakflip comes with 35!
Here is the complete list from which you will get the idea if your truck's cover is available in the market or not. And the list below is standard for both brands.
C/K Pickup 1500, 2500, 3500, Silverado 1500, 2500, 3500, Colorado (GMC and Chevy).
Rager, F 150, F 250, F 350, Raptor, F 150 Lighting, Maverick (Ford).
Ram 1500, 2500, 3500 (Dodge).
Sierra 1500, 2500, 3500, Canyon (GMC).
Titan, Frontier (Nissan).
Tacoma, Tundra (Toyota).
Mark LT (Lincoln).
Equator (Suzuki).
Truck 1500, 2500, 3500 (Ram).
But you will find more options for Bakflip as more brands are available.
Hombre (Isuzu).
Ridgeline (Honda).
Raider (Mitshubishi).
Equator (Suzuki).
Gladiator (Jeep).
Now, we already have an overall idea about the models and brands. Let's see what bed options we have. 
Depending on the model of your car, the bed size also varies. There are short, medium, and long bed sizes. Out of all the brands and models, the bed size options are 15, which is impressive!
4' 4" Bed (Ford).
5' Bed (Nissan, Suzuki, Honda, Suzuki, Jeep).
5' 1" Bed (Ford).
5' 2" Bed (Toyota, GMC, Chevy).
5' 4" Bed (Mitshubishi).
5' 7" Bed (Nissan, Lincoln, Toyota, Ford, Dodge).
5' 8" Bed (Chevy, GMC).
6' Bed (Ford, Isuzu).
6' 1" Bed (Ford).
6' 2" Bed (Nissan, Toyota, Suzuki, GMC, Chevy, Suzuki).
6' 4" Bed (Dodge, Ram).
6' 6" Bed (Chevy, GMC, Mitshubishi).
6' 7" Bed (Nissan, Lincoln, Toyota, Ford).
6' 9" Bed (Ford, GMC, Chevy).
8' (GMC, Chevy, Ford).
We can conclude that Bakflip has more options and brands available than Gator. Now, let's discuss how much bed access you will have with these covers.
Bed Access
Both Gator FX and Bakflip come with full bed access. You might have heard that many Gator covers don't have enough or two-thirds bed access, which is difficult sometimes.
But in this case, you will get full access to your bed even with your cover. Everyone loves the fact that you can fold the entire bed cover. That way, you can fully utilize the whole space of your truck's back. 
You just need to fold the cover against your rear window. Then, you can carry big things such as bicycles, bikes, or construction items. Anything you can usually take now, you have full access just like you had without the cover.
Installation
The most hassle-free work is to install the covers. You don't need any drilling tools or any kind of unique tool to install the covers.
Both brands provide a clearly explained, well-written user manual to help you along the process. The entire process will not take more than thirty minutes to complete, and very easy to install. And you can do it by yourself, but it would be much easier with two people.
Besides, the cover's design is made so it can sit flush. And, of course, don't forget to install the drain tubes. The drain tubes are to draw off the water just in case there is any. 
There are brackets on both sides of the bed where you can install the rails. Last but not least, the cover is in alignment with the tailgate. That's all!
Warranty and Customer Service
Gator FX comes with four years of extended warranty. On the other hand, Bakflip gives one year more than FX.
Both have good warranties based on value for money. There is also the option for 30 days return guarantee just in case. But, the warranty is only for manufacturer defects.
Besides, they both have excellent customer service with quick responses. They provide lifetime installation service even if you can't install the cover. So, you don't have to worry about that.
Weight and Capacity
Bakflip is slightly lighter than Gator in terms of weight. The shipping weight of Bakflip is around sixty-one pounds, whereas the Gator ones are seventy-four. Though, in terms of performance and holding capacity, Bakflip is better even though it is lighter.
Both of the brands have almost the same capacity. The covers can hold a maximum of three hundred pounds when evenly distributed, which is the official recommended capacity. But users said that you could put up to four hundred pounds easily. 
The regular items that are not exceeding the capacity level, you can carry those items easily. Maybe a bicycle, large objects, construction items, or anything you want as long as you maintain the capacity limit.
Price
Gator makes their product to be more economically friendly. On the other hand, Bakflip ones are a bit pricey. 
The Gator FX price starts from $859 to $929, whereas the Bakflip price starts from $791 to $1062. But both of them are good quality in terms of money value.
Before deciding which one to buy, go through the pros and cons again. And according to your budget, whichever fits your budget the best, then choose wisely.
FAQs
Do Tonneau Covers Improve Gas Mileage?
Yes, tonneau covers improve gas mileage. As the cover seal the bed, this decreases the drag of the air when you drive. Thus, it improves the overall aerodynamics of the truck's backside and makes engines work less. And it improves the gas mileage.
How Long Does It Take To Install Tonneau Cover?
It takes half an hour to install the Tonneau cover. Most bed covers come with the user manual and well-written installation guide. You can quickly install the cover as it doesn't require drilling or other tools.
Can Bakflip Go Through Car Wash?
Yes, Bakflip can go through the car wash. The cover is very airtight and comes with rain prevent rails. In heavy rains or car washes, Bakflip can easily get through.
Are Gator Tonneau Covers Waterproof?
Yes, Gator tonneau are waterproof. But, of course, no cover is hundred percent waterproof, so not Gator. You might see some drop getting through but not that much. And there are water drains from where the rainwater or cash washes water can go out. 
Final Words
We hope we were able to shed some light on your Gator FX tonneau cover vs Bakflip conundrum.
Considering all the aspects, Bakflip has more options in types. But for both brands, installation, capacity, and warranty are the same. Bakflip weighs less than Gator, but the price is a bit higher. Choose wisely whichever fits your criteria.
Have a great day!
Read also: How To Keep Dust Out Of Tonneau Cover?