You're going on a tour and need a cover to protect and store things. Now, there are many covers available for your truck in the market.
Gator EFX and Bakflip MX4 are great options out there. But it might be confusing to choose from one of them. So, you might be wondering, Gator EFX vs Bakflip MX4 – which one is better?
The sizes are similar, and the installation process is easy for both brands. But, in terms of bed access, weight, capacity, and seal, the Bakflip is better. Although, the prices of Bakflip are much higher than Gator as well. And Gator and Bakflip come with 3 and 5 years of warranty respectively.
That was just the tip of the iceberg. Tag along to learn more!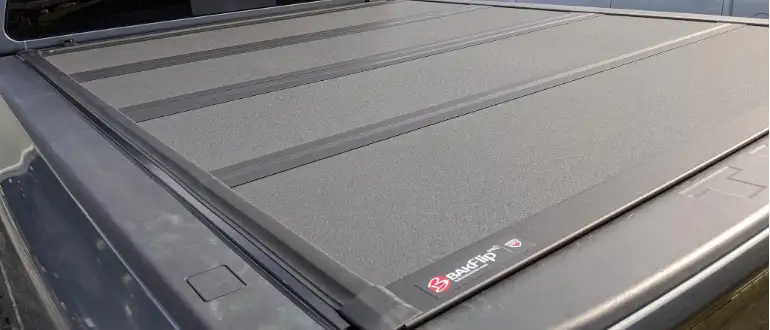 Gator EFX Vs Bakflip MX4: An Overview
Before buying anything, there are a few things that we need to know about. You're purchasing a cover for your truck and putting your precious time and money into this.
Here is a table with an overview of all the aspects of these two brands:
| | | |
| --- | --- | --- |
| Aspects | Gator | BAKflip |
| Size | Three (5' 7", 6' 7", and 8' 2") | Three (5' 7", 6' 7", and 8' 2") |
| Bed Access | two-thirds | Full |
| Weight | 53-65 | 47-59 |
| Capacity | 300 pounds | 400 pounds |
| Rails | Weather Strip | rubberized endcaps |
| Installation | Easy | Easy |
| Seal | Flap-seal | Dual-action |
| Price | $629 to $800 | $1,079 to $1,140 |
| Warranty | 3 years | 5 years |
Gator EFX Vs Bakflip MX4: Head to Head
Whether you're buying the cover for your Ford or Dodge truck, having a good idea about all the factors goes a  long way.
We already discussed all the factors in short in the previous section. Now, we are going to discuss everything in detail. That way, you'll have an overall idea of which one is best for you.
Let's dive in!
Size
Gator EFX comes in three different sizes for two different configurations. And not just that, it also comes in six different styles.
The sizes are; 5' 7" Bed, 6' 7" Bed, and 8' 2" Bed. Besides, you can also choose from hard tri-fold, folding, hard quad-fold, hard tri-fold, retractable, roll-up, and soft tri-fold styles.
They are adjustable for the previous 2015-2020 and 2021-2022 configurations.
On the other hand, Bakflip MX4 comes in three sizes, similar to Gator EFX. But, they don't have different configurations. Instead, the styles are based on the previous model year, such as 2015-2020, 2021-2022, and folding.
Whether you're choosing The MX4 with matte black or Gator EFX with semi-gloss, you can choose whichever you prefer per your requirement.
Bed Access
The users complain that one thing about the EFX one is that you can't access the entire bed with this. If you use Gator EFX, then it will cover one-third of the bed when you open it.
Besides, finishing with the black power coat color helps the cover from any scratches. And, of course, even though you can only access two-thirds of the bed, it comes with storage straps when you've large items in the back.
On the other hand, you will have full bed access when you're using a Bakflip MX4. You can fold the cover to the front side of the truck. It will be in the pop rods. Your cover's body won't lose the paint while dragging when you have cab bumpers.
When you need to pull large bags or any significant items in the back of your vehicle, Bakflip is the best option there.
So, if having bed access is an issue for you, you should go with the Bakflip MX4 one. Otherwise, EFX is a good choice too.
Weight and Load Capacity
Gators are heavier and bulkier than Bakflip covers. Comparatively, Gator covers are durable and sturdy, but Bakflip covers are smooth, flawless, and don't weigh much. Gator EFX 5 feet 7 inches and 6 feet 7 inches weigh respectively 53 pounds and 65 pounds.
Because of its lightweight feature, most owners prefer Bakflip over Gator. Besides, Gator covers are not known for holding heavy weight, whereas Bakflip covers can carry much more.
Even though the capacity difference is not that much, it sometimes makes a difference. Gator EFX can carry 300 lbs easily, whereas BAKFlip MX4 can hold 400 lbs when eventually distributed.
You can carry a bicycle, or common goods or things you take. Even you can move people above the cover as long as they don't exceed the capacity limit.
Rails
Gator EFX comes with a weather strip. It's the same length as the bed. The strip works as a barrier and helps the bed protect from dust and other weather. Also, a drain tube system is under the rails to pass the water.
You won't even have to drill holes; instead, you can just use clamp rails to install that.
Meanwhile, Bakflip comes with rubberized endcaps, which ideally help hold the cover. Besides that, the aluminum on the surface makes it dangerous to get exposed.
Those rails help the cover set perfectly. And also it comes with drain tubes as well.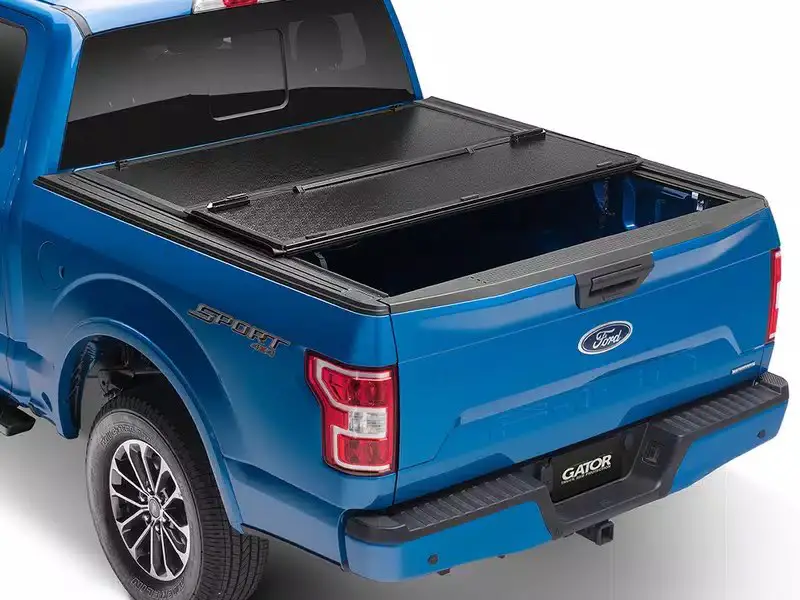 Installation
The installation process for both gator EFX and Bakflip MX4 is quite similar. Whether installed on 2020 Ram or other trucks, Gator EFX is very easy to install.
As the installation book or guidelines are clearly written directions, it will take just a few steps. Installing the cover won't take more than fifteen to thirty minutes.
As it has clamps, it doesn't require drilling or installation tools. Also, you can adjust the cover with your hand per your preference with your turn-knob bolts. Same way, you can also remove the cover.
Security or Seal
Gator EFX uses a flap seal, ensuring proper water and sand resistance. Of course, you must close the flap when the backside is not used, or you're not accessing the bed.
On the other hand, Bakflip MX4 comes with a dual-action tailgate. With this, you can comfortably use the tailgate.
But, many owners complain that, Gator leaks during car washes, heavy and even lightest rain. As for the Bakflip, the owner's experience is minor to no leaks after months of usage.
Price
When you're on a budget, pricing plays the most crucial role. Gator ETX starts from only $629 to $800 based on your model, configuration, and other aspects.
When it comes to the Bakflip MX4, the price is a bit higher than Gator. The prices start from $1,079 and end at $1,140.
Warranty
Gator EFX comes with three years of warranty, whereas Bakflip MX4 gives you five years. Of course, there should be valid reasons for changing, such as workmanship or any defect in the cover.
You can contact them if you receive faulty products or find anything broken. The support will get back to you with the replacement within a few days.
You can also swap your Gator cover if you don't feel like using it within thirty days.
Read Also: 5 Common Retrax Bed Cover Problems
FAQs
Is BAKFlip and Gator the same?
No, Bakflip and gator is not same. They both come in the market at the exact sizes, but there are many differences in bed access, installation, deal warranty, and quality. Also, there is a considerable price gap between these two competitors.
Is the Gator EFX waterproof?
Yes, the company claims that Gator EFX is waterproof. Although, from the experiences of many users, they said the cover leaks water during car washes and heavy and even lightest rain. But, it has drain tubes which drain the water.
Can you sit on a BAKFlip MX4?
Yes, you can sit on a Bakflip MX4. The weight capacity of the BAkflip MX4 is around four hundred pounds. You can sit or carry that much without any trouble if the limit is not exceeded.
How much does a BAKFlip MX4 weigh?
Bakflip comes in two sizes. The five feet seven inches and six feet seven inches weigh respectively 47 pounds and 59 pounds.
Read also: Best Weather Stripping For Tonneau Cover
Final Words
This is all the necessary information on gator EFX vs Bakflip mx4. We hope this article helped you make a decision.
As per your budget and other requirements, choose what fits your criteria. In most cases, Bakflip has the upper hand. But that also comes at a higher price. But, if your budget is limited, go for the Gator one.
Good Luck!