There are numerous tonneau covers makers. But to me, Gator and Backflip are two reliable brands. Gator's FX3 and Bakflip's G2 are my personal favorites as they provide many similar advantages. 
But there are impactful dissimilarities as well. So what are those dissimilarities between a Gator FX3 vs. Bakflip G2? 
Gator FX3 is made for 2017 – 2019 Ford Super Duty, and the Bakflip G2 is made for 2015 – 2020 Ford F- 150. Both covers primarily vary in materials. While FX3 features FRP and aluminum, G2 offers an aluminum-only body. Furthermore, FX3 has a semi-gloss, and G2 has a powder-coated finish. 
This small information will not help you understand how much impact these differences can make. So, keep reading the entire article to find out which one would suit your truck the most.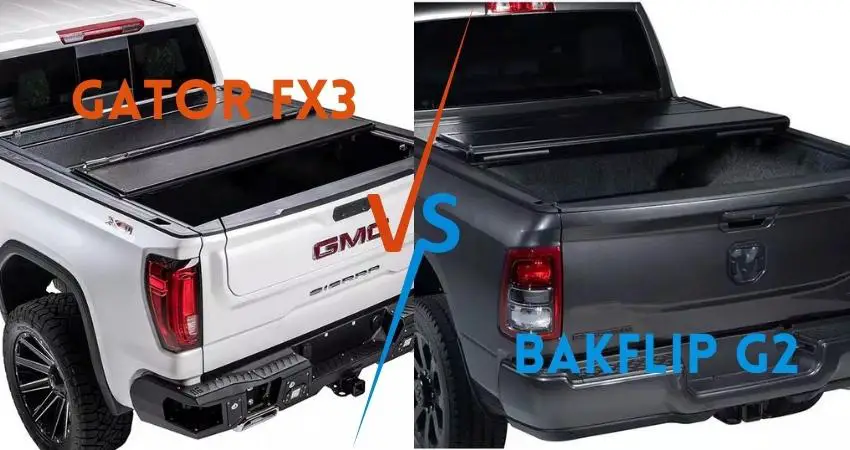 Gator FX3 vs. Bakflip G2: Quick Comparison
The table below has a quick comparison that will give you a clear idea of how they differ. So, let's take a quick look at it.
| | | |
| --- | --- | --- |
| Factor | Gator FX3 | Bakflip G2 |
| Materials | Fiberglass Reinforced Polymers, Aluminum | Aluminum |
| Look/Finish | Semi-gloss | Black Powder-coated |
| Safety Features | Auto-lock System, Holding Latches to Unlock, No Access to Truck Bed When Tailgate and Cover is Locked | Auto-lock System, Holding Latches to Unlock, No Access to Truck Bed When Tailgate and Cover is Locked |
| Installation | No Drilling Required | No Drilling Required |
| Weight Capacity | 300 pounds | 250 Pounds  |
| Price | $1, 056.55 | $969 |
| Compatibility | 2017 – 2019 Ford Super Duty | 2015 – 2020 Ford F- 150 |
| Warranty | 2 Years | 2 Years |
| After-sales Services | Satisfactory | Satisfactory |
Gator FX3 vs. Bakflip G2: Key Differences
Here is a detailed review of all the key differences these two amazing truck covers have 
Materials
Gator FX3 
Gator FX3 features two strong materials that ensure durability and impact resistance. 
The primary material is Fiberglass reinforced polymers that protect your cover from extreme weather conditions.
The second is aluminum which adds structure and strength to the blanket. The FRP is a scratch-free material that can also prevent dents and UV rays. 
Bakflip G2
Bakflip G2 is made with aluminum only. Although being produced with one material, it seems to be a soft cover; however, this particular truck bed blanket can offer theft prevention.
Because Aluminum is a restorative material that is hard to cut using weapons like knives, it also has excellent weather resistance.
While Gator FX3 offers both durability and impact resistance and the Bakflip G2 will provide more toughness but less protection from foul weather conditions. Hence, FX3 is better than G2 on this ground.
Finish
Gator FX3
The Gator FX3 has an excellent-looking finish. It is painted with semi-gloss paint that makes the cover look flawless and keeps it unmarked since it has high resistance to stain. The paint also makes the body extremely easy to clean.
Bakflip G2 
Bakflip G2 comes with a black powder-coated finish. It makes the tonneau cover appealing to look at and keeps it protected from ultraviolet rays.
Both the tonneau covers have a quality finish. But if you prefer a charming appearance, get your hands on Gator FX3, and if you like a matte finish, then Bakflip G2 is the right pick.
Safety Features
Gator FX3 
It features a dual-action rear seal that allows you to close and open the tailgate while not requiring lifting the blanket. 
It also lets you close the cover when the tailgate is already locked. However, lifting the body without opening your tailgate is impossible.
To access the truck bed, you need to open the tailgate and pull latches to fold the panels. It means while the cover and tailgate are locked together, it will prevent any thieves from stealing.
Besides, your stored stuff will not be harmed while raining heavily because it also features a drainage system that will channel out water from your truck through the tubes.
Bakflip G2 
The Bakflip G2 offers the same security features as the Gator FX3. But it provides an additional advantage, that is, corrosion-free seals. It means the cover seals will not weaken with time passing as they will not get rusted. 
In this case, both Gator FX3 and Bakflip G2 are satisfactory.
Installation
Gator FX3 
In order to install this cover, you don't need any drilling equipment. The necessary clamps for installation will come with the package, and you can fit them easily.
Bakflip G2 
The installation process for Bakflip G2 is the same as the Gator FX3. You will get the clamps for installing with the product, which doesn't require much effort to attach.
The two covers are simple to install. None of the items requires professional work. You alone can install them.
Weight Capacity
Gator FX3 
It offers 300 pounds weight capacity meaning it can bear stuff that weighs up to 136 kilograms if distributed evenly over it.
Bakflip G2 
It will hold stuff that weighs up to 250 pounds. It will let you store bicycles or kayaks that are under 113 kilograms.
Of course, Gator FX3 is better at holding cargo than Bakflip G2.
Price
Gator FX3
The FX3 is available on Amazon and will cost you only 1 056.55 dollars.
Bakflip G2 
You can get Bakflip G2 on Amazon for 969 dollars. 
You can purchase depending on your budget, or if you are confused, then buy the one with more toughness and robust security.
Compatibility
Gator FX3
It's compatible with 2017 – 2019 Ford Super Duty.
Bakflip G2 
This cover will fit 2015 – 2020 Ford F- 150 truck beds. 
The wise decision is to pick the truck cover relying on your truck model. 
Warranty
Gator FX3 
You will get the Gator FX3 with a 2 years warranty.
Bakflip G2
 G2 comes with a warranty of 2 years.
After-sales Service
Gator FX3 and Bakflip G2 
Both the tonneau cover industries Gator and Bakflip are from the USA. Their customer helpline is reliable and satisfying.
Which One is Better for You: Gator FX3 or Bakflip G2
Bakflip G2 and Gator FX3 are both quality tonneau covers. But you must know which one will do the best to keep your truck and cargo safe. Well, after the research, I believe Bakflip G2 provides better security than Gator FX3.
Because it is made of aluminum, which is way stronger than FRP (gator fX3 material), it's wise to pick it for your professional job like cargo shifting, even though its weight capacity is less than FX3. 
On the contrary, Gator FX3 would be a practical option if you often go on vacations with a lot of cargo and are okay with fewer security features. Everything is excellent about fx3 except the FRP material because it's weaker than aluminum. 
Also, if you like keeping your cover shining like brand new, the Gator FX3 will keep you satisfied as its semi-gloss surface allows you to clean any stain off it effortlessly.
Read also: Best Weather Stripping For Tonneau Cover
FAQs
Does Bakflip G2 leak?
There is a significantly less chance for your Bakflip G2 to leak. Because it's not only made with sturdy aluminum, but it also leaves no space for water to get inside if placed well on the rails. Even if there is leakage after excessive use, it will probably be so small that it will not make much difference.
What are Gator tonneau covers made of?
Gator uses high-grade materials when creating different truck bed covers. They are famous for their quality products. The manufacturer uses different materials to make different models. The primary materials they select for making products are rubber, aluminum, fiber-reinforced polymers, foam, etc.
Can gator fX3 go through a car wash?
Your Gator FX3 will be completely safe when going through a carwash since its primary material is fiberglass-reinforced polymers.
Where are backflip covers made?
The Bakflip covers are made in the USA. This company creates Bakflip G2 and other Bakflip model tonneau covers in Missouri's Springfield.
Read also: Bakflip Mx4 Problems
Conclusion
After doing Gator FX3 vs. Bakflip G2 comparison, I can say you will get 80% or more similar benefits. Still, you need to pick one of them carefully.
Of course, the first thing you need to check is whether the cover you want to purchase is compatible with your truck or not. Second, understand your purpose in using a truck cover.
As I mentioned earlier, Gator FX3 is the right choice for often shifting cargo for going on vacations, and Bakflip G2 is perfect for professional stuff shifting.