When you want to choose a truck cover, you want the best. But there are tons of brands out there, and it's easier to get confused.
Gator and American covers are one of the best in the market. But which one is better between Gator Vs American tonneau cover?
Most Gator covers are made with aluminum, whereas Americans are vinyl. As for the other aspects, such as bed access, styles, sizes, and security, both have the same and excellent offerings. The American covers are lighter and less pricey.  But, Gator has up to ten years of warranty.
That's just the tip of the iceberg. Here we discussed all the crucial aspects you should consider before buying one.
Let's dive in!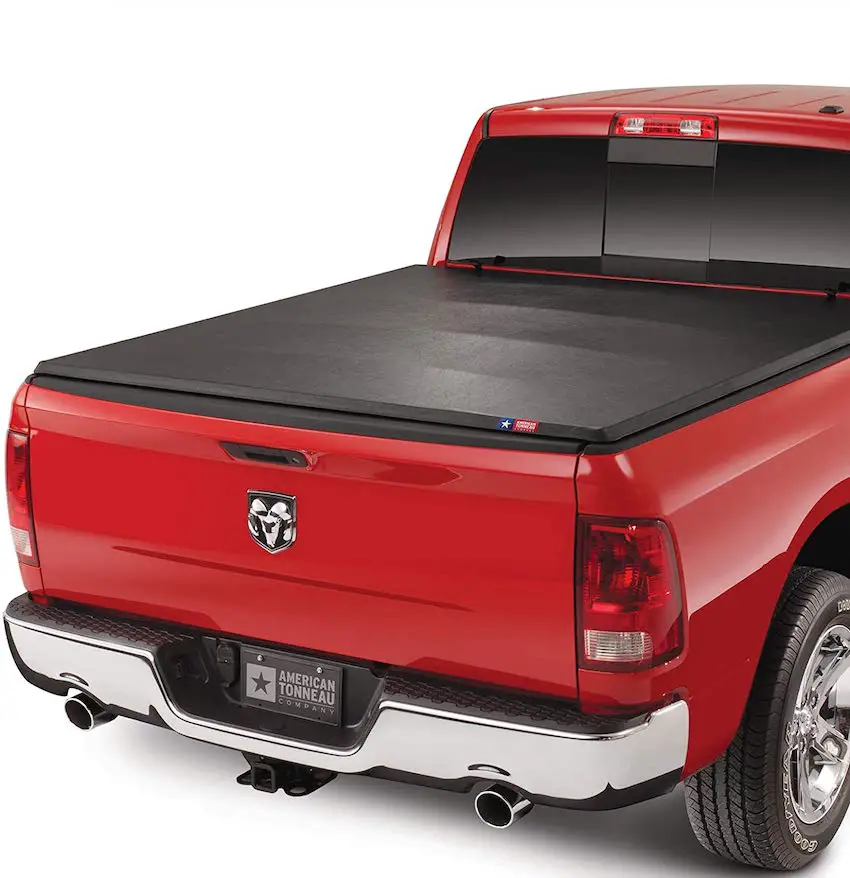 Gator vs American Tonneau Cover: Quick Comparison
The truck covers are popular among owners with a superabundance of attributes.
Let's get a quick look at Gator vs American Tonneau Cover from the table!
| | | |
| --- | --- | --- |
| Aspects | Gator | American |
| Materials | Aluminium | Vinyl |
| Bed Access | Full (Except a few models) | Full |
| Styles | 10 | 2 |
| Models | 33 | 38 |
| Bed Sizes | 16 | 18 |
| Protection | Tension settings, ball-bearings, multiple locks | Ball-bearings, multiple locks, Locking handles  |
| Weight | Around 70 lbs | Around 37 lbs |
| Capacity | 300-400 lbs | 300-450 lbs |
| Installation | Easy | Easy |
| Price | $137 to $625 | $192 to $2823 |
| Warranty | One to Ten years | One to Five years |
Gator Vs American Tonneau Cover: In-Depth Comparison
In this part, we'll move on to a more detailed comparison of Gator and American tonneau cover. That way, you'll have an overall clear idea and the essential factors you should consider.
Materials
Most Gator comes with an aluminum-made cover with a matte-black powder coating in the cover. The matte black powder is light, making the cover light. Besides, that gives the cover a classy and sharp look that every owner wants.
On the other hand, the American Tonneau cover is made from commercial-grade plastic. The main ingredient is vinyl. Vinyl makes the cover UV-resistant.
Although it is made differently from the Gator ones, the easy access feature goes for both. Both are tough, and you can easily roll up to get bed access.
Bed Access
Some bed covers come with only two-thirds of the bed access. And some come with full bed access, such as Gator and American tonneau cover.
But a few of the covers for some models come with only two-thirds access. Sometimes it is a bit difficult for owners because they can't utilize the whole space of the bed.
On the other hand, most of the covers with full bed access are excellent. You can just fold the cover to the back window and get complete access.
You can carry motorcycles or many large things at the back when you have complete access. If the bed access is an issue, get one with full access to the bed.
Styles and Models
Most of the covers are made for different models of trucks. And the year goes back to 1988 for Gator and 1953 for the American tonneau cover.
Gator and American; these brands cover almost every truck model except a few. That's why you will find a bed cover for your truck with many options and styles for different models.
We prepared a list for you to have a quick look at. Gator and American tonneau make these car or truck brand covers;
Dodge.
Lincoln.
GMC.
Chevy.
Toyota.
Nissan.
Ford.
Suzuki.
Ram.
These are common in both brands. But there are a few more which the American makes. Here is the list;
Mercury.
Chrysler.
Buick.
Cadillac.
Kia.
Mercedes-Benz.
And all these brands have different models and styles under these product lines. Though the types are not much but make a big difference. Here is the list;
Soft Roll Up.
Soft Tri-fold.
Roll Up.
Premium Roll Up.
Premium Soft Tri-fold.
Hard Tri-fold.
Hard Quad-fold.
Recoil Retractable.
Hard Folding.
Electric Retractable.
All the styles above are of the Gators. But, the American tonneau covers offer only two, which are Soft and Hard folding.
And as for all the models of the covers, here is the list goes;
Buick: Terazza.
Cadillac: Escalade.
Chevy: C/K Pickup 1500, C/K Pickup 2500, C/K Pickup 3500, Silverado 1500, Silverado 2500, Silverado 3500, Colorado, Astro, Avalanche, Express Van, Suburban, Uplander, Venture.
Chrysler: Grand Voyager, Town, and Country, Voyager.
Dodge: Ram 1500, Ram 2500, Ram 3500, Dakota, Sprinter.
Ford: Rager, F 150, F 250, F 350, Raptor, F 150 Lighting, Maverick, E-series, Explorer Sport Trac, Freestar, 
GMC: C/K Pickup 1500, C/K Pickup 2500, C/K Pickup 3500, Sierra 1500, Sierra 2500, Sierra 3500, Canyon, Safari, Savana Van, Yukon Xl.
Kia: Sedona.
Honda: Odyssey.
Lincoln: Mark LT.
Nissan: Titan, Frontier, Quest.
Mercury: Villager.
Mercedes-Benz: Sprinter, Metris.
Ram: Truck 1500, Truck 2500, Truck 3500.
Suzuki: Equator.
Toyota: Tacoma, Tundra, Sienna.
Bed Sizes
As the cover styles are different and come with many options, the bed sizes differ. Here is a quick look at all the bed sizes available for all the brands that both brands offer.
| | |
| --- | --- |
| Bed Size | Truck Brand |
| 4' 2" | Ford |
| 4' 4" | Ford |
| 5' | Nissan, Suzuki, Honda, Suzuki, Jeep |
| 5' 1" | Ford, Chevy |
| 5' 3" | Chevy |
| 5' 2" | Toyota, GMC, Chevy |
| 5' 4" | Mitshubishi, Dodge |
| 5' 7" | Nissan, Lincoln, Toyota, Ford, Dodge |
| 5' 8" | Chevy, GMC |
| 6' | Ford, Isuzu |
| 6' 1" | Ford, Chevy |
| 6' 2" | Nissan, Toyota, Suzuki, GMC, Chevy, Suzuki |
| 6' 4" | Dodge, Ram |
| 6' 6" | Chevy, GMC, Mitshubishi, Dodge |
| 6' 7" | Nissan, Lincoln, Toyota, Ford |
| 6' 9" | Ford, GMC, Chevy |
| 8' | GMC, Chevy, Ford |
Security & Protection
American tonneau covers come with three tension settings. That makes it possible for the cover to sit tight and don't move around. That way, your goods and stuff are protected under the cover.
On the other hand, Gator covers have locked in multiple positions. You can position the surface any way you prefer and close it. That way, you get complete versatility of the cover.
If you want to open a part of the cover, you can do that by opening the lock of that part. You don't have to open the entire surface just to get a thing.
Besides, most models have ball-bearings with the covers. With those, you can move the cover forward and backward. That makes the lid easier to use.
Lastly, both brand covers come with locking handles in different positions. You can move the cover in any way you want smoothly. Besides, that gives the cover an extra layer of security.
Weight & Capacity
The weight of the covers differs based on the style and models. But, on average, the weight of the Gator tonneau covers is a bit heavier than the American's.
The Gator covers weigh around seventy pounds on average. On the other hand, American tonneau covers are far lighter. Because, on average, they weigh around thirty-five, that's almost half.
The reason behind this is because of the material used for the covers. Vinyl makes the American covers more lightweight, whereas Gator ones are made with Aluminum.
Despite the weight differences, the covers from both brands can hold a large capacity. Both of the covers can bear up to four hundred lbs.
That means you can carry heavy items above the surface if it doesn't exceed the weight capacity.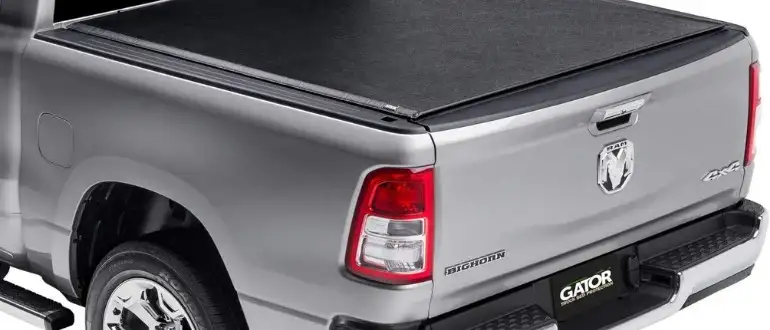 Installation
Modern covers are straightforward to install. The covers from both brands don't need special tools to install them. Even you don't need to do any drilling to adjust the cover.
The companies provide written and well-explained manuals. You will find how to install the covers for your trucks there.
It won't take much longer to install if you follow the guidelines. Twenty to thirty minutes is enough to install the covers properly.
You can install the Gator covers in your Ford, Toyota, or truck with just a wrench and a socket. Don't forget to install the drain tubes. These help drain water if you find them entering the back part.
Price
The American tonneau covers are much cheaper than Gator in terms of price. For American covers, the price starts from only $137, which is low for a tonneau cover.
The highest price is $625 for the American cover, which is also reasonable. Though, the price differs based on the bed size, style, and truck model.
On the other hand, the Gator cover price starts at $192 and ends at $2823. Of course, Gator has more styles available, and the price differs.
If we compare both brands in terms of price, the Gator has more versatile price offerings than the American. But, the American covers are the safest option when you're on a budget.
Warranty
As we discussed, both brands cover many truck bed sizes and different styles. And based on those, the warranty for the product is separate.
For Gator, the minimum warranty for covers is one year. But, some of the covers are given five-years of warranty as well. For example, Gator ETX comes with a lifetime and ten years of warranty for the frame and the tarp, respectively.
On the other hand, American covers also give a warranty of at least one year and a maximum of three years.
FAQs
Do Gator Covers Have A Warranty?
Yes, Gator covers have a warranty. Based on the cover, the warranty varies from a minimum of one year to a maximum of ten years. Besides, a lifetime warranty for specific cover parts, such as frames.
How Do You Protect A Vinyl Tonneau Cover?
Many tonneau covers are made with vinyl, such as Americans. And to protect them, you need to use a vinyl protectant on the body's surface. Every four weeks, use a protectant from damage.
Can You Go Through Car Wash With Soft Tonneau Cover?
Yes, you can go through a car wash with a soft tonneau cover. Though the soft tonneau covers are not completely capable of going through a car wash, and you might need to remove the upper part. And some soft surfaces require only a brush wash.
Final Words
With all the in-depth comparison, we now conclude the article about Gator vs American tonneau cover differences. We hope you have a better idea now which one to choose.
Depending on your criteria, budget, and other factors, choose wisely. And let us know which one was that!
That's all from us. Have a great day!