When it comes to choosing the right tonneau cover for your truck, Rough Country is a name that you'll definitely want to consider. 
But exactly who makes Rough Country Tonneau Covers? 
Rugged Liner is the manufacturer behind Rough Country tonneau covers. However, they aren't necessarily the same in terms of quality. Rough Country covers are meant to be a more budget-friendly option. So, they may not have as many advanced features as the Rugged Liner covers do.
In this article, we will explore who makes Rough Country tonneau cover and their quality as well. Keep reading! 
Who Makes Rough Country Tonneau Cover?
The Rough Country brand offers various truck accessories, including tonneau covers. However, it's important to note that not all of these products are manufactured by Rough Country themselves. 
Like many other companies in the automotive Industry, Rough Country sources Its products from different manufacturers.
Thus, it's essential to research before purchasing a tonneau cover or any other truck accessory. This is also similar in case of Ford tonneau covers as it can get confusing due to too many products in the market. 
Rough Country Tonneau Cover Manufacturer
Rough Country tonneau covers are highly regarded in the industry for their ability to protect truck beds effectively. Rough Country tonneau covers offer excellent truck bed protection with durable materials like fiberglass and steel. Also, offers customizable features like bed cover types and colors.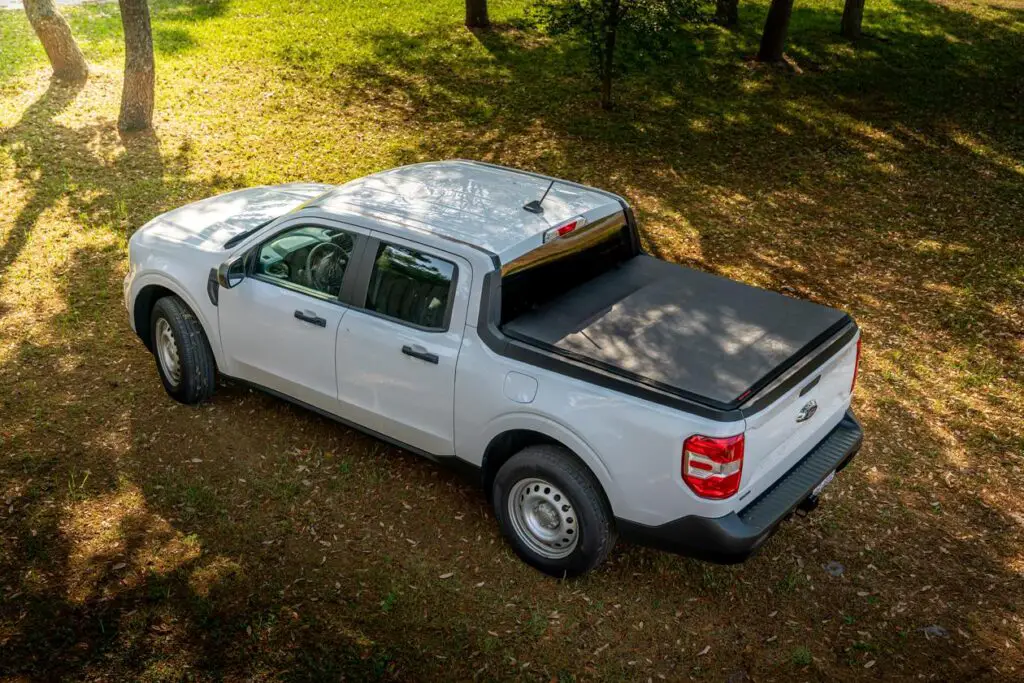 However, you may be surprised to learn that Rough Country tonneau covers are produced by Rugged Liner. Rough Country markets and sells these tonneau covers under their own brand. 
Though this fact is not explicitly advertised, it can be discovered through thorough research and industry knowledge. So to know who is Rugged Liner look down to the below segment!
Rugged Liner:
Rugged Liner is a well-known company that produces and distributes original equipment manufacturer (OEM) truck accessories. Since their inception in 1995, they have become one of the top brands in the industry.
They were acquired by Truck Hero, Inc. in 2016 and are now a subsidiary of this large brand that specializes in truck and automotive parts.
Rugged Liner is highly regarded for their exceptional tonneau covers, some of which are equipped with LED lights. These covers have been extensively tested to withstand a variety of weather conditions and come with a limited lifetime warranty.
Comparison Between Rough Country And Rugged Liner:
Rough Country and Rugged Liner are both popular brands for truck bed covers. Rugged Liner is the manufacturer of the covers and Rough Country is the distributor. Although Rugged Liner produces both covers, they are still distinct products.
Design and Functionality:
Rough Country covers are constructed from heavy-duty materials that give them a rugged look and feel. They also have an aggressive design, which sets them apart from other covers on the market. These covers are an ideal choice for truck owners who are looking for a cover that is both sturdy and stylish.
On the other hand, Rugged Liner covers are designed to be resistant to scratches, dents, and other types of damage. They are also equipped with LEDs on the exterior. This adds an extra layer of convenience and safety when accessing cargo at night. 
Rugged Liner covers come with a durable powder-coat finish that provides an aggressive texture for better traction on any surface. The aerodynamic design of Rugged Liner covers also reduces wind resistance which results in better fuel efficiency. This feature is particularly important for truck owners who frequently transport cargo. So, it can help save money on fuel costs over time.
So, it you're struggling with tonneau cover problems, a change in products might make a world of difference for you!
Read also: Bakflip Mx4 Problems
Price:
Rough liner costs a bit more than Rough Country covers. But they provide additional features that make them worth the investment.
Here is a table comparing Rugged Liner tonneau covers and Rough Country tonneau covers. 
Category
Rugged Liner Tonneau Covers 
Rough Country Tonneau Covers 
Types of Covers
Soft Roll-Up 
Soft Tri-Fold 
Hard Tri-Fold Retractable Cover
Soft Folding Cover
Hard Folding Cover
Materials
Vinyl, aluminum, fiberglass
Vinyl, aluminum, ABS material
Additional Features
Built-in LED lights
None
Designs
Rugged and aggressive
Sleek and Modern
Aerodynamics
Aerodynamics design for improved fuel economy
Not specified
Price Range
Mid Range
Mid-High Range
Overall Quality
Superior quality with more features
Good quality for the price
Both brands offer covers that are designed to protect your truck bed from damage. Also, allows you to easily access your cargo. Ultimately, the choice between the two brands will depend on your individual needs and budget. 
If you're looking for a cover that provides superior quality and more features, Rugged Liner is the better option. However, you need to keep in mind that tonneau covers can have problems such as tonneau cover leaking at bulkhead which is detrimental regardless of the brand.
However, if you're on a tight budget, Rough Country covers offer a solid alternative that provides excellent protection for your truck bed.
Frequently Asked Questions (FAQs):
Are Rough Country Tonneau Covers Made in The USA?
It is not clear if the Rough Country's tonneau covers are made in the USA. The covers are designed and tested in the USA according to their official website. However, it's not known if they meet the FTC guidelines for being "Made in the USA." The company does not provide specific information on the origin and production. So, it's best to contact them directly for clarification.
Which Tonneau Cover is Most Secure?
Hard tonneau covers are generally considered the most secure option for protecting your truck bed and its contents. They are made from sturdy materials and often come with locking mechanisms. Popular hard tonneau covers that offer excellent security include RetraxONE MX, Undercover Ultra Flex, and BAKFlip MX4.
How Do You Maintain A Rough Country Tonneau Cover?
To maintain a Rough Country Tonneau Cover, use mild soap and water to clean it. Avoid using harsh chemicals or abrasive materials. Also, make sure to regularly check the tension and alignment of the cover. Lastly, you can lubricate any moving parts if needed.
Conclusion 
In conclusion, Rugged Liner is the manufacturer behind the Rough Country Tonneau Cover brand. These tonneau covers are budget-friendly options for truck owners. While Rugged Liner offers more advanced features and superior quality, Rough Country covers are rugged and stylish. Ultimately, the decision between the two brands depends on individual needs and budget.
Read Also: 5 Common Retrax Bed Cover Problems