When choosing truck beds, there are multiple options in the market. Norstar and CM are common among all of them. You may remain indecisive regarding choosing one.
So, which one is better between Norstar vs CM truck beds? 
CM truckbeds provide a wide array of customizable products than Norstar both in aluminum and steel beds lineup. But Norstar provides an extended warranty (3 years) than CM (1 year). In terms of performance, material, and cost, both are performing great in the truckbed industry.
There are many more factors you need to consider while picking one. Get to know all of them in detail in this article. It will help you to choose the best one for you. 
Norstar Vs CM Truck Beds: A Quick Comparison of Common Factors
Norstar and CM truck beds both are reputable manufacturers of truck beds. Both of them offer a wide range of truck bed models. They are designed for various applications like flatbeds, dump beds, and service bodies. 
CM truck beds had got all the market to themselves from 2006. Norstar hit the shelves in 2012 making it competitive. So, truck bed enthusiasts often wonder which one to choose.
Considering these two brands, let's see how they differ in terms of fundamental factors. 
| | | |
| --- | --- | --- |
| Factor  | Norstar  | CM truck beds |
| Producing Region | Brookston, Texas  | Kingston, Oklahoma  |
| Material  | Steel & Aluminum  | Steel & Aluminum  |
| Product lineup  | Normal | Vast |
| Affordability   | Good | Good |
| Warranty  | 3 years  | 1 year  |
| Performance  | Excellent  | Excellent  |
| Availability  | Ford, GM, Dodge | Ford, GM, Dodge |
| Review    | Mixed | Good   |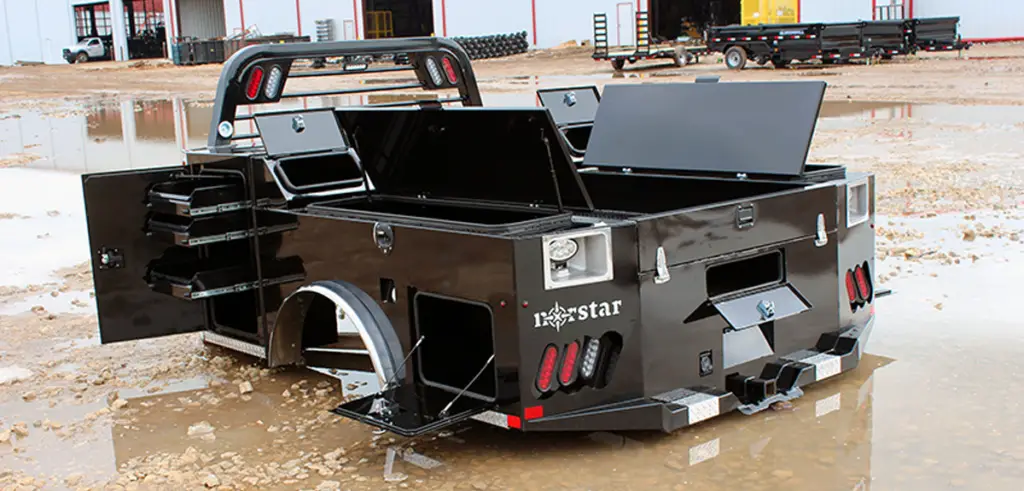 Detailed Comparison of Common Factors
Now, it's time to discuss the differences in a deep manner. It will help you to understand both of the speakers well. 
Factor 1: Producing Region
The manufacturing area of Norstar truck beds is the Brookston of Texas. On the other hand, CM truck beds are produced in Kingston, Oklahoma. Since both of the companies are producing their products in the United States. So, similar quality control assurance is present.
CM truck beds come with a rich history spanning more than two decades. CM Truck Beds has consistently crafted truck beds of exceptional quality. This quality maintains an unmatched value proposition. The Norstar truck beds are relatively newer and more stylish. 
Normally truckbeds are made in the United States, these materials are not outsourced. This is also true for Peragon vs Blackflip truckbeds. 
Factor 2: Material 
Material plays a very important role in truck beds. It is an important factor to consider when buying a truck bed. Norstar truck beds are primarily constructed from aluminum and steel. There are several truck bed options, including aluminum truck beds. These are flexible, durable, and rust-resistant, or steel truck beds that are strong, durable, and versatile.
Similarly, CM truck beds also incorporate a combination of steel and aluminum truckbeds. Your requirements can call for a steel flatbed, a specialized bed, a heavy-duty aluminum bed, or a versatile service body. CM Truck Beds offers a comprehensive range of products tailored to meet your needs.
Factor 3: Product Lineup 
In terms of versatility, CM Truck offers more flexibility and options than Norstar. Norstar's model options include regular service beds, flatbeds, and skirted beds. Let's have a peek at them in brief.
| | |
| --- | --- |
| Bed Style  | Model Variation |
| Service Bed | SD, SC, UB, SL |
| Steel Flatbed | SR |
| Skirted Bed | ST, WH |
| Aluminum Flatbed | AR, AT |
CM Truck also offers highly customizable stake beds. Also, CM provides specialty beds in addition to basic truckbeds. Each of the configurations has numerous variations as mentioned in the table below.
| | |
| --- | --- |
| Bed Style | Model Variation |
| Service Bed | SB, SBA, CB, CBA, CR |
| Steel Flatbed | SS, RD, SK & SK Deluxe, ER, TM & TM Deluxe, TMX |
| Stake Bed | PLS, PL Heavy-Duty, PLS AL |
| Aluminum Flatbed | AL RS, AL RD, AL SK & AL SK Deluxe, AL ER, AL TM |
| Specialty Bed | HS Hotshot, SZ Hay Truck, DB Steel Dump, CT Contractor Body, LB Landscape Body |
Factor 4: Affordability
The affordability of a product makes you determine whether you would buy the product or not. In terms of pricing, the cost varies depending on the model, region, and local distributors as both companies don't sell the beds directly to the customers.  
For the most accurate and up-to-date pricing information, consult local dealers. Also, you can visit their official websites. In general, similar truckbed models from both companies have the same price range.
Factor 5: Warranty
Norstar provides a 3-year warranty for the structural finish of their truckbeds. On the other hand CM provides only a 1-year warranty. For paint finish, Norstar provides 6 months warranty, and CM provides 12 months warranty.
Factor 6: Performance
Truckbeds from both Norstar and CM are giving excellent performance. They are rigid and provide long-lasting service to the users. Even the dealers have commented about them being like twin brothers, you can choose any of them.  
Factor 7: Availability
According to Norstar's database, truckbeds from their company are available for Ford, GM, and Dodge trucks of various year make. This is also the same for CM Truck, according to the CM Truck outfitter guide.  
Factor 8: Reviews
According to user feedback, CM truck beds have good reviews on average. Some users have pointed out the paint finish of Norstar truck beds as a vulnerability.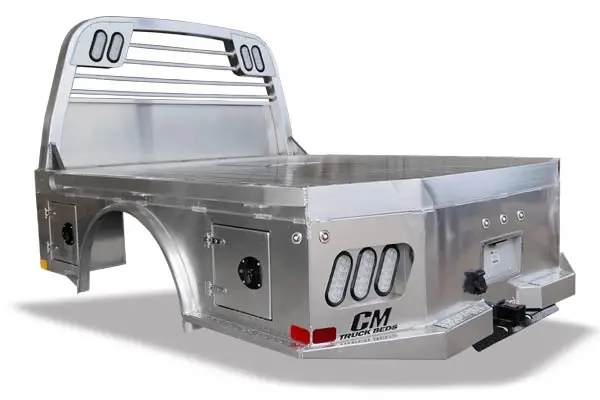 So, Norstar Vs CM Truck Beds: Which Is Better?
Sadly there is no straight answer to this question of picking one brand over another. Giving an answer blindly would be unjustified. It is also applicable when comparing Peragon vs Retrax truck beds also.
Considering performance, material, and cost, you can choose either of them. If you want a vast customizable range of products, you should pick CM truck beds. For an extended period of warranty, go for Norstar truck beds.
Frequently Asked Questions (FAQs):
Is aluminum flatbed better than steel?
Steel beds are generally known for their strength, they often come of increased weight. On the other hand, aluminum beds offer exceptional strength and are lighter. Also, aluminum has excellent corrosion resistance. That makes it a good choice for truck beds, particularly in salty environments. Thus, aluminum beds require less maintenance and are better than steel.
How are truck bed's length measured?
To determine the length of a truck bed, you can measure the distance between the inside of the bulkhead. Also, you should measure the inside of your tailgate. Have a tape measure ready and raise your tailgate. The tape measure should fit snugly between the bulkhead and the tailgate. The truck bed length will be accurately measured this way.
What is the standard truck bed size?
A standard bed measures approximately 6 feet 5 inches. And a short bed tends to be around 5 feet 8 inches long. However, it's important to keep in mind that these measurements are averages. In fact, the exact lengths may vary slightly depending on the specific manufacturer.
Conclusion 
Hopefully, you have got yourself enlightened regarding Norstar vs CM truck beds. 
Both truck beds provide top-notch services. When choosing one, you should consider your needs and preferences. It is recommended to carefully evaluate the discussion provided in the article before you take your decision. Also, you may consult experts or dealers when making a decision.