While on the road, a toolbox is as necessary as fuel in your truck. But the most irritating part of having a toolbox is to go all the way around the truck and hop on it to access it. And if there is a tonneau cover at the top, it gets worse.
But with the UnderCover SwingCase, you won't have much to complain about. So what makes this toolbox different?
The UnderCover SwingCase can be installed on the space behind the wheel wells on a truck bed. For this reason, you have the easiest access to the toolbox without climbing inside the truck. It features an organizational tray as well as a moisture seal. Also, you can load up to 75 lbs weight on it.
Many other features will let you fall in love with this toolbox. Stay with my article and let it guide you through a detailed review. Let's get started;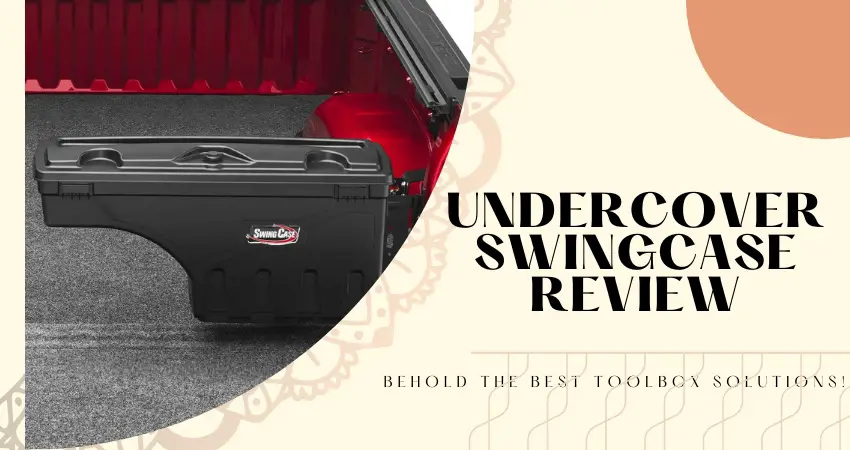 UnderCover SwingCase Review: A Quick Peek
The UnderCover SwingCase gives you flexibility. It's not about laziness that you might not want to climb up to your truck bed. Just get one range or hammer or the toolbox itself. Even the fittest truck owner would find it irritating to open up the whole tonneau just to access the toolbox.
Also, you install this toolbox behind the wheel well, commonly known as the dead space of a truck bed. So opening the tailgate will be enough to access your toolbox. 
A truck owner always looks for these two major functionalities with a toolbox, and I know you do. So what other tricks does this UnderCover SwingCase have under its sleeves? 
Quick Overview Table
Check out this table to look at the features you will have with UnderCover SwingCase. It'll also help you decide whether this is the toolbox you have been looking for.
| | |
| --- | --- |
| Factor | UnderCover SwingCase |
| Materials | Crafted From Rugged Abs |
| Look/Finish | Matte Finish |
| Safety Features | Key-Lockable Lid |
| Installation | Without Using Any Tools |
| Weight Capacity | Hold Up To 75 Lbs. |
| Price Range | Around $200 |
| Compatibility | Fits 2017 – 2022 Ford F-250/350, 2018 Ram 2500 |
| Warranty | 1- Year Warranty |
| Water Resistance | Moisture Seal |
| Accessibility | Swings Out Nearly 180° |
| Operation | Swings Back Into A Locking Position Over The Wheel. |
UnderCover SwingCase Review: Detailed Features
Let's get into in-depth detail about UnderCover SwingCase so that you can make informed decisions smoothly.
Materials
UnderCover SwingCase has not compromised its building material and quality. The toolbox is made from ABS plastic with a matte finish and a sleek, low-profile look. It is built to last and withstand impact. You can't expect it to stand against hammering, right?
The toolbox is virtually scratch-resistant. So don't worry about any minor impacts while working with it. You can also put up to 75 lbs of weight on it if necessary.
It is the most innovative and versatile truck storage box ever made. This cargo container can handle whether you're bringing groceries or tools. The weatherproof construction also makes it a great cooler for your next trip. 
You can fill it with ice, throw in some drinks, and you're good to go.
Safety Features 
Tool theft is a terrifying thing. No truck owner would like to lose their essential tools.
Though your UnderCover SwingCase will be under your tonneau cover most of the time. Yet, this toolbox features a versatile twist-lock that allows you to open the box with or without a key. 
Lifting the boxes off the hinges is easy, so ensure the brackets are padlocked. Before swinging the boxes out, remove the padlocks.
Installation
Installation of the UnderCover SwingCase is much easier than most other toolboxes. Its easy accessibility makes it the ultimate cargo storage solution. It is compatible with the 2017 – 2022 Ford F-250/350 and 2018 Ram 2500.  It may take a maximum of 30 minutes. 
Be sure to mark the location of the hinge bracket that attaches to the stake pocket. Ideally, the bracket should be as close as possible to the bed floor. Using self-tapping bolts, attach the bracket to the latching mechanism. Once the box is back on the hinge, latch it into place, and you're done.
Price Range and Warranty,
An UnderCover SwingCase will cost around $200. You can get a full set of it, spending about $400.
You'll have to pay around $300 for most side-mounted toolboxes. That's why the UnderCover SwingCase is a good deal. 
With the UnderCover SwingCase, you don't have to worry about rusting. It's made of ABS plastic and comes with 1 Year Warranty.
Water resistance Seal
The UnderCover SwingCase features an excellent all-weather seal. You might think your toolbox will always be under the tonneau cover. But in any given case, if it wasn't covered with your tonneau, you don't have to worry about your tools.
Its convenient design will keep the weather element out. It is weatherproof enough to carry iced drinks for a whole trip. However, don't keep it on the truck bed while you are about to go through an automated car wash. That might harm the exterior, and water may enter due to heavy spray.
Accessibility Operation
The UnderCover SwingCase swings out nearly 180°. It also provides easy access from the back of the tailgate. Also, you do not have to climb up to your truck bed. You can pull out the tool tray to get to the storage space below.
All UnderCover truck bed covers work with the Swing Case. You just need to pull the latch, and the Swing Case will pivot into place. You can lock the lid of the Swing Case to keep your stuff safe.
UnderCover SwingCase Review: A Good Choice?
The UnderCover SwingCase is worth every single penny you spend on it. Its build quality makes it durable and lightweight at the same time. Even if you're not using your truck for professional purposes, I strongly recommend the toolbox for storage! 
As a truck owner, what else can be great if you do not have to climb up the truck bed every time to reach the toolbox? Thanks to its compact size, you can put it in your truck's wheel wells and behind the wheels. Compared to that, the price for this is amazingly reasonable.
You will be able to swing outward for easy access. These toolboxes also work with a tonneau cover. You can also install a manual-sliding tonneau cover after installing these. You will have no problems using toolboxes.
FAQs
Can you take the UnderCover SwingCase with you while parking your truck?
Of course, you can take the UnderCover SwingCase with you while parking your truck. It can be disconnected in a matter of seconds! If you are not feeling your tools will be safe or just need the whole toolbox for work, you can take it with you.
Are undercover swing cases universal?
SwingCases come with mounting brackets that fit most new trucks, so installing and removing them is easy. With a universal bracket kit, you can mount the box on older trucks or models that aren't on the fit list. So if you have an old truck, don't worry. It will fit.
Conclusion
The UnderCover SwingCase toolbox is both durable and extremely functional. We believe it is worth investing in this toolbox if you consider upgrading your toolset.
From material composition to installation, this toolbox's features will make you fall in love with it.