How do I drill through the bedliner?
I bet you bought your truck after thinking a lot about comparing buying your bike. Wait, you don't have one? If there were any, you would get my point which still can anyway.
Interestingly, unlike a bike or a normal sedan, there are multiple tasks on the to-do list for a new pick-up truck. I know that you know that you can make the vehicle become something more than it looks. And the owner gets advantages.
A truck's most common and primary task is to have a bedliner. That makes the worries less. Yet, issues don't stop coming, and you've more benefits to have, also.
So, let's begin our discussion.
How to Drill Through Bedliner?
You won't need any hunt in your toolbox to do the job. A hand drill set and some rivet nuts will be enough.
Now, let's begin.
Step 1: Set the Point for Drilling
Bring the device or structure you want to install. It's a Milwaukee Packout Mounting Plate. Place it on the bed and find the holes; you'll connect the plate to the bedliner.
Remember, you should choose the bedliner's ridges for drilling. Move the plate left-right to find a match with its holes with the ridges; if you've found that okay, the drilling may start.
Step 2: Drill
Take a hand drill and mark the points on the bedliner through the holes. Move the plate. It's time to do a full drill. Set drilling pins and drill through the bedliner.
There are drilling pins of different diameters. The hole should fit with the rivet nuts, which will hold the bolt attaching the structure to the bed.
You may have to change the pins and drill once or twice more. Make sure none are bigger than the rivet nuts, or it'll be troublesome. It should be a tight fit.

Step 3: Do the Final Check
Plant the rivet nuts in the holes using the rivet nut pinching tool. Your work is primarily complete. Check if the bolts attach the Milwaukee Plate properly. If so, the mission is accomplished.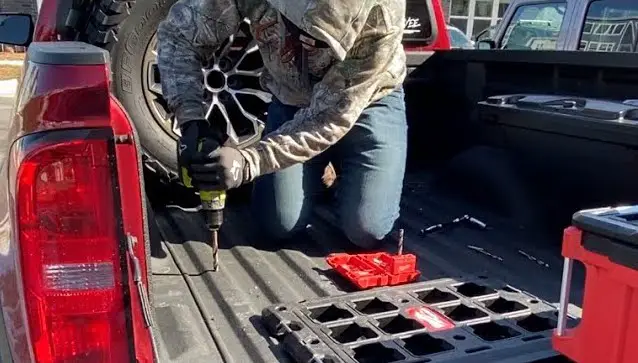 Why Do You Need to Drill Through Bedliner?
Drilling through the bedliner isn't a compulsory task. You may consider doing so if the situations below occur.
You want to install a new structure on the cargo bed or cargo panel.
You want to install a bed bar for the safety of the cargo.
Installing lights on the bedliner will require a power supply. Making a hole by drilling will make the way.
You may need to install a bed extender that will help accommodate more cargo.
To install a bedslide, you must drill through the bedliner to install the drawer system. It'll make the loading and unloading activities more accessible and smooth.
N.B: No need to think about drilling to make drain holes. The truck already has them. Just find them and use a screwdriver to clean or bring out the way that's covered.
Also, don't go beyond making holes in the bedliner. It's not necessary to reach the metal sheet. Moreover, something vital may exist under it that you don't want to tap into even a little. Crawl under check once if you have any doubts.
It would be better to spray some paint in the holes so that the rivet nuts don't pinch on the metal surface of your truck. Though it would take quite a time to create rust, taking precautions is always the best.
FAQ
Should I Drill Before Installing a Bedliner?
It's always convenient to drill through the bedliner. Because, while drilling, your truck's surface may have scratches. You'll have to drill again or clean the hole.
Is It Easy and Safe to Drill Through Bedliner?
Drilling through the bedliner is easy and no different than normal drilling. For the side panels, it's just a piece of cake. Make sure there's no damage under the cargo bed, as multiple vital parts are there.
Can I Fill the Holes Created by Drilling Bedliner?
Yes. JB welding is an excellent way to fill the hole. Other than metal surfaces, it's also effective for marble, PVC, ABS, etc.
Read also: How To Patch A Hole In A Tonneau Cover?
Last Words
Every task has goals, and executing even a simple task can kick off a worthwhile beginning. Our today's discussion was kind.
Drilling is easy; everyone can do it. But, like any other serious job, it has to be managed perfectly. Or, you can turn out any effortless task into challenging and painful.
So, most importantly, before taking charge, make sure you know why and what you're doing. Then, only how to drill through the bedliner would be a successful project for you.
Read also: Bakflip MX4 vs Bakflip G2