You want quality, safety, and sustainability for your bedliner. A spray-in bedliner cover has these qualities to keep you relaxed.
When beauty and safety go parallel, it's no longer to play a solo role. Even the core part often calls for support. Can we say the same for adhesive tapes on your truck's bedliner?
We'll clarify that in this article, along with several other matters. Now, let's begin with the question- How to make the adhesive tape stick to a Line-X bedliner?
How to Make Adhesive Tape Stick to a Line-X Bedliner
Not only on the bedliner, but the complaint against the adhesive tapes in other places regarding not sticking is also universal. We'll try to give a solution to this problem here.
Clean the Surface
It's mandatory to clean the bedliner before applying adhesive tape. The tape must have 100% contact with the surface.
The Right Tape
There are many types of adhesive tapes. Masking tapes are suitable for the Line-X bedliner. We suggest going for this kind.
Store the Tape in a Suitable Condition 
Temperature, moisture, and light have an impact on adhesive tapes. Preserving the thing in the right atmosphere, which is not extreme or dumps, will give better service. Storing in the wrong place can even make it worthless.
New Tape
Newer tapes are like fresh vegetables, but old tapes can't be controlled by adding salt. Always pick new tapes. Change your tape more often if that's a double-sided tape.
The temperature of the Surface
Not only for storing, but the temperature is also equally important when you want to use adhesive tape. In the summertime, it's better to choose the evening time for the task. Conversely, keep the environment okay by warming up the tape and the surface.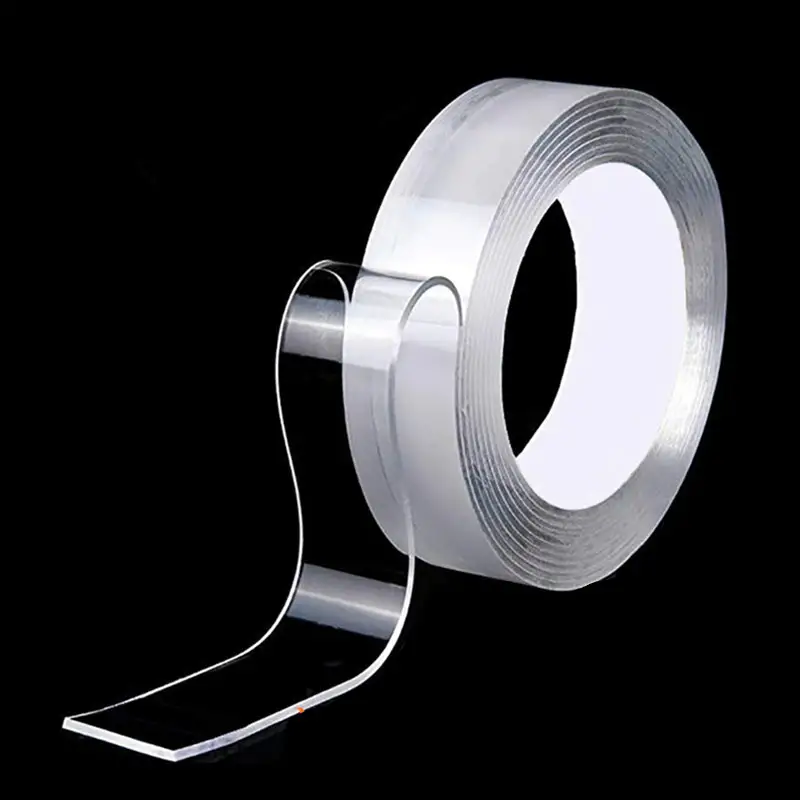 Read also: How To Patch A Hole In A Tonneau Cover?
Advantages and Disadvantages of Adhesive Tapes
Adhesive tapes advantages:
Adhesive tapes require less money than other materials that serve the same benefits.
These tapes are workable on multiple surfaces, whereas sticking to other materials is usually challenging.
It sticks to the surface almost immediately.
It works as a barrier that prevents the surface from getting moist.
Reduces noise.
It can bond two different materials easily.
Let's know some of the disadvantages also.
It takes more time to get the adhesive tape's bond strength.
Temperature resistance is another disadvantage of it.
Surface preparation requires extra attention for this before applying.
It contains some such elements that can be risky for humans. Thus, the appliance process requires extra attention and carefulness.  
Reasons for Sticking Problem of Adhesive Tapes
The diagnosis of the sticking problems suggests that you can't blame the adhesive tape. Most of us don't know the basics. Issues like temperature or dust have an impact on the sticking power. 
Also, the texture of the surface is another vital factor. Missing or neglecting these matters inevitably results in failure or faults in its effectiveness.
So, keep in mind the points below:
Check the texture of your surface. A plain bedliner will be a better match than a rough one.
High temperature reduces the tape's sticking ability. Make sure you're not applying it in any overheated or over-cold place.
Buy the right product, or you'll end up cursing that.
The bedliner should be dry, oil-free, and dust free. So, clean it. Don't forget to wash your hands too.
Older tapes tend to lose adhesive characteristics over time. Keep track of its duration and replace it when it's time.
The adhesive tape's strength will be effective after nearly 24 hours. So, wait for the time being before using the area.
Applying tapes in the wrong way will certainly invite trouble. Be careful when you use tape on any surface.
Read also: How To Keep Dust Out Of Tonneau Cover?
FAQ
What Are the Factors to Follow to Get a Good Result from Adhesive Tapes?
Pressure, temperature, and surface preparations are the significant points you should maintain to get a positive result.
Is Adhesive Tape Usable After Removing?
It depends on different circumstances, such as the chemical ingredients in the tape and surface areas, to define how workable it would be. If dust and other particles are stuck on the adhesive side, then definitely it won't be a good idea to reuse them.
How Long Do Adhesive Tapes Last?
The normal shelf life of adhesive tape is 1 to 2 years. But different factors have an impact on that. Those are- the type of adhesive, storage condition, manufacturer, application, etc.
What Are the Elements Used to Make Adhesive Tape?
The raw materials used to make adhesive tapes are natural rubber, polymers, silicone rubbers, acrylic resins, dispersions, and many other chemicals.
What Are the Ways to Test a Tape?
There are two ways to test a tape. One is lab testing, and another is real-world field testing. The second one is more effective comparatively. 
Read Also: 5 Common Retrax Bed Cover Problems
Last Words
If you have struggled to stick with adhesive tapes, you now know that you missed some points. We tried to answer the question of how to make adhesive tape stick to a line-x bedliner the easiest way possible. The discussion also consists of related issues to make you master.
So, no more difficulties with silly matters. As your worry is over, share this knowledge with friends and family. It will benefit every 9 out of 10 people. Have a nice day!
Read also: Bakflip MX4 vs Bakflip G2