When you're in the market for a rolling tonneau cover, it can be hard to decide which one is right.
However, you can narrow your choice to Gator HR1 and BAK X4S, as they are the most popular roll-up cover. 
The main difference between Gator HR1 vs BAK X4S is that HR1 is made of aluminum, while the BAK X4S is made of aluminum with vinyl. Although both are roll-up covers, Gator HR1 is a soft roll-up, and X4S is hard rolling. Gator HR1 comes with a vinyl grain finish, and BAK X4S has a matte black finish.
Knowing their differences will help you to pick the right one according to your needs. So here they are for you.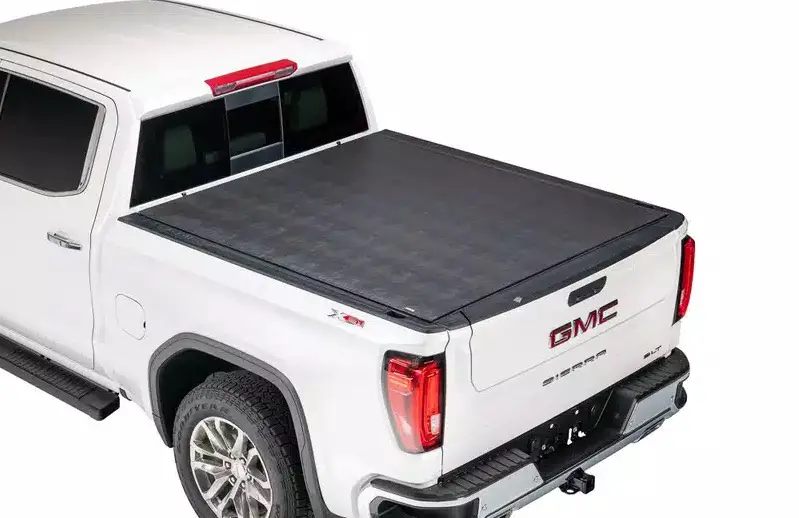 Gator HR1 vs BAK X4S: Quick Comparison
You may wonder how the Gator HR1 and BAK X4S compare. The following part will look at the key differences between these two covers so you can decide which is right for you.
| | | |
| --- | --- | --- |
| Features | Gator HR1 | BAK X4S |
| Material | Aluminum | Aluminum with Vinyl |
| Type | Soft roll-up | Hard rolling |
| Lock | Hook-and-loop fasteners | Buckle straps |
| Finish | Vinyl Grain | Matte Black |
| Installation time | 20 minutes | 30 minutes |
| Warranty | 3 Years | 5 Years |
| Price | $1,000 – $1,200 | $1,100 – $1,400 |
Gator HR1 vs BAK X4S: Key Differences
Both of these covers are made from durable materials and are designed to withstand the elements. But which one is right for you? Decide yourself!
Material
The Gator HR1 tonneau cover is made with industrial-grade aluminum and a soft vinyl top bonded to the aluminum slats. This makes it durable and weather resistant.
The cover also has an aluminum frame, making it lightweight and easy to install. The Gator HR1 tonneau cover is an excellent choice for those who want a durable and weather-resistant cover for their truck bed.
The BAK X4S is made from aluminum with a heavy-duty vinyl tarp. The interlocking aluminum slats provide a strong defense against the elements, while the heavy-duty vinyl tarp ensures that your belongings will stay dry and safe.
Both covers are a top choice for those looking for a durable and reliable way to protect their truck's bed.
Operation Type
The Gator HR1 has a soft roll-up cover, giving you easy operation. You can operate it with one hand and lock it with a strap after you are done rolling. Additionally, it gives you full bed access.
On the other hand, BAK X4S is a hard-rolling cover. You can roll it up with one hand and get immediate access to every corner of the truck bed.
The sleek design of the X4S also gives your truck a stylish look, while the easy-to-use installation system makes it a snap to set up.
Both have an easy operation process, but if you want flexibility with ultimate comfortability, Gator HR1 should be a good choice. Alternatively, if you wish for an elite-looking hardcover, BAK X4S will not disappoint you.
Read also: Bakflip Mx4 Problems
Locking Mechanism
If you've ever had to deal with wet or snow-covered cargo in your truck bed, you know how frustrating it can be. Not only is it a pain to clean up, but it can also damage your belongings. 
That's where the HR1 comes in.
The HR1 is a weather-resistant truck bed cover that uses hook-and-loop fasteners, vinyl-covered hinges, and an overlapping tailgate seal to keep water and snow out.
In addition to hook and loop, the Gator HR1 has a tailgate lock. You can pull the rear-end string latch and cover it toward the bulkhead.
You can secure the opened cover with a buckle strap. Hence, you can easily haul oversize cargo while the cover is rolled up.
To open the BAK X4S cover, pull the string latch and roll the cover toward your bulkhead. You can then secure the cover with the included straps and buckles.
You can attach the closed cover with the automatic slam latch and rotational rail system.
Whether you're looking to keep your gear safe from the elements or simply want to give your truck a sharp new look, the X4S truck bed cover is an excellent choice.
Read Also: 5 Common Retrax Bed Cover Problems
Finish
The Gator HR1 has a vinyl grain finish that can help minimize wear and tear while also providing additional protection against the elements. It can be an excellent option for those who want to maintain the like-new appearance of the aluminum cover.
The BAK X4S roll-up truck bed cover offers your truck a sleek, stylish look. The tarp, clamps, and slats are all colored in a matte black finish, which perfectly coordinates with OEM bed accessories such as tailgate caps and bedrail caps.
The cover's top-to-bottom matte black finish makes it an excellent option for those who want a stylish, harmonized look for their truck.
If you're looking for a good-looking, functional truck bed cover, the BAK X4S is an excellent option to consider.
Installation Time
The installation for the HR1 is simple, as you don't need to go through drilling. You can install it using clamps on rails. The process takes about 20 minutes and doesn't require special tools or skills.  
The installation for X4S is also simple, using basic hand tools such as a wrench and socket. The entire process should take no more than 30 minutes, making it a great option for anyone looking for an easy installation.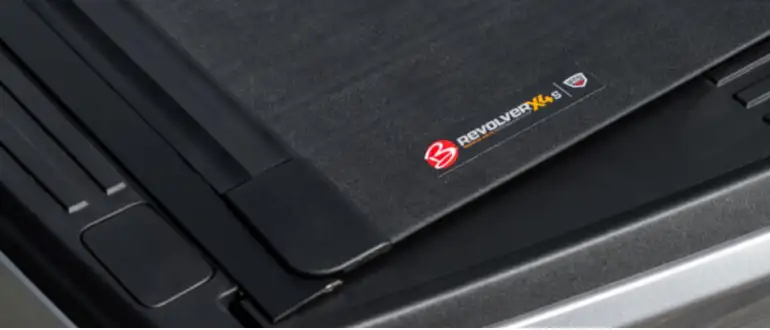 Warranty
Gator HR1 comes with three years warranty, while BAK X4S provides a five-year warranty. However, both companies provide a 30-day return guarantee and lifetime install support.
So, if you want more security on your spending, you can pick X4S as they come back with a five years warranty. But, you have to follow their terms and conditions to avail of the warranty.
Price
You can buy Gator HR1 for $1,092.00 – $1,149 while X4S is $1,133.20 – $1,391.22.
So, if you bounce back and forth between HR1 and X4S, I will suggest Gator HR1 because it's a more budget-friendly option, and it still has enough features to get the job done.
Which One Is Better for You: Gator HR1 or BAK X4S?
There are a few things to consider when choosing between the Gator HR1 and BAK X4S tonneau covers.
First, think about what you'll be using the cover for. If you're looking for a cover to keep your truck dry and secure, the Gator HR1 is a great option.
If you need a cover with a sleek design while it secures your belongings, the BAK X4S is a better choice.
Next, consider your budget. The Gator HR1 is more affordable, while the BAK X4S is a bit more expensive.
Even with the small differences, it's hard to justify spending an extra $100-$150 on the X4S. But if you want more warranty period, X4S will be worth the extra spending.
Read also: How To Keep Dust Out Of Tonneau Cover?
FAQ
Is The Gator HR1 Compatible with Any Ladder Racks?
The Gator HR1 is compatible with ladder racks. However, a ladder rack may not suit your car/truck combination if you drive a smaller truck. Additionally, when selecting a ladder rack for Gator HR1, consider its load capacity.
How Do You Deep Clean BAK X4S?
If you're looking to deep clean your BAK X4S tonneau cover, using a soft bristle brush with regular car soap and water is a good idea. This will help remove dust and dirt, making the cover look much cleaner.
How Much Weight Can Gator HR1 Support?
The Gator HR1 tonneau cover is designed to support 400 pounds evenly distributed. It weighs 80 pounds, making it ideal for those who need to transport a lot of weight around. The cover is made from heavy-duty material that provides lasting durability.
Final Words
All in all, the Gator HR1 and the BAK X4S, are great tonneau covers that protect your truck bed and its contents.
They both have pros and cons, but the BAK X4S is the better choice overall because it has a matte finish, is more durable, and has an extended warranty.
Also read Bak Revolver X4 Problems