We love our trucks and want to take care of them in every way possible. Getting a truck cover is one of them. But there are so many brands out there that sometimes we struggle to choose from.
Truxedo and Extang are great! But, you might be confused about which one to pick between Truxedo and Extang.
Most of the covers from both brands have full access to the bed, except a few. Besides, they all have tension control, an easy installation process, tight seal to protect your goods. But, Truxedo has a higher warranty than Extang, and the costs of Truxedo covers are a bit lower than Extang.
That's just an overview. Now, we are going to compare these two in every crucial aspect!
Scroll down to read more!
Truxedo Vs Extang: Quick Comparison
It is tough to compare these two brands, as they are the best in their category. Both of them lived up to their hype.
Don't worry if you are struggling to pick one. Here we compared two brands against each other with just a glance.
| | | |
| --- | --- | --- |
| Aspects | Truxedo | Extang |
| Brands | 14 | 12 |
| Sizes | All | All |
| Models | 27 | 35 |
| Material | double-coated vinyl, Aluminium | Aluminium cover and polymer |
| Bed Access | Full (Except a few) | Full (Except a few) |
| Tension Control | Yes | Yes |
| Installation | Easy | Easy |
| Warranty | 5-years | 3-years |
| Price | $278 to $989 | $399 to $1049 |
Truxedo Vs Extang: Comparing Features
Here, we will nail the differences against each other to get an overall idea. That way, you can get a gist of these two brands.
Sizes and Models
Truxedo and Extang come in different bed sizes for an extensive range of trucks from 1973 to now. The covers are made for almost all bed sizes with easy installation.
Even if you own your granddad's truck, you will still find a cover in the market for that. Here is the list of all the brands covered by these two;
GMC.
Chevy.
Ford.
Nissan.
Dodge.
Mazda.
Lincoln.
Suzuki.
Ram.
Isuzu.
Honda.
Mitsubishi.
Suzuki.
Jeep.
That was a long list, right? These brands also have different models. And here is the list of all the truck models from the brands above;
Truxedo Lo Pro Vs TruXedo Pro X15: Things You Must Know Before Choosing One
| | |
| --- | --- |
| Brand | Models |
| GMC | C/K Pickup 1500, 2500, 3500, Sonoma, Sierra 1500, Sierra 2500, Sierra 3500, Canyon |
| Chevy | Silverado 1500, Silverado 2500, Silverado 3500, Colorado, S10 Pickup |
| Ford | Ranger, F 150, F 250, F 350, Raptor, F 150 Lighting, Maverick |
| Dodge | Ram 1500, Ram 2500, Ram 3500, Dakota |
| Nissan | Titan, Frontier. D21 Pickup |
| Toyota | Tacoma, Tundra, T-100 |
| Lincoln | Mark LT |
| Suzuki | Equator, Equator |
| Isuzu | Hombre |
| Ram | Truck 1500, Truck 2500, Truck 3500 |
| Honda | Ridgeline |
| Mitsubishi | Raider |
| Gladiator | Jeep |
| Mazda | B-series |
Lastly, all the models are made in different sizes of each truck. And here are all the available bed sizes for all brands we mentioned above. 
| | |
| --- | --- |
| Bed Size | Brands |
| 4' 4" | Ford |
| 5' | Nissan, Suzuki, Honda, Suzuki, Jeep |
| 5' 1" | Ford |
| 5' 2" | Toyota, GMC, Chevy |
| 5' 4" | Mitsubishi, Dodge |
| 5' 7" | Nissan, Lincoln, Toyota, Ford, Dodge |
| 5' 8" | Chevy, GMC |
| 6' | Ford, Isuzu, Nissan, Mazda, Chevy, GMC |
| 6' 1" | Ford |
| 6' 2" | Nissan, Toyota, Suzuki, GMC, Chevy, Suzuki |
| 6' 4" | Dodge, Ram, Toyota |
| 6' 6" | Chevy, GMC, Mitsubishi, Dodge |
| 6' 7" | Nissan, Lincoln, Toyota, Ford |
| 6' 9" | Ford, GMC, Chevy |
| 7' | Mazda |
| 8' | GMC, Chevy, Ford |
That was all the sizes for all the truck models that are available in the market.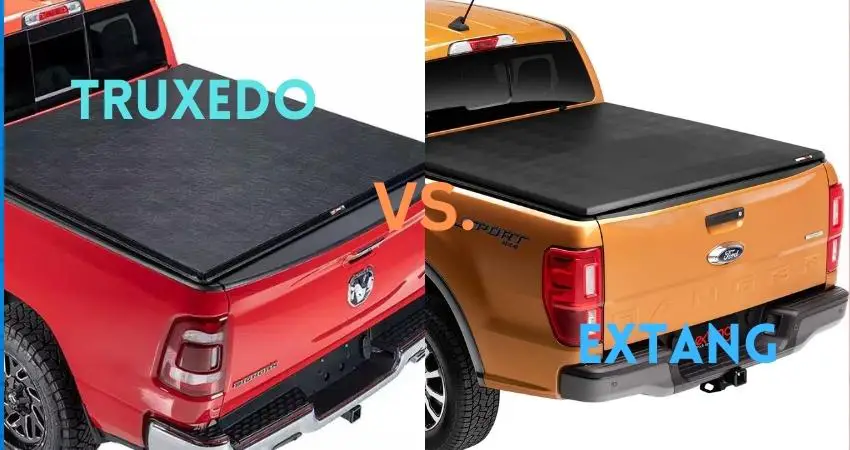 Material
Depending on the model and other factors, the material in both brands varies. Not every cover is made with the same materials. And this statement goes for both Trusedo and Extang.
The reason behind Truxedo's durability is that it is made with double-coated vinyl. Not just that, it also has an aluminum body so that it can protect your truck's bed. As a plus point, the aluminum bodies are usually very light.
Some of the Truxedo covers are made from superior-grade Vinyl. And the matte-black color comes from the polyester cloth material in that. As a result, it makes the cover dust resistant.
But, you need to be careful while washing it. Never wash it with any petroleum or citrus-based product that might destroy the fabric. Wash it with just mild soap and water.
On the other hand, Extang comes in an aluminum cover and polymer. It can protect the bed in any weather, making the product high quality. Besides, the rails of the body are also made of aluminum.
More or less, both the brands are made almost in the same way with different sizes and styles.
Bed Access
Most of the covers from Truxedo and Extang have full access to the bed. You can just fold the cover back to the rear or window side. The previous statement goes for both of the bed covers of these two brands.
Although, some of the old models don't have complete access. Those models come with two-thirds access to the bed.
So, when it comes to bed access, and there is an issue choosing based on your criteria, go for the full access ones.
Tension Control
Most of the cover models from the Truxedo and Extang come with automatic tension control. That feature is made so that it allows the cover to fit right.
Besides, it can protect the bed and doesn't allow dust and other things to enter. Meaning it covers the bed in all conditions with great looks.
Last but not least, the rear is near the tailgate. Thus, it allows you easy access to that.
Seal and Security
For both brands, the security and seals are pretty easy to understand. For Extang, you can only access the tailgate when you lower the tailgate. This feature makes the cover possible and protects your stuff in the bed.
For Truxedo, the cover doesn't come with a lock mechanism. But there are options where you can customize the locks and make some extra security to protect your things.
But, some of the Truxedo covers come with higher protection. It means that it has a four-ways. Besides, it has hook-and-loop strips and a rear latch around the tailgate, making your things extra secure.
Installation
Who doesn't want an easy and quick installation, right? Every Truxedo and Extang are very easy to install. Besides, you don't need to make any holes in the truck or drill to install the cover.
The covers come with an easy-to-understand handbook so you can install them yourself. However, the company provides lifetime installation support without any hassle.
Lastly, Installing doesn't take more than twenty to thirty minutes. One important thing to mention is that the covers come with jaw-grip clamps.
And you can directly connect the cover with the rails. Of course, it allows you to do further customization.
Warranty
In terms of warranty for the product, the Truxedo comes in five years of warranty. On the other hand, Extang comes with three.
The warranty is eligible for any faulty product or error while manufacturing. Besides, customer support is excellent for both brands, so don't worry about the hassle.
Price
Both brands have an extended range of products, which varies. In terms of price, Truxedo has the lower starting point. And Extang is a bit more pricey than Truxedo.
Truxedo starts at $278 and ends at $989. On the other hand, $399 is the starting price for Extang, and it ends at $1049.
But, for the value of quality, it is worth the price.
FAQs
Are Extang Tonneau Covers Waterproof?
Yes, Extang tonneau covers are waterproof. The owner's experiences are great so far. During heavy rain or car washing, there are not more than two to three drops of water. And, of course, there is a water drainer installed there.
Does Truxedo Have Lifetime Warranty?
No, Truxedo doesn't have a lifetime warranty. Though, it comes with lifetime free installation support and a five-year warranty. The warranty is only available if there is any defect in the manufacturing.
Do Tonneau Covers Keep Bed Dry?
Yes, the tonneau covers keep the beds dry. The covers are installed with tight seals. It makes the covers almost waterproof during heavy rains are car wash. Thus, it keeps your truck's bed dry.
Final Words
That was a long debate between Truxedo vs Extang! And we tried to give you as much information as possible.
We hope this article helped you to choose between these two. You were able to make a decision. Let us know which one!
Good Luck!