So you just purchased a new tonneau cover for your truck. You know, the kind of tonneau cover that goes over the bed and protects everything in it from rain and snow. So you don't have to worry about getting out and putting on a tarp every time it rains. It's an awesome investment!
But now you're thinking about how to protect all the new shine on your truck bed cover. No one wants to have a tonneau cover that looks dull and dirty. Then can I use tire shine on the tonneau cover? 
Can you use tire shine on the tonneau cover?
The answer is both Yes and No. Yes, you can apply tire shine to the tonneau cover as long as it is applied in an even and thin layer. And No because a thick or heavy coat will leave residue on your vinyl that could peel or crack over time.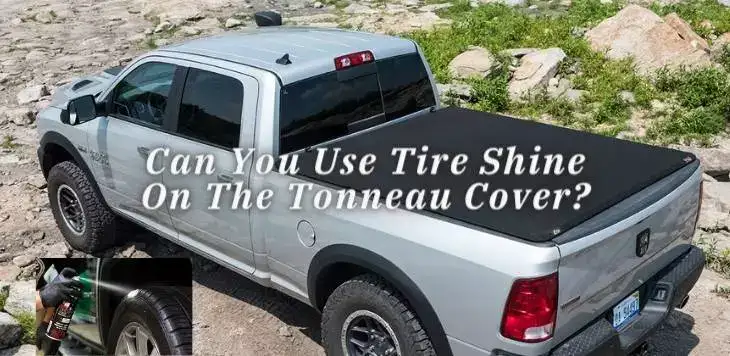 How often should I apply Tire Shine on tonneau cover?
We recommend you use tire shine once every 6 months or so to keep your tonneau looking like new. Rubber and vinyl get dry, brittle, cracked and sun burnt just like your skin does over time. So applying tire shine is the same as applying lotion to keep your tonneau looking soft, supple and young.
How Much Tire Shine Should I Apply?
Applying too much tire shine may cause streaking or running of the product down the tonneau cover. To avoid this apply 1-2 even layers of tire shine and allow to dry before wiping off the excess with a clean cloth or towel.
Read More: Best Tonneau Cover Protectant And Cleaner Review
How do I use Tire Shine on my tonneau cover?
Here are the simple steps to use tire shine on tonneau cover: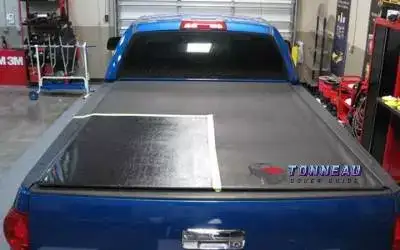 1. Wash the tonneau cover with soap and water to remove any oil buildup from your hands or dirt that may be on the vinyl.
2. Shake or stir up the bottle of tire shine to mix in any particles that may have settled during shipping or standing.
3. Apply the tire shine to a clean cloth first and then apply evenly onto the vinyl with long strokes.
4. Allow to dry for one hour or until no streaks are visible before placing tonneau back into the truck bed.
5. After tire shine has dried you may apply a second layer if desired to have an even deeper gloss.
6. Store the remaining bottle of Tire Shine in a cool and dry place as prolonged exposure to high temperatures can break down the formula making it ineffective.
Note: High temperature is considered above 90 degrees Fahrenheit (32 degrees Celsius) and humidity is between 60-79%.
We recommend you spray your tonneau cover from a distance of 12-18″ and then wipe the excess off with a clean soft cloth or towel.
What if I applied too much tire shine?
If you find that you have over-applied the tire shine, simply take a clean cloth and wipe off any excess. Then buff to a nice bright shine.
Read More: How Long Do Tonneau Covers Last?
How do I remove Tire Shine from my tonneau cover?
It is not a good idea to try and remove tire shine once it has been applied to the tonneau cover. It will mostly end up with scratches.
If too much of the product was applied due to heavy handedness or overzealous application then wipe off only what needs to be taken care of with a clean soft cloth or towel. And then let the remaining product dry until no streaks or residue are visible.
How can I prevent my tonneau cover from fogging up after applying tire shine?
Applying tire shine to your vinyl will help keep it from fogging up but if you are experiencing this problem we recommend that you use the Bug and Tar Remover in combination with Tire Shine.
This product is 100% water based. So it's safe on paint, rubber, plastic and your cloth convertible or hard top. You can apply it by spray and a soft micro fiber towel or sponge for an even application. It is also effective on water spots, tree sap, bug and tar removal from your paint surface.
Every time you use it you will be making your top look better and last longer!
Read More: How To Clean Tonneau Cover?
The reason not to use tire shine on the tonneau cover
Here are the 10 reasons behind not using tire shine on a tonneau cover:
1.  If you put the shine on a wet or damp surface, then it will not dry properly.
2. Applying too much Shine is a challenge as it is glossy and tends to be very runny in consistency, hence the name tire shine.
3. The reason why some users complain about their covers stinking after applying this product to their vinyl is because of the solvent used. The smell will go away after a few days, unlike covers that need to be washed if you use water-based products.
4. Many people report about streaks and increase cloth material (like micro fiber) absorbency when applying tire shine on their tonneau cover.
5. The shine will stain the wrist and clothing if you have it on your hands while working on cleaning your vehicle.
6. The smell is very strong thus it can get annoying for some users. Especially in closed areas like the garage or car storage area.
7. For those who do not want to use solvent on their covers, they have to wait for the Shine to dry first before they can apply a cloth material (like micro fiber) especially when cleaning the cover.
8. You will need to get one more water-based product such as Bug and Tar Remover since it is recommended that you use a water-based solution in combination with Shine for tonneau cover cleaning.
9. The Shine is not water-based. Thus you cannot wash off the excess by spraying it with a hose and then wiping it using a clean micro fiber cloth.
10. Using tire shine on your vinyl cover can potentially damage your sensitive fabrics. So if you have pets that like to sleep on top of your covers, we recommend that you use a poly-fabric bed liner.
FAQs
Is It Possible To Use Tire Shine On Convertible Top Material?
You can use tire shine on the convertible top but we recommend you apply it with an artist brush and then buff using a clean soft cloth or towel as described above.
Final Words
Tire Shine is great for vehicles with hard tires but is not intended for use on vinyl or rubber. Vinyl and rubber are sensitive to chemical substances and care must be taken when selecting a specific product. So if you are looking for an effective way to keep your vinyl and rubber clean, shine, and free from unsightly stains, we highly recommend that you try Bug and Tar Remover with Tire Shine.