In this article, we will highlight the best options on the market to ensure you make an informed decision that perfectly suits your vehicle and lifestyle.
The best roof racks and bags for Toyota 4Runner
We've compiled an in-depth guide to help you navigate this essential accessory landscape and discover the top roof racks for your Toyota 4Runner.
MaxxHaul Roof Rack
Secure attachment: designed to securely attach to your 4Runner's roof rails or crossbars, offering stability during transport.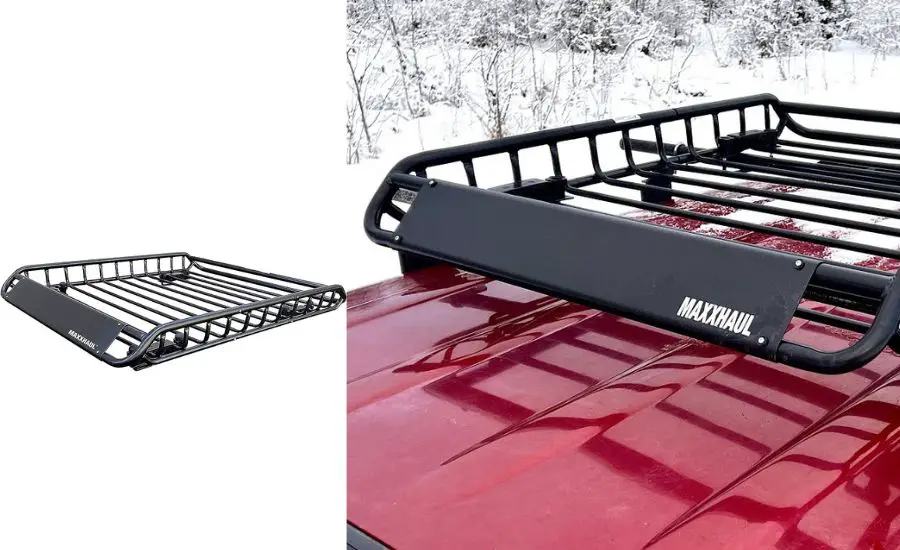 Pros
A handy option for transporting additional items like a roof-top tent, the MaxxHaul 70115 Roof Rack instantly adds additional cargo capacity for your vehicle with cross bars.
Universal suitability: this roof rack is adaptable and can fit a variety of vehicles with cross bars because it is made to attach to most crossbars. Broad applicability is guaranteed by this compatibility.
U-bolt installation: by attaching the roof rack to the cross bars using U-bolts, it is simple to ensure a solid and dependable connection.
Cons
A roof rack may not offer the same amount of weatherproofing and security as enclosed cargo carriers or bags, despite the rubber coverings protecting the U-bolts.
Although this product takes some setup before installation, some customers may prefer a roof rack that requires little to no preparation.
KAIZONPOT Roof Basket
Spacious dimensions: Offers ample cargo space with its 64″ x 39″ x 6″ size, accommodating various types of equipment and gear, for example, a roof-top tent.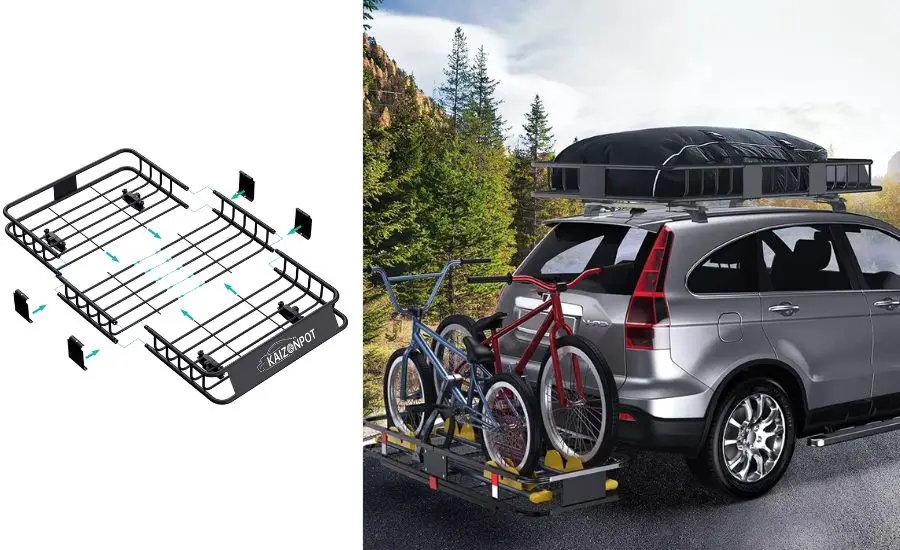 Pros
Rubber-clad metal strip construction: by using rubber-clad metal strips rather than conventional U-bolts, the roof bars are better protected against wear and rust.
Transporting your stuff securely is made easier by the 6-inch high metal side rails, which also lower the possibility of your cargo shifting or falling off.
Cons
Installation requirements: some effort and the use of a screwdriver to remove the plastic film off the metal bar may be necessary to assemble and install the roof basket, which may be considered a minor nuisance by some users.
Moclever Car Roof Rack
Multi-purpose use: designed to carry a wide range of cargo, including bikes, kayaks, luggage, and other equipment, enhancing your vehicle's utility.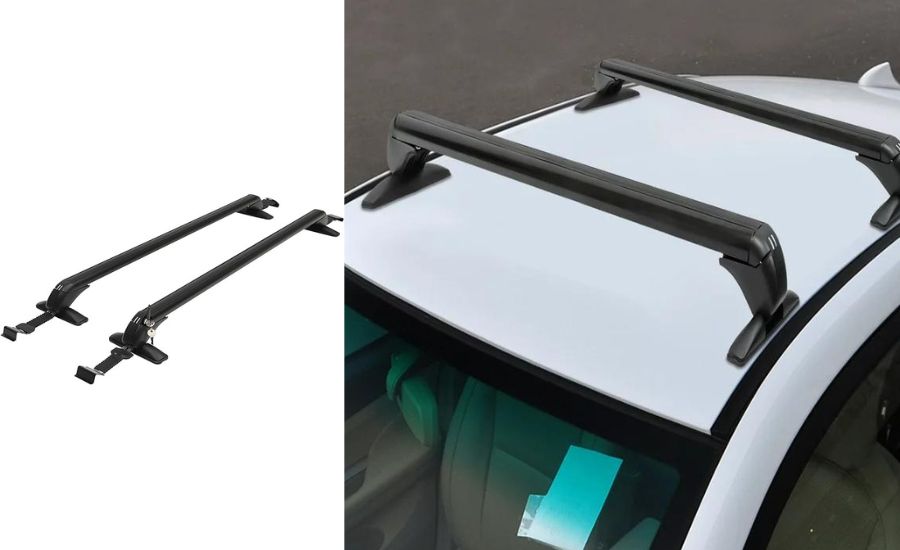 Pros
Each crossbar on your 4Runner roof rack has an anti-theft lock installed in it to increase security and prevent unauthorized removal.
The long-lasting ABS cover shields the keyhole from inclement weather, providing long-term dependability.
Low wind noise and resistance: the roof rack crossbars' curved shape design at the ends effectively lowers wind noise and resistance while preserving the vehicle's cosmetic appeal.
With less wind noise, this design feature improves the overall driving experience.
Cons
These roof rack cross bars have a specific vehicle fitment range of 109cm to 114cm (42.91in – 44.88in) between the rain grooves on the vehicle.
MeeFar Car Roof Bag
Secure attachment: designed to securely fasten to your car's roof, preventing any movement or displacement while driving the Front Runner.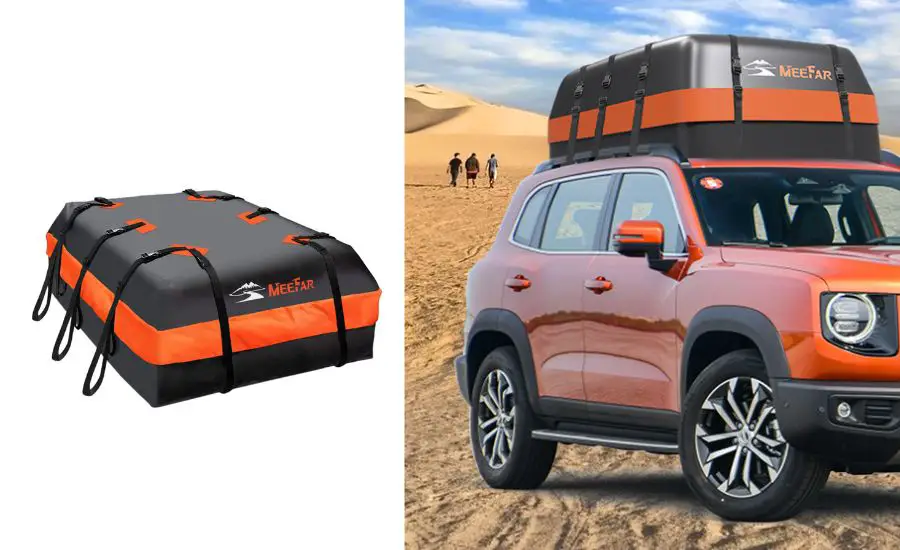 Pros
Universal compatibility: the MeeFar XBEEK roof bag is made to fit any car or SUV, regardless of its size or the presence of a 4Runner roof rack.
Due to its adaptability, it may be utilized on a variety of vehicles, making it a versatile and useful choice.
Design that saves space: when not in use, the roof bag's flexible shell material may be folded into the accessory storage bag.
Cons
Despite the combination lock's added security, it's important to keep in mind that this rooftop cargo bag is soft-sided and might not offer as much protection against theft or tampering as hard-shell cargo carriers.
RoofPax Cargo Carrier Bag: editor's choice
Waterproof design: seamlessly protects your cargo from rain, snow, and other weather elements, maintaining their condition during transit.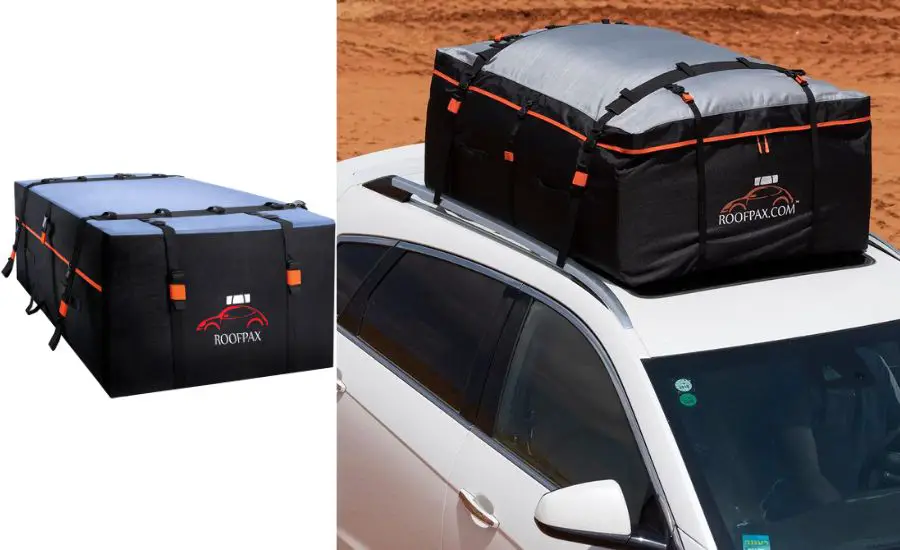 Enhanced cargo utility: ideal for road trips, camping, vacations, and any situation that demands extra space for your belongings.
Pros
Maximum safety design: with its revolutionary 4+2 additional free door hook straps, RoofPax distinguishes out as the only company to put safety first. By employing straps outside the Front Runner, which might obstruct airbags in an emergency, this innovative design prevents the risky practice. It is a safe option for passengers because it meets with safety laws and is permitted in all states.
The RoofPax set comes in a complete package with the 23 cubic feet rooftop cargo carrier, 6 innovative door hook straps/clips, a TSA-approved lock, and a durable storage bag. This all-inclusive bundle includes everything needed for practical and secure vehicle top luggage storage when traveling.
RoofPax shows its faith in its product by providing a lifetime warranty on zippers and buckles, a 5-year warranty on tears and fabric, an extended warranty, and exceptional customer service.
Additionally, the business offers round-the-clock customer service support, guaranteeing rapid aid for any worries or troubles clients may encounter.
Cons
Like most rooftop carriers, there may be some wind noise during transit, albeit the product description makes no mention of the particular noise levels.
CURT 18110 Cargo Carrier
Generous dimensions: Offers a substantial cargo area with its 48 x 20-inch tray, accommodating various types of cargo and gear.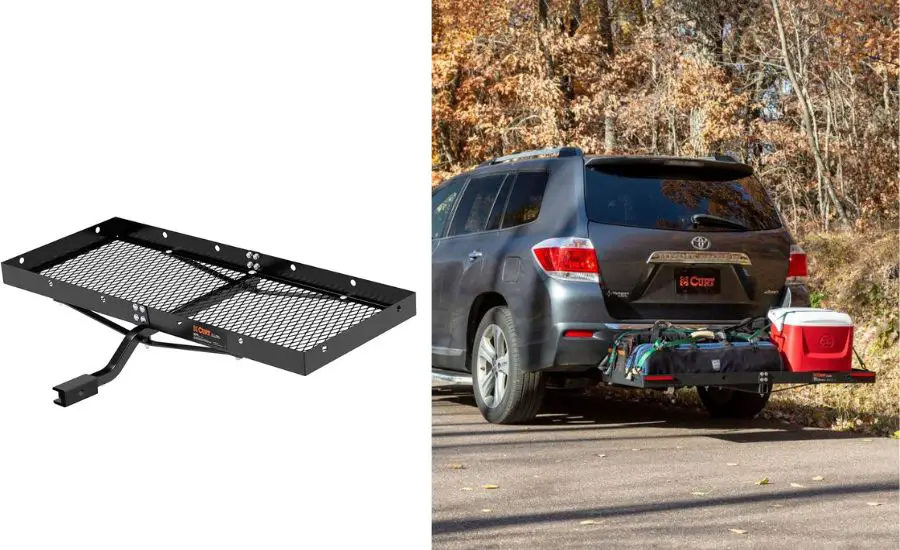 Pros
Design that can be used for a variety of large and bulky objects: The CURT 18110 Hitch Cargo Carrier has a tray-style design that makes it very adaptable for a variety of large and bulky items.
It works well for transporting camping gear, coolers, barbecues, and other items in addition, such as deer carcasses.
Built-in tie-downs: the cargo carrier has built-in holes all around the tray, making it simple to fasten your cargo with cargo nets or bungee cords. With the help of this function, you may travel with confidence knowing that your belongings won't shift or tumble.
Cons
Limited cargo protection: although the cargo carrier provides a practical way to move large objects, because of its open design, the cargo may not be as well-protected from the weather as it would be in an enclosed cargo box.
Thule Evo Foot Pack
Torque limiter: the ergonomic torque limiter key signals when the rack is securely and correctly attached to your Front Runner.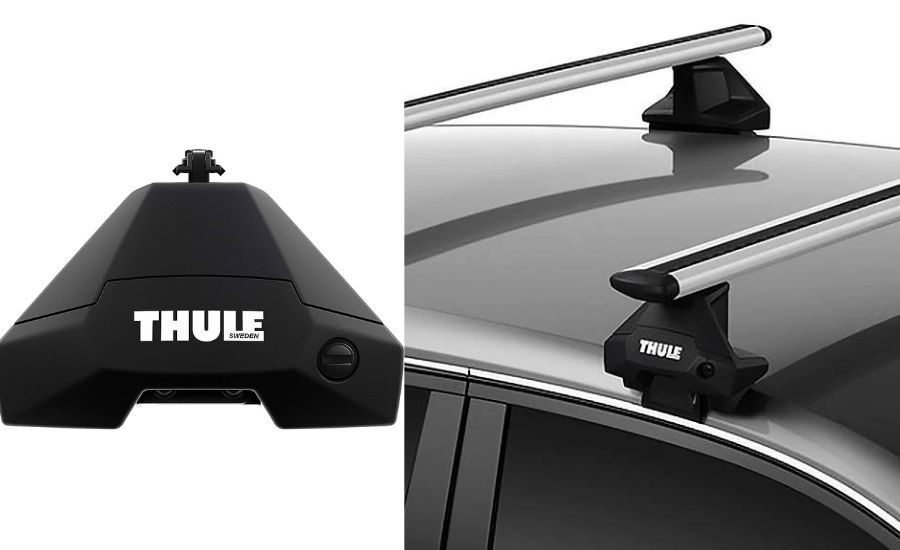 Pros
An ergonomic torque limitation key that serves as a safety element is included in the foot-pack. It shows when the 4Runner roof rack is securely fastened to your car, lowering the chance of over- or under-tightening.
Raised rail compatibility: created especially for cars with raised side rails, ensuring a solid base for the installation of a 4Runner roof rack.
Cons
Locks sold separately: Although Thule One-Key locks can be used with the foot-pack to increase security, these locks must be purchased separately. To make full use of this security feature, users must buy them separately.
Rhino-Rack Carrier
Easy loading and unloading: the user-friendly design makes it straightforward to load and unload your gear, saving you time and effort.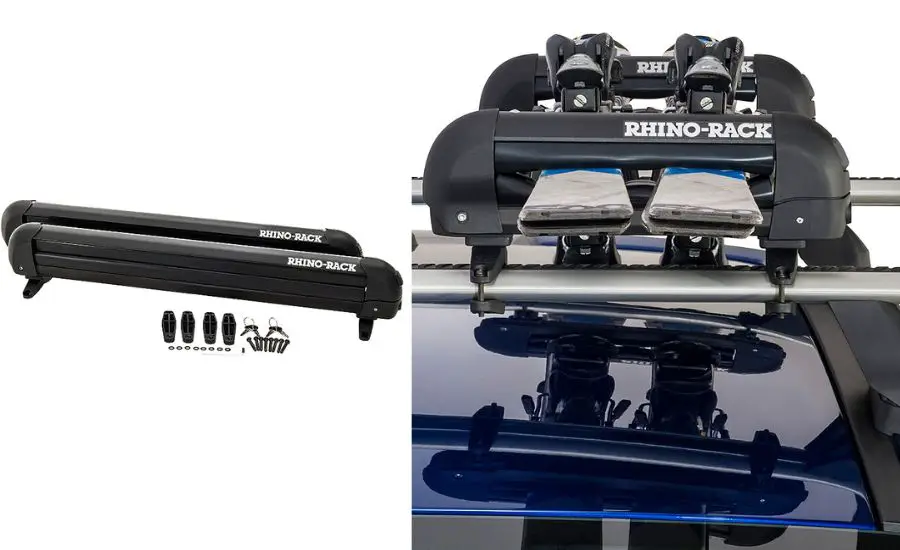 Complete package: the product includes a set of 2 lockable arms with mounting hardware and 4 keys, providing a comprehensive solution for securing your equipment and ensuring peace of mind during transport.
Pros
Perfect for group travel: this carrier's big capacity makes it ideal for excursions with friends or family. Each person can bring their gear with them because they can travel with multiple pairs of skis, snowboards, or other equipment.
The carrier has a universal attachment, which enables it to be used with different roof racks. Due to its universal design, it is easier to install and can be used with a variety of cars, including the Front Runner.
Hardware for quick releases: the carrier has a quick-release and locking mechanism that can be operated with gloves on, making it especially practical for winter travel.
Designed for protection: the carrier has a rubber grip profile to guard against damage to your skis, snowboards, and fishing equipment while it is being transported.
Cons
No weather protection: because the carrier is open, your equipment is not protected from the elements. Users might need to utilize extra coverings or bags for their equipment if it is raining or snowing because of this.
Comparison
Each of these products offers unique features catering to different use cases.
Load capacity and storage space
MaxxHaul Roof Rack: provides a 120-pound load capacity, which is appropriate for small to medium-sized cargo loads like a rooftop tent and other goods.
Despite offering more room, the size of the roof rack basket may still be a hindrance for consumers carrying heavier or thicker freight goods.
KAIZONPOT Roof Basket: the KAIZONPOT Roof Basket provides extra capacious 10 or 13 square feet on top of your vehicle, offering large cargo space that is perfect for transporting a variety of gear and equipment.
Moclever Car Roof Rack: the 165 pounds per bar load capacity of these 4Runner roof rack cross bars makes them ideal for transporting a variety of outdoor equipment, including bikes, cargo frames, cargo boxes, snowboards, and surfboards.
MeeFar Car Roof Bag: this rooftop cargo bag's enormous 20 cubic feet of space for storage enables you to transport a significant quantity of cargo, such as 4-6 suitcases, trip luggage, a rooftop tent, sleeping bags, and more.
RoofPax Cargo Carrier Bag: provides a roomy 23 cubic feet of storage area, which can hold a sizable number of gear and goods (like a rooftop tent).
CURT 18110 Cargo Carrier: has a strong 300-pound weight capability that is appropriate for bigger, heavier objects.
Thule Evo Foot Pack: with a maximum load capacity of 220 lbs, the Thule Evo Raised Rail Foot Pack is suitable for hauling a variety of items, such as sporting goods, baggage, and other gear.
Rhino-Rack Carrier: capable of holding either six pairs of skis or four snowboards in the winter and fishing rods, wakeboards, or longboards in the summer.
Although the carrier is roomy, very long skis or snowboards might not fit.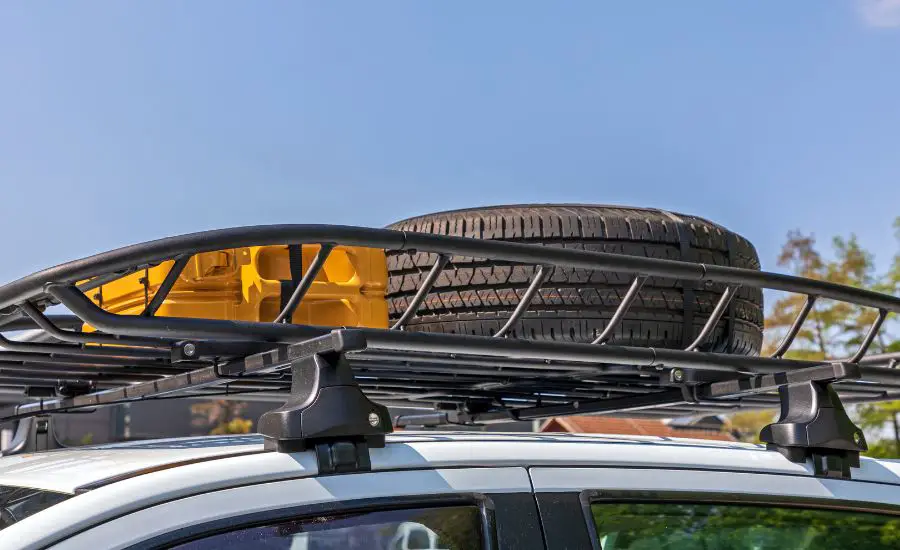 Ease of installation
MaxxHaul Roof Rack: the installation process is made simpler by the inclusion of mounting and assembly gear with this roof rack. Without the use of any special equipment, users can easily put the 4Runner roof rack together and install it.
KAIZONPOT Roof Basket: some users may find the effort involved in assembling and installing the roof basket and the need to use a screwdriver to separate the plastic film from the metal bar to be a small inconvenience.
Moclever Car Roof Rack: a complete set of mounting accessories, including premium base brackets, hooks, premium rubber pads, stainless steel braces, and an assembly guide, are included with the roof rack.
MeeFar Car Roof Bag: this load carrier is suitable for many vehicle types because it functions with or without a 4Runner roof rack.
Raised side rails, crossbars, roof racks, or baskets can all be used to install it.
RoofPax Cargo Carrier Bag: it often attaches to existing roof racks or bars and is simple to install and remove. No extra equipment is needed.
CURT 18110 Cargo Carrier: installation requires a hitch receiver, but it's generally straightforward.
Thule Evo Foot Pack: the Thule Evo Raised Rail Foot Pack is designed for easy installation onto vehicles with raised railings.
Rhino-Rack Carrier: easy to install, you may check the user instructions if you're having trouble installing it.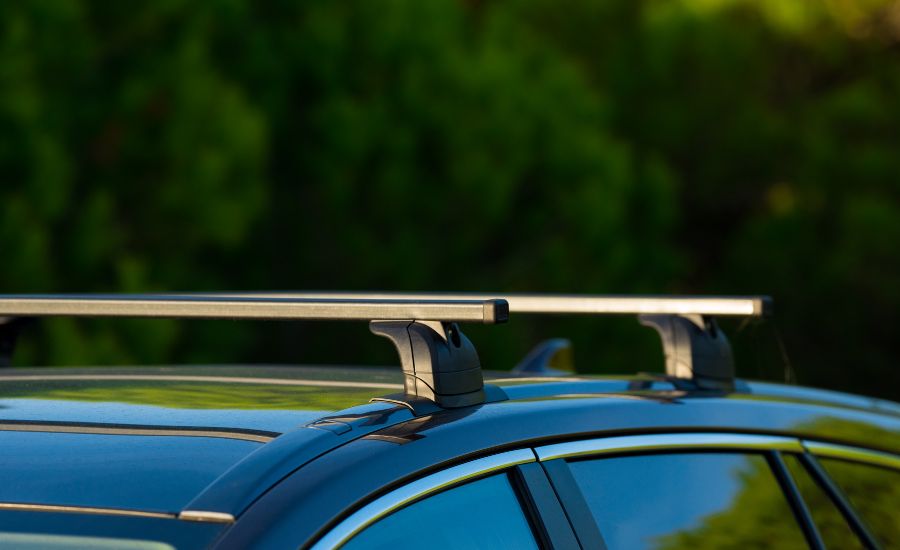 Durability and construction
MaxxHaul Roof Rack: steel was used for the construction's robust design, ensuring longevity and resilience to wear and tear.
The roof rack's endurance is increased by the powder coat finish's corrosion resistance and long-lasting use.
KAIZONPOT Roof Basket: the roof basket retains structural integrity even in inclement weather because of the sturdy powder-coated steel construction, which makes it resistant to rust and corrosion.
Moclever Car Roof Rack: these cross bars are made from high-strength aluminum alloy components and are designed to survive challenging circumstances and bad weather.
MeeFar Car Roof Bag: the MeeFar Car Roof Bag is made of high-frequency voltage technology and 700D PVC tarpaulin material, making it completely waterproof.
RoofPax Cargo Carrier Bag: double waterproof zippers, military-grade fabrics, waterproof dual-seam technology, and a water-repellent double coating are all included in the RoofPax rooftop cargo carrier.
These characteristics provide great weatherproofing and defense against the elements, together with a built-in protective mat and 10 elastic Velcro strap restraints.
CURT 18110 Cargo Carrier: this trailer hitch cargo carrier is made of steel and designed for excellent strength and endurance.
The carrier's lifespan is increased by the E-coat and carbide black powder coat finish, which offer durable corrosion resistance.
Thule Evo Foot Pack: the foot pack has a rubber liner that not only makes sure it fits snugly but also safeguards the surface of your car's elevated rails.
This safeguard helps guard against finish damage to your car.
Rhino-Rack Carrier: the carrier is made of sturdy metal that resists corrosion and rust and can handle rough use.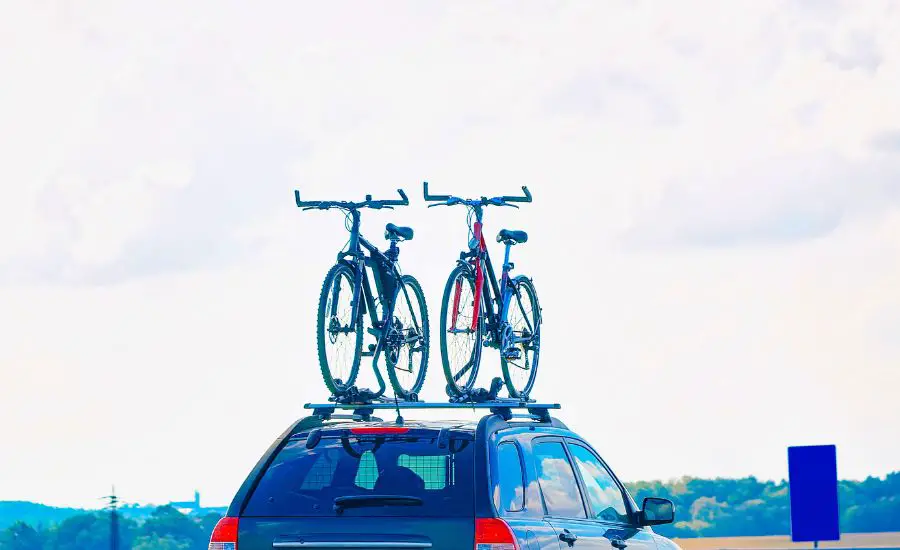 Final verdict
For a Front Runner, considering static weight capacity and dynamic weight capacity, safety, versatility, and other factors, the RoofPax Rooftop Cargo Carrier Bag stands out as a well-rounded choice.
Safety
RoofPax prioritizes safety with its patented door hook strap design, avoiding the use of straps that go inside the car, which can interfere with airbags and are illegal in some states.
Weatherproofing
It offers excellent weatherproofing with military-grade materials, double waterproof zippers, and a water-repellent double coating.
Versatility
The RoofPax carrier is versatile, working with or without a 4Runner roof rack, and it can be installed on most vehicles.
This adaptability makes it a flexible choice for different types of cars, including the Front Runner.
Complete package
It comes with a comprehensive package, including door hook straps, a TSA-approved lock, and a sturdy storage bag.
Extended warranty
RoofPax offers an extended warranty on key components, demonstrating confidence in the product's quality and durability.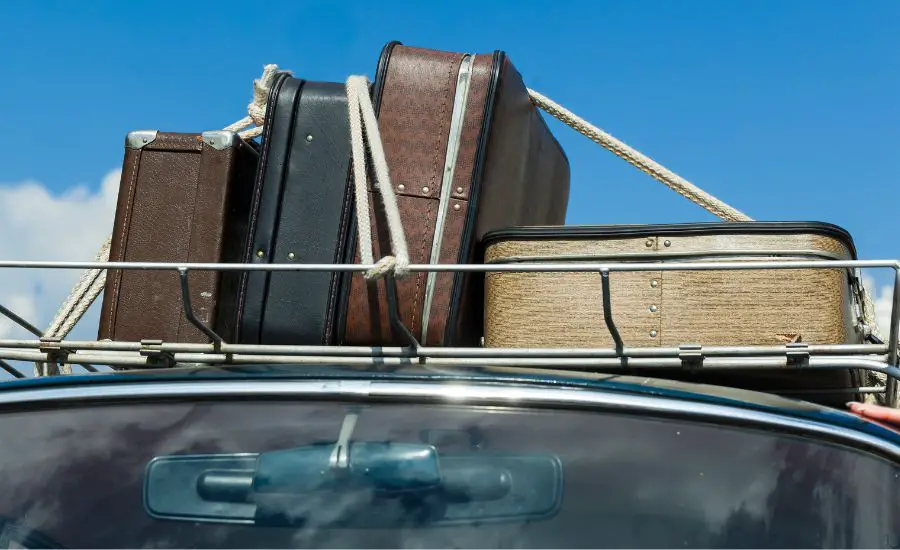 Conclusion
Overall, the RoofPax rooftop cargo carrier offers a balanced combination of safety, static weight capacity, and dynamic weight capacity, weatherproofing, versatility, and convenience, making it a good choice.
FAQ
Are roof racks worth it 4Runner?
Yes, 4runner roof racks are worth it as they significantly increase your vehicle's cargo-carrying capacity, making it more versatile for various activities and trips.
What size roof rack for Toyota 4Runner?
The size of 4Runner roof racks for a Toyota 4Runner can vary based on your specific needs (for instance, you may need a full-length roof rack with the LED light bar, or accessory mounts).
It's essential to choose a roof rack size that accommodates the type and amount of cargo you intend to carry (like camping gear or rooftop tent).
MaxxHaul or Prinsu rack models come in various sizes, so you may consider these.
Can you add a roof rack to a 4Runner?
Yes, you can add a 1-5th Gen 4Runner roof rack, for example. Or, many aftermarket roof rack options are available that can be installed on your vehicle, providing additional cargo space.
Are aftermarket roof racks better?
Aftermarket roof racks can offer various advantages, such as customization, various mount accessories and additional features (like awning mounts, mounting brackets, or an LED light bar) cost-effectiveness, and a wider range of carrier and full roof rack options.
Do all 4Runners have roof rails?
No, not all 4Runners come with factory roof rails or a full roof rack system. OEM roof rails may be a standard or optional feature depending on the specific trim level and year of the 4Runner.
Why do I need a wind deflector?
A wind deflector is needed to reduce wind noise, improve fuel efficiency, and enhance vehicle stability. A wind deflector may not be an absolute necessity. But if you have a wind deflector, it can significantly improve the driving experience when using a roof-mounted cargo carrier or roof rack.
What are the pros of 5th Gen 4Runner?
The 5th Gen 4Runner comes with several pros:
1. The 5th Gen 4Runner is highly capable off-road
2. The 5th Gen 4Runner offers a roomy interior with ample cargo space
3. The 5th Gen 4Runner has a respectable towing capacity
What's a light bar on a car for?
A light bar is a type of lighting accessory that provides additional illumination. A light bar can be installed on off-road vehicles.