If you are a truck owner, you must have seen this day while using a bedliner: spray-in bedliner overspray in certain parts. Well, it can happen to being careless, not covering all the parts properly, and so on.
It is a common issue for the bedliner user, and we are here to help you with that.
We have figured out overspray can affect the metal or plastic parts, paint, and glasses. According to this, the removal process varies, and we will show you them individually.
After hours of research, we have ended up with simple solutions but time-consuming ones for how to remove spray-in bedliner overspray.
Stay till the end to know in depth about the removal process without damaging your truck.
Reasons For How Does Overspray Happen?
Overspray means any part or space sprayed that should not be disseminated, which is primarily unintentional while painting with a bedliner. However, poor preparation before bed lining is the main reason for overspray.
While applying the bedliner to a particular part, one should cover the other parts with tape or newspaper to prevent overspray.
Such as, if you are spraying the bumpers or panel, it is possible you overspray doors, panel sides, truck sides, tires, wheels, glasses, etc.
On the other hand, the outer part is easily spread with the backside when spraying the truck bed. 
Most people think masking these parts takes extra time and do not want to waste their time. But they forget removing the bedliner is far more complicated and time-consuming than masking off.
So, if you are new to this or thinking of using a bedliner, follow the advice to prevent the overspray problem. Otherwise, check out the removal process section.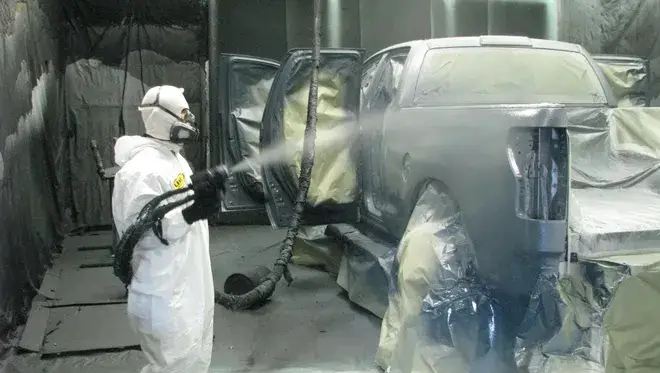 How To Remove Lightly Sprayed Bedliner Overspray
The below process applies to all parts if they get the light spray, especially for painted parts and glasses. You will not like it to damage your paint while removing the bedliner or get some scratches on the glasses.
Nothing to worry we have figured out every possible way to help you to get rid of unwanted bedliner coating. Follow my steps.
If the spray is light, use simple soap or a cleanser with water and try to clean the surface.
As soon as you see the bedliner sprayed on other parts, it would be best if you started cleaning it this way. It will give you the best result.
You can also rub some olive oil or any other oil on the surface, and it may remove the liner easily. Oil can loosen up the bedliner or make it slippery; thus, they become easily removed.
After that, you can mix soap and water to clean the oils.
If your bedliner has not dried up, this process should work well. Otherwise, use a clay bar kit and see if it removes.
How To Remove Spray-in Bedliner Overspray From Metallic Parts
While applying spray-in bedliner like truck beds, bumpers, or panels, your truck body, rear panel, or truck bed sides can get sprayed. If any parts, like the metallic details, get spray-in bedliner, you should follow this process.
Remember, these processes are for the heavy or deep coating bedliner. If you have ever removed the bedliner, you can relate to this.
Also, removing the heavy coating surely ruins your painting. So, before the removal process, be ready for that.
Use a heat gun to loosen up the bedliner coating.
Then use a chisel to remove the bedliner.
If you don't want to use a chisel, a scrapper can also work quite well to remove the bedliner.
First, use the heat gun and heat surface; in this case, take help from others. Appoint one helping hand to heat the surface, so you can use the chisel to remove the coating. It is a time-consuming but indeed effective way.
Otherwise, use sandpaper simply and rub the surface aggressively as long as the bedliner doesn't remove. It will take an examination of your muscle strength.
Most of the time, overspray does not cover ample space. In this case, you do not have to be worried about your muscles.
Using heavy-duty cleansers is another beneficial way and takes less time than the other two.
Apply the cleaner on the metal surface.
Now, wait for a while for the bedliner to remove.
If the bedliner does not remove totally, then go for another cleaner application. This method is for the metal parts, not the plastic or rubber wheel, because the heavy-duty cleaner can melt them.
How To Remove Spray-in Bedliner Overspray From Plastic
For plastic, it isn't easy to find a suitable way for them. The removal process must be very delicate; otherwise, it harms the plastic parts.
With harsh or aggressive rubbing, plastic can fade away or get scratched. We do not recommend using a clay bar kit or chemical cleanser because they will surely melt the plastic.
The only way we have figured out is your hair dryer. Yes, you heard that right; only your hair dryer can save you from plastic overspray. 
Gently heat the space with a dryer and try to loosen up the bedliner.
Once you are done with that, use your hands to remove the liner.
If this cannot help you, you must replace that part or use the bedliner.
How To Remove Spray-in Bedliner Overspray From Truck Paints
We have already shown you some ways if the spray is lightly applied. If you want to save your paint, then those are the only ways you can adapt.
However, if the coating is heavy, there is no way of rescuing your painting. The last thing you can try is a paint-safe scrapper.
But you have to be extra careful about this. If you have doubts about the paints, it is time to take your truck to the shop.
How To Remove Spray-in Bedliner Overspray From Glasses
When you are spraying areas besides your windows or front side, it can affect the glass parts also. In this case, with some Aceton or chemical cleansers that are gentle with glass, try to remove the bedliner.
You can use a scrapper, too, if needed. But be very careful about the rubber surroundings or plastics because chemicals can harm them.
FAQ
How do you clean spray on the bedliner?
Cleaning the spray-in bedliner is not a stiff task, and you do not need any expensive cleanser to do this. With simple soap, water, and a brush, you can clean your bedliner.
Remove all the dirt using the brush, then use soap and water. Try to keep cleaner the bedliner always for long-time usage.
Can a spray-in bedliner be redone?
Spray-in bedliners are beneficial in every way. They can be redone when damaged, or you can remove them too.
However, the redone process will take a lot of bucks, and the removal process takes a considerable time.
Can I spray the bedliner over the old bedliner?
Spray-in bedliners are like magical pieces of equipment because of their incredible effectiveness. They are super effective for reapplying on old bedliners, drop-in, and spray-in.
This way, it dramatically reduces your cost and repeatedly works to protect your truck.
Does a spray-in bedliner add value to a truck?
A spray-in bedliner can work as a safeguard for your truck's value for years. It prevents severe damage such as tearing, dent, color fading, scratches, and many other things.
Your truck can stay like new for years, and you only need to spend a few bucks for that. A bedliner is worth praising because of its multiple efficient benefits.
Final Verdict
Several problems can arise while applying a spray-in bedliner, and a spray-in bedliner overspray is the most common. Every truck owner must suffer from this problem and spend hours finding how to remove the spray-in bedliner overspray.
There are a lot of suggestions available for this problem, but not all of them are effective. The reason is overspray can happen in different parts of your truck, such as metallic, plastic, or glasses.
All the removal processes can not be the same because where heavy-duty cleansers can be helpful for bumpers, they can harm the plastics. But the best thing would be to become extra careful while applying a spray-in bedliner to prevent the hassle of removing them.