Bedliner means a protective layer for trucks from UV rays, abrasion, corrosion, or other physical damage. Not only for truck beds, but this magic coating is also now widely used for bumpers, rockers, and door panels.
There are several brands and types of bed liners available in the market. And you know very well that not all of them are suitable for your truck, especially if it's an off-road vehicle.
So, what bedliner finish should I put on my offroad bumper?
Based on your preferences, you can choose from aliphatic or aromatic, polyurea and polyurethane, or high-pressure or low-pressure bedliner finish. Aromatic sprays are affordable, whereas aliphatic ones come with better protection. Polyurea finish is hard, whereas polyurethane is more flexible.
There are more for you if you have an off-road truck in the garage or want to give your vehicle a newer look. Stay put till the end.
How Bedliners Protect Off-Road Bumpers?
Undoubtedly, spray-on bedliners are suitable for your truck's off-road bumper. They offer excellent protection for your truck if they spend an extended time on the off roads.
Spray-on bedliners ensure the best protection for the bumpers, rockers, and lower door panels. Your vehicles can benefit from a bedliner finish on the bumper in many ways.
They give protection from UV rays.
Protect from corrosion, dent, and scratch.
Give it a newer look.
Minimize the maintenance cost.
Easy to customize your truck.
Need low maintenance.
Suitable Bedliners for Offroad Bumper
These bedliners ensure the highest safety from harshness and come in different colors and finishes: matte or glossy.
You may have to choose from three bedliners based on their base, ingredients, and spraying methods.
Aromatic or aliphatic
Polyurea or polyurethane
High or low pressure
Aromatic vs aliphatic bedliner
Aromatic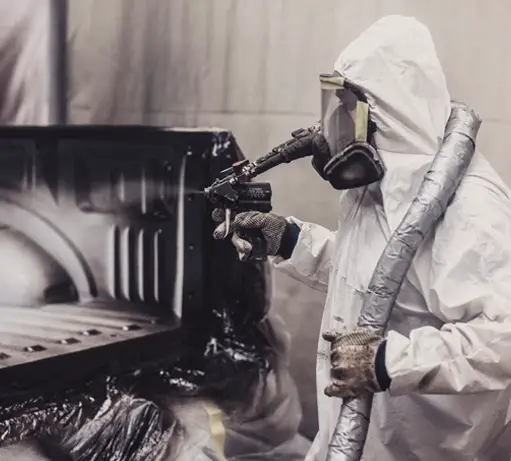 Aromatic spray-on bedliners are the least expensive than any aliphatic options. This is why most sprays are aromatic based.
People prefer aromatic base spray-on bedliner primarily because of the lower price tag.
Aromatic sprays are UV sensitive, and the coating fades quickly over time. They do not last longer like aliphatic but still offer a decent lifespan.
If you do not wish to keep your truck for a long time, then an aromatic spray-on bedliner is the best option.
Aliphatic 
Aliphatic spray-on bedliners are the most popular type because of their high protective properties and varying colors. The spray formula is different from others and produced with pure polyurethane.
For this property, aliphatic-based protection is becoming popular and used as an alternative to paint. 
The pigmentation protects the outer layer of the truck from harmful UV rays that other paints cannot do. Truck owners are now coating the entire trucks with aliphatic spray. 
Also, aliphatic spray-on bed liners ensure a gradual fading of the color than others. It gives a durable metallic gloss finish that stays longer and does not fade away quickly.
The color variation helps to match the bumper color with the existing truck color. However, you can also get color differences to make the contrast trendy.
Yes, aliphatic sprays are expensive. But you will get more extended durability that will cut down the maintenance cost in the long run.
Polyurea vs polyurethane bedliner
Polyurea
Polyurea spray-on liners are not flexible and have a hard texture. But they have high tensile strength, tear strength, abrasion resistance, and elongation.
This is why this type of bedliners is quite popular and used widely.
Off Road bumpers go through a lot of harnesses. So you can pick this bedliners type for longer and better protection. 
Polyurethane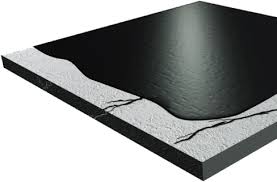 Polyurethane coating is similar to polyurea but has a softer and more flexible texture. The nature of both layers is the same and can give high safety to the bumpers or truck beds. 
Polyurethane has excellent UV resistance capability. It maintains the outlook of the truck that stays outside in the sun for quite a long time.
The protection level depends on the spray layer. The thinner layer is most likely protecting from scratch or crack.
Thick layers protect from tearing, puncturing, denting, scratching, and even altering the shape. A thick layer also ensures waterproof and anti-corrosive properties.
All these good qualities make it best suited for truck bumpers. The aliphatic or aromatic spray uses 100% polyurethane, 100% polyurea, or a mix of them (hybrid).
High-pressure vs low-pressure bed liner
High pressure  
This is not a type of bedliner but a method for applying spray-on bedliners.
As the name suggests, these bedliners are applied using high pressure and high temperature with the help of special equipment. They use Polyurea or polyurethane and sometimes hybrid coating for this application.
High-pressure spray-on bedliners are great for preventing dents and scratches with a lower cure time.
Low pressure 
It is the opposite of a high-pressure bedliner and is applied at a low temperature. Like high-pressure bedliner, they do not provide soft texture nor prevent damage. 
What Bedliner Finish Should I Put On My Offroad Bumper?
So far, you know all types and methods of spray-on bedliner. Now is the time to choose which finish you want to put on your offroad bumper.
Let me make your decision more straightforward with a summary.
Both aliphatic and aromatic spray uses polyurea and polyurethane or hybrid.
Polyurethane provides a softer texture, prevents damage to tents, has a tear and tensile strength, and so on. Polyurea also has the same capability, but the surface is not flexible. 
Whereas aliphatic coating is UV resistant with all damage preventing nature, the color does not fade away quickly. Aromatic does not offer these, but the price is low. These can work both for bedliner on steel bumper or plastic bumper. 
Now, if you do not want your truck bumper to use for a long time, then aromatic is the best option you can choose with polyurethane or polyurea. This will reduce your cost a lot.
Otherwise, aliphatic can serve you the best for a long time with great texture. In this case, you have to spend a bit more. 
FAQ
How long does a spray-on bedliner last? 
An aliphatic bedliner will last for a year or more. And aromatic bedliners do not last for a long time, and very soon, the color will fade away because they are sensitive to UV rays. 
How many coats of bed liner should I use? 
Two coats are decent enough for spray-on bedliners. After applying the first coat, you should allow it to dry thoroughly, then go for the second coat. If you want more protection, then more coating can work well.
Can a spray on the bedliner be removed? 
Yes, spray on the bedliner can be removed with either a paint scraper or an air chisel. First, use the gun to heat the liner parts for the best result, then use a chisel chip. 
How to get the perfect finish with spray on the bedliner? 
For getting the perfect finish preparing the parts is essential. If you are going DIY, then prep well. Rough the outer layer of the bumpers or the parts you want to spray with sandpaper, then apply the first coat. After drying the first coat, go for the second one. By this, you can get the perfect finish.
Final Verdict
If you have come this far to this article, you must know what Bedliner Finish Should I Put On My Offroad Bumper and make up your mind. But let me conclude the entire article. 
Off Road bumpers need to face a lot of harshnesses and stay outside for quite a long time. 
Those who do not wish to use bumpers for a long time can go for aromatic spray-on bedliners, which will save you money also.
Aliphatic is the best option for the rest, but you have to spend a bit more.