A truck cover endures many: pollen stains, dirty water, or stuff spilling. And dust is a common enemy, so we need good cleaners for the cover. 
There are many cleaners in the market, and Armorall is one of them. Now, you might ask, is Armorall good for tonneau covers?
Armorall is not suitable for aluminum-made tonneau covers. But it works fine on vinyl and fiberglass covers. The Armorall attracts dust instead of cleaning them. Besides, it also stains right after a car wash or rain. It will peel off the cover's color, damaging the paint and the look.
That was just an overview. I'll discuss the factors in detail. And guess what? There are some great alternatives to this protectant.
So, let's tag along to learn more!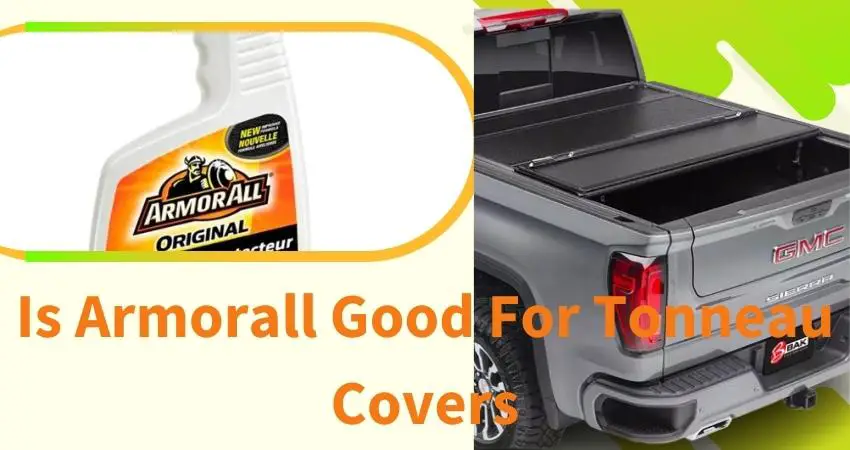 Is Armorall Good For Tonneau Covers?
Before answering the question, we must ask ourselves, is every kind of cleaner good for every type of cover? The answer is obviously no!
Besides, The answer also depends on the tonneau cover material. There are three types of material companies use in the covers: aluminum, vinyl, and fiberglass.
You can not clean every type of tonneau cover with the Armorall. There is a specific type of cleaner for each tonneau cover type.
Now let's get back to the point. Can you use Armorall in your truck covers?
The answer is yes; you can, but not for the aluminum-made tonneau covers! Most owners who have used Armorall strongly suggested not using it on aluminum covers.
There are a few reasons behind this verdict or user opinion.
The dust is a big issue; you can't keep it clean because Armorall attracts dust and makes the cover dirtier.
You don't want your cover to lose its classy look, right? But contrarily,  Armorall strains just after a car wash or heavy rain. Besides, it runs down to the side of your vehicle.
It will damage the paint and the value of your materials.
These are some of the most significant issues truck owners face. There are a few more.
But remember that Armorall works somewhat ok on the vinyl-made and fiberglass-made covers.
I am sure you won't try Armorall on any aluminum cover anymore. But what are the alternatives? Well, I said earlier that there are alternatives.
Let's look at them and figure out why they offer similar benefits with no damages.
Alternative Options To Use For Tonneau Covers
Extang Tonno Tonic or TruXedo Pro-TeX are excellent products for aluminum-made covers. They can be a bit more expensive than the other cleaners in the market, but it's worth the price.
And you won't have to worry about scrubbing off the extra tonic.
You must follow some general practices to get the maximum benefits from those dedicated cover cleaners.
Use mild-level car soap. Don't use hard-level soap, which might affect the cover material.
Wash the cover regularly. The recommended frequency is to clean the cover once a month.
Don't spray it on the paint on the cover. The better way to use it is to spray it on a cloth. Then slowly, wipe the part of the cover you want to clean.
Carefully wipe with the cloth to the near edge of the covers.
That way, you can keep your cover clear and a classy look. But that was just for the aluminum-made covers.
Let's not forget the rubber, vinyl, and plastic covers. Some great products in the market can keep your covers clean, specifically made for those materials.
For example, there are excellent options for vinyl-made cleaners like Chemical Guys Convertible Top Cleaner, 303 Tonneau Cover, Tyger Tonneau Cover, and Leer Tonneau Cover cleaner.
Those are easy and efficient to use and great value for the money. But, a few things to keep in mind for the plastic-made cover cleaners.
There are different cleaners for the internal and external use of plastic-made covers. Check before buying one.
Pick one that makes a thick surface on the cover. That gives complete sun protection when you're out driving your truck.
Remember these things, and choose a product based on your criteria, cover material, and price range. 
Some Tips Before Cleaning Your Tonneau Covers
Now, properly cleaning the tonneau covers is an essential part. Here are some tips to help you along the way!
Don't forget to lock the cover properly.
Ensure the cover is correctly latched.
Never use cold water to clean the cover; always use half-warmed water.
Use mild soap. Using hard soap might affect the color of the cover.
Properly rinse the water to the cover.
To scrub away the dirt and other things, use a soft-bristled brush.
You can also use some eco-friendly cleaners.
Following these will make the cover look more durable and keep your surface clean.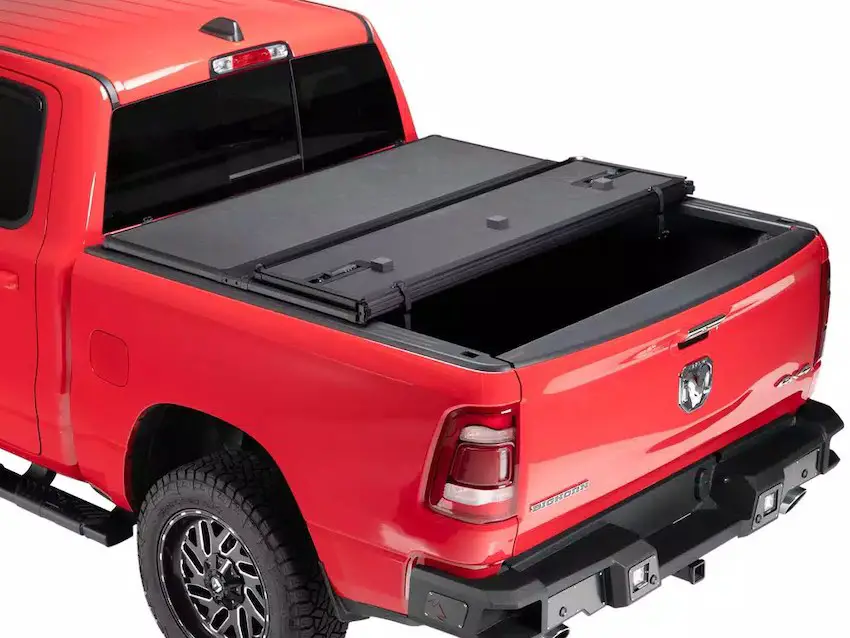 What is so special about Tonneau cover cleaners
You can use them in both soft and hard covers.
Safely cleans the dirt and other similar kinds of stuff.
They help to keep the look intact.
Help the cover to glow or brighten.
Most of the cleaners are rinses residue-free.
Help from the UV or the sunlight.
Easy to apply. Just spraying does most of the work.
Materials of Tonneau Covers
Not just the tonneau covers essential additions to your vehicles, but it also does a ton of things. You can just sit and relax and let the cover protect your goods. 
The cover adds a classy look to your trucks and helps improve fuel consumption. But the material on your covers determines the best tonneau cover cleaners for you.
There are primarily three types of tonneau covers available in the market. Those are:
Aluminum
Aluminum tonneau covers are the most reliable, durable, and best. Most tonneau cover brands use aluminum these modern days. The color doesn't fade, and the classy look stays intact.
Besides, most aluminum-made tonneau covers are water-resistant. It means the body protects your goods during heavy rain and car wash. And, of course, they are easy to install.
Vinyl
Vinyl tonneau covers are also trendy in the market. If you ask most truck owners, they have used vinyl-made tonneau covers once in their lifetime.
But, vinyl-made tonneau covers are not as strong as aluminum-made ones. The aluminum tonneau covers can take heavy loads or impact, but the vinyl covers can't.
Fiberglass
Lastly, companies also use fiberglass to make the covers. The durability is somewhat in the middle between aluminum-made and vinyl made.
But, the most challenging thing about fiberglass tonneau covers is the storage. It might affect the covers when you're not using the truck or the cover for a few months.
Now, all these covers need to be cleaned from time to time. But you can't use just any cleaner for any type of tonneau cover. Let's get to know them in detail.
Read also: Bakflip Mx4 Problems
FAQ
Can You Wax A Tonneau Cover?
You can't wax a tonneau cover. Waxing the covers erodes the surface. Besides, the soft tonneau covers might become stiff. Sometimes, the cover's color fade.
Can You Use Simple Green On Tonneau Cover?
Yes, you can use simple green on the tonneau cover. When washing with just soap, the simple green works like a charm, cleaning off the dust and other kinds of stuff.  Besides, it gives the cover a new and fresh look.
How Do You Keep A Tonneau Cover Looking New?
You must protect the cover from direct sunlight when it's not on the road. Besides, regularly cleaning the cover and applying eco-friendly cleaner might keep the look intact.
Last Words
We hope this article gave you the answer, is Armorall good for tonneau covers or not? Now you know you shouldn't use this product. Besides, we discuss the other alternatives and the process of it.
We hope now you know how to keep your tonneau covers clean adequately. Let us know if you have any more questions regarding this. 
Have a good day!
Read also: How To Keep Dust Out Of Tonneau Cover?